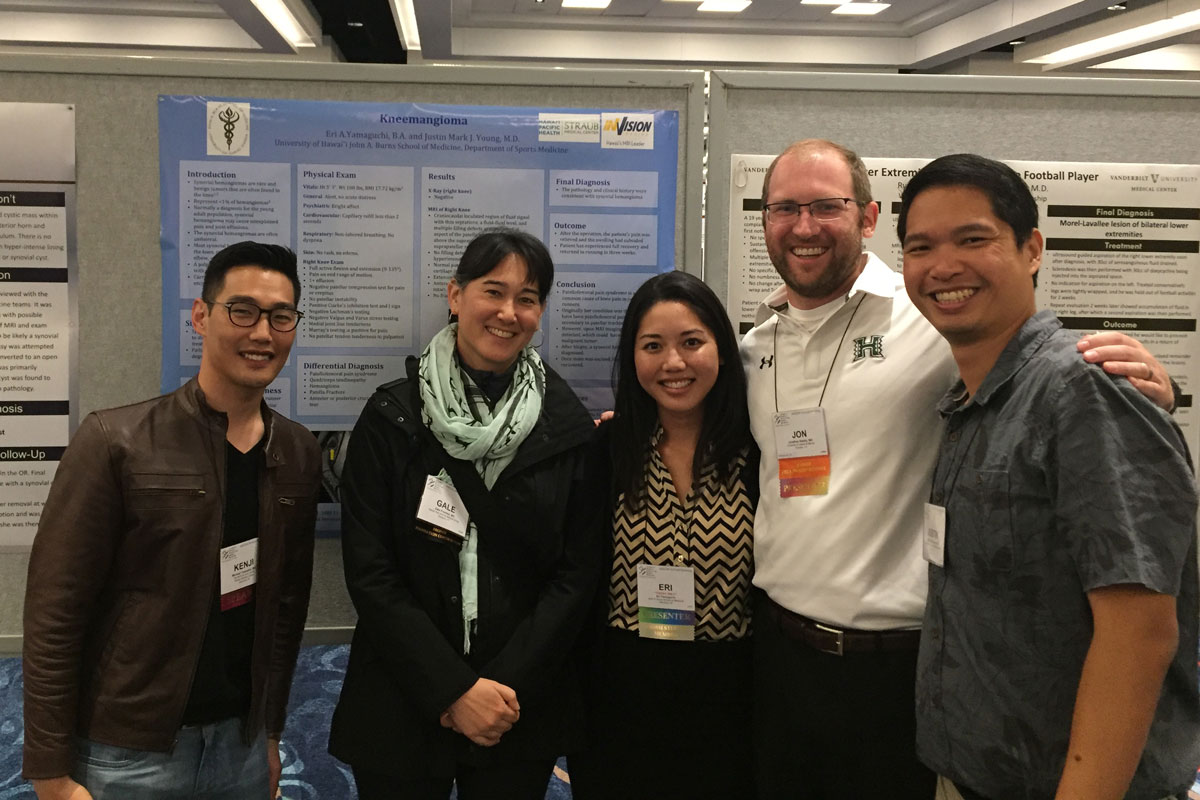 Drs. Kenji Yamazaki (left) and Justin Young (right) of the Straub Bone & Joint Center joined JABSOM members during the American Medical Society for Sports Medicine's annual conference in Florida.
Training Future Sports Medicine Physicians Both On & Off the Field
Straub Medical Center is training future physicians not only how to be great doctors, but also how to be strong researchers.
Thanks to a donation to the Straub Bone & Joint Center, students at the University of Hawaii John A. Burns School of Medicine (JABSOM) have the opportunity to research sports medicine while completing their medical training.
This teaching effort is led by Dr. Justin Young, a Straub sports medicine physician and graduate of the JABSOM program.
"Research is not our main role, but we do it to help better care for our patients," Young says.
Every year, Straub encourages students in the program to submit research to the American Medical Society for Sports Medicine (AMSSM).
Those selected have the opportunity to present their findings to a national audience during the AMSSM's annual meeting.
Participants also have the chance to publish their research in professional journals.
In 2018, two JABSOM students earned a spot at the highly coveted conference, but getting to the meeting in Florida would require additional assistance.
Donated funds to Straub's Bone & Joint Center helped pay for the students' conference fees, travel and accommodations.
"This research experience will help expand my perspective as a physician because it will provide experience, mentorship and connections with physicians and students around the nation with the same passion for sports medicine," says Leina'ala Song, whose research involved an innovative treatment for tennis elbow.
"I am so honored and grateful for this opportunity," Song says.
For more information about the Straub Bone & Joint Center, click here.
For more ways to support Straub or how to make a donation, visit Give2Straub.org.
Published on: August 21, 2018