Straub's multi-disciplinary bone and joint team provides expert care that spans surgical and non-surgical treatments, and rehabilitation services. Clinical expertise is combined with cutting edge technology to ensure the best patient care, whether for healing a broken bone, replacing a hip, tending to a strain or sprain, or treating gout, lupus or rheumatoid arthritis.  
---
SERVICE HIGHLIGHTS
Rheumatology
Straub Bone & Joint Center's rheumatologists treat arthritis and other rheumatic diseases. Rheumatic diseases may cause pain, stiffness and swelling in the joints, muscles, tendons, ligaments and bones. Sometimes, arthritis is caused by an autoimmune disorder. This means the body's immune system attacks its own healthy cells and tissues. Our physicians care for patients experiencing these types of arthritic disorders in conditions as gout, arthritis, osteoporosis, lupus, scleroderma and osteoarthritis.
Sports Medicine
Straub's sports medicine physicians treat injuries and illnesses that affect activity, exercise and performance. Our sports medicine physicians treat patients without surgery, but also refer patients to a surgeon when there is a need for surgical evaluation. Our sports medicine physicians also collaborate closely with physical and occupational therapists to help restore an active person's function and independence after an illness or injury. Examples of conditions treated here are ACL injuries, dislocations, tendonitis, overuse injuries from sports, torn meniscus and more.
Orthopedic Surgery
Our highly trained orthopedic surgeons follow the latest surgical and non-surgical protocols to achieve optimal results in their patients. They treat every variety of injury and disease of the bones and joints, from sports injuries to degenerative diseases. Our orthopedic surgeons work closely with a team of experts to ensure the best care of the more common orthopedic conditions such as arthritis, sprains and strains, muscle damage and osteoporosis, as well as specialized areas of treatment including foot and ankle, joint replacement, pediatric, shoulder and elbows, and spine. 
Physical and Rehabilitation Therapy
Our rehabilitation team is comprised of a skilled staff of physical therapists who treat an array of musculoskeletal injuries and disorders. They develop a customized plan of care according to each patient's unique situation, making use of the latest advances and procedures in the field. While treating conditions both simple and complex, our therapists' goal is to help patients regain their physical functioning, whether to prevent surgery after an orthopedic injury, or to help a patient regain strength and range of motion post-surgery. Treatment is aimed at reducing pain, increasing fitness and aiding motion and mobility. 
Orthopedic Urgent Care
Need immediate care for bone and joint related injuries? The Orthopedic Urgent Care, located at the Straub Medical Center – Kahala Clinic & Urgent Care, offers walk-in medical services for minor orthopedic and sports medicine conditions such as sprains, strains, injuries, and neck, back, and shoulder joint pain. No appointments are necessary, just walk-in.
More about our Orthopedic Urgent Care
---
---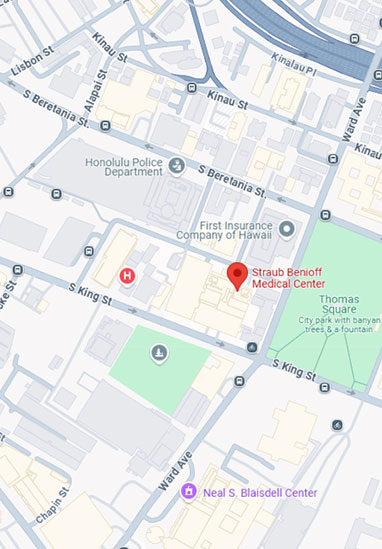 LOCATION INFORMATION
Straub Bone & Joint Center
Straub Medical Center
888 S. King St.
Honolulu, HI 96813
Directions
Orthopedics: 808-522-4232
Rheumatology: 808-522-4522
Sports Medicine: 808-522-4275

Straub Medical Center - Hawaii Kai Clinic
7192 Kalanianaole Hwy. #A200
 Honolulu, HI 96825
Straub Medical Center - Kahala Clinic & Urgent Care
Orthopedic Urgent Care
4210 Waialae Avenue, Suite 501
Honolulu, Hawaii 96816
Straub Medical Center - Kailua Clinic
602 Kailua Road, Suite 200
 Kailua, HI 96734

Straub Medical Center - Kapolei Clinic & Urgent Care
91-5431 Kapolei Pkwy Suite 1706
Kapolei, HI 96707

Straub Medical Center - Mililani Town Center Clinic
95-1249 Meheula Pkwy Unit 187
Mililani, HI 96789

Straub Medical Center - Pearlridge Clinic
98-151 Pali Momi Street
 Aiea, HI 96701