As community members, health care providers have the potential to influence thousands, even millions, of lives. Hawaii Pacific Health's Bone & Joint team members regularly lend their expertise in the community, making a difference beyond their practice at local, national and global levels.
Here are some examples of how our providers are getting involved.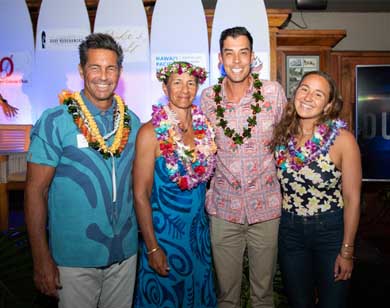 Supporting Future "Ambassadors of Aloha" at Duke's Night
The Hawaii Pacific Health Bone & Joint Centers proudly sponsored the 5th annual Duke's Night, held May 15, 2023, at the Outrigger Canoe Club. This festive community event recognizes high school student-athletes' accomplishments both in and out of the classroom and encourages them to lead as Ambassadors of Aloha. The 2023 program included a panel of Hawaii athletes Carissa Moore, Kawika Shoji and Donna Kahakui, who each have excelled at the highest levels of their sports.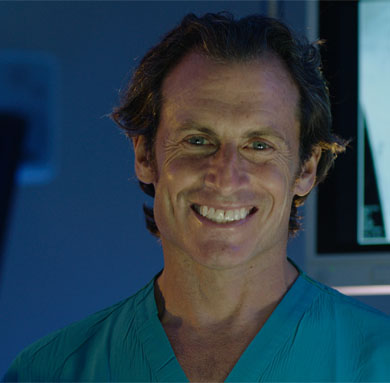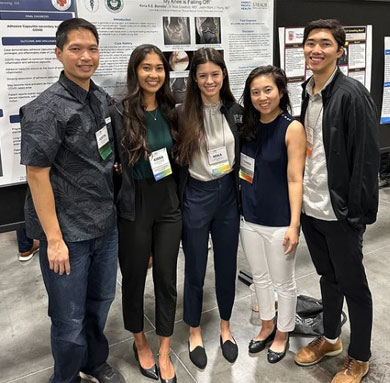 Introducing Future Physicians to the Growing World of Sports Medicine
Physicians, researchers and medical students traveled to Phoenix, Arizona, to represent Hawaii Pacific Health at the 2023 American Medical Society for Sports Medicine Annual Meeting, held April 27-May 3, 2023, at the Phoenix Convention Center.
Hawaii Pacific Health Medical Group sports medicine physician Dr. Justin Young (on left end) was joined by University of Hawaii John A. Burns School of Medicine students Kirra Borrello, Tama Fukuyama, Dylan Lawton and Mikayla Sonnleitner to present their clinical case research on behalf of HPH. Kirra, Tama and Dylan are also past participants in the HPH Summer Student Research Program. Visit our Instagram profile to view more photos from the event.
Wilcox Offers Robotics Technology for Knee Replacements
Wilcox Medical Center offers knee replacement surgery using the latest technology for robotics-assisted surgery. The leading-edge, robotics-assisted platform used by orthopedic surgeons with the Wilcox Bone & Joint Center is designed to deliver accurate and precise results for patients, which is crucial to the long-term success of knee replacement procedures.
The technology used at Wilcox integrates a handheld surgical smart tool with an intuitive computer system, allowing each patient's knee surgery to be individualized for accurate results in the operating room.
Pictured: Dr. David Rovinsky, demonstrates how a robotics-assisted handpiece is used for knee replacement procedures as part of new robotics-assisted surgery technology.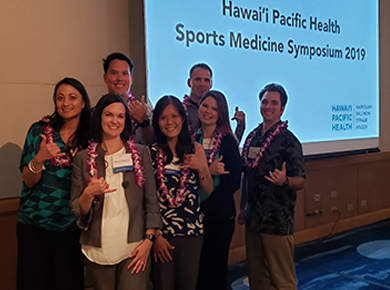 2019 Sports Medicine Symposium
Hawaii Pacific Health hosted the Sports Medicine Symposium 2019 on May 18, 2019, at the Prince Waikiki hotel, where orthopedic surgeons, pediatric sports medicine physicians, physical therapists and other experts from our Bone & Joint Centers teamed up to talk about all things sports medicine. Topics included nutrition, depression in adolescent athletes, throwing injuries and sideline emergencies. Mahalo to our pro panel from Kapiolani Medical Center, Pali Momi Medical Center and Straub Medical Center for spending your Saturday sharing your knowledge and helping us create a healthier Hawaii.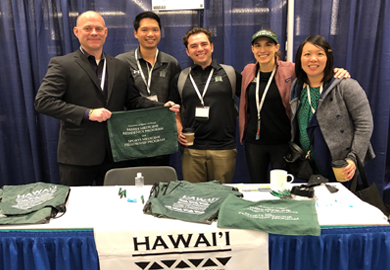 AMSSM American Medical Society for Sports Medicine Conference
 Dr. Justin Young and Dr. Christopher Lynch from the Hawaii Pacific Health Bone & Joint Centers traveled to Houston, Texas, in April 2019 to participate in the American Medical Society for Sports Medicine (AMSSM) annual meeting. The sports medicine physicians were there as part of the University of Hawaii Sports Medicine Fellowship Program to support students from the UH John A. Burns School of Medicine as they presented their research and clinical case studies.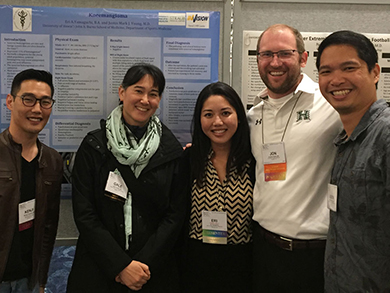 Training Future Sports Medicine Physicians Both On & Off the Field
Straub Medical Center is training future physicians not only how to be great doctors, but also how to be strong researchers. Thanks to a donation to the Straub Bone & Joint Center, students at the University of Hawaii John A. Burns School of Medicine (JABSOM) have the opportunity to research sports medicine while completing their medical training. 
This teaching effort is led by Dr. Justin Young, a Straub sports medicine physician and graduate of the JABSOM program. "Research is not our main role, but we do it to help better care for our patients," Young says.
Every year, Straub encourages students in the program to submit research to the American Medical Society for Sports Medicine(AMSSM).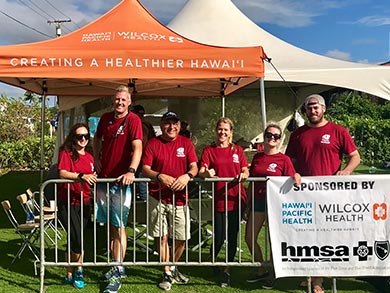 10th Annual Kauai Marathon & Half Marathon
Nearly 2,300 runners from all over the world gathered on the Garden Isle the morning of Sept. 2, 2018, to take part in the 10th annual Kauai Marathon & Half Marathon. Wilcox medical volunteers were stationed along the course ensuring everyone had a safe and memorable experience, while several of our very own physicians and staff laced up their shoes to run the picturesque course.
Race festivities kicked off a few days earlier with the Wilcox Health Sports & Fitness Expo at the Grand Hyatt Kauai Resort & Spa, where participants had the chance to ride our smoothie bike, speak with a registered dietitian, receive pointers from our physical therapy team, or taste healthy snacks.
Then, on Sept. 1, close to 200 keiki participated in The 6th annual Kauai Marathon & Half Marathon Keiki Run. Nearly 200 keiki runners participated in events that ranged from a Toddler Trot 100-yard run to the Quarter Mile and Half Mile runs for children ages 5-12. It certainly was a healthy, fun way for keiki to get in on the marathon action.
As the title sponsor for marathon weekend activities, Wilcox Health is proud to see the Kauai community out running and having a great time!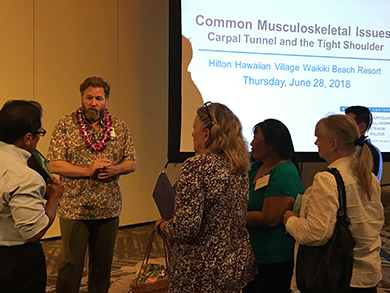 Discussing Common Musculoskeletal Issues
Physicians from the Straub Bone & Joint Center discussed common musculoskeletal issues during a public presentation at the Hilton Hawaiian Village Waikiki Beach Resort, held June 28, 2018. Led by Program Chair Dr. Cass Nakasone, the panel featured the following experts and topics:
Dr. Kenji Yamazaki, sports medicine – Muscoloskeletal Ultrasound in Sports Medicine.
Dr. Edward Weldon, orthopedic surgery – Shoulder Pain – When to Rest it; When to Move it.
Audience members also got the chance to ask the physicians questions during a closing Q&A session.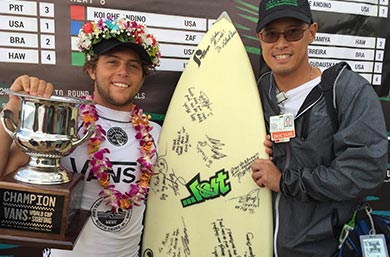 Keeping Our Pro Surfers Healthy
As a member of the World Surf League medical team, Straub Orthopedic Surgeon Dr. Spencer Chang keeps our pro surfers healthy as they compete in the Vans Triple Crown of Surfing event, held annually on the North Shore of Oahu. In 2017, Chang took some time away from the waves to give a special gift for a pediatric patient at Kapiolani Medical Center for Women & Children who loves to surf – a surfboard signed by the surfers, including Jason Shibata and Aritz Aranburu, as well as 2017 Vans World Cup champion Conner Coffin.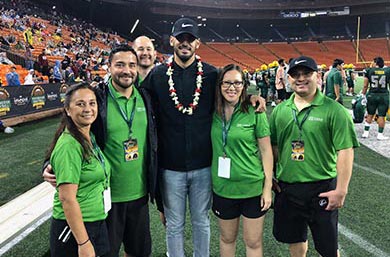 Providing First Aid at the Polynesian Bowl
Hawaii Pacific Health's Straub Bone & Joint Center team was on hand to provide first aid at the Polynesian Bowl in January 2018. Straub's orthopedic surgeons, sports medicine specialists and physical therapists are always willing to lend a helping hand to our community during special sporting events like this one to help keep our athletes in winning form.
Pictured: Straub Bone & Joint Team with Marcus Mariota.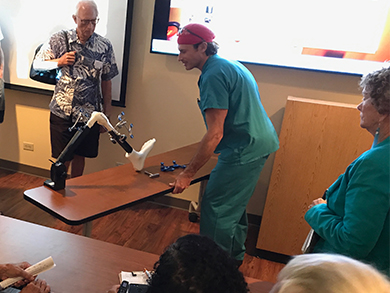 Learning How to Conquer your Knee Pain
On Wednesday, Nov. 15, 2017, the Wilcox Bone & Joint Center invited patients to a free community event to introduce the latest robotics-assisted surgery technology offered at the center.
Hosted by Orthopedic Surgeons Drs. Derek Johnson , Daniel Judd and David Rovinsky, the event covered topics that included what causes knee pain, today's treatment options and the new robotic-assisted total and partial knee replacement technology offered at the Wilcox Bone & Joint Center.
Pictured: Dr. David Rovinsky demonstrates how a robotics-assisted handpiece is used for knee replacement procedures.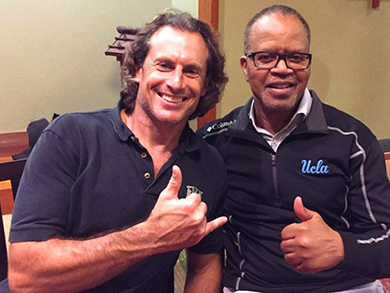 Introducing Robotic-Assisted Total Knee Replacement to UCLA
On Jan. 11, 2018, Dr. David Rovinsky traveled to Los Angeles where he presented lectures on robotic-assisted total knee replacement and bicruciate sparing total knee replacement. While there, he also conducted a lab in which Zeegen and his residents could perform robotic-assisted total knee replacement surgery on cadavers. 
"My involvement in total joint development and technology is deeply personal," Rovinsky says. "I'm a 50-year-old surfer with arthritic hips and knees, looking at total joint replacements in my future. When I surveyed the available implants and technology, there was nothing yet available that I would want for myself or for my patients." 
Pictured: Dr. David Rovinksy (left) flashes a shaka with Dr. Erik Zeegen.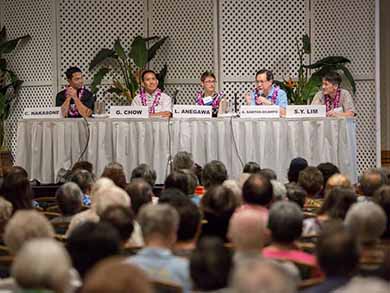 Getting A Grip on Arthritis
Hawaii Pacific Health and its Bone & Joint Centers held the free wellness seminar Getting A Grip on Arthritis at the Ala Moana Hotel Hibiscus Ballroom on Nov. 4, 2017. Experts from Hawaii Pacific Health's medical centers discussed a variety of treatments and methods to help manage bone and joint health, including the following topics:
"See, Feel & Hear About Osteoporosis: Learning About the Silent Disease" – Dr. Sian Yik Lim, Straub Medical Center.
"Non-Drug Options for Osteoarthritis Pain" – Dr. Alberto Santos-Ocampo, Straub Medical Center.
"Arthritis & Your Weight: What's the Connection?" – Dr. Linda Anegawa, Pali Momi Medical Center.
"Spine Surgery for Spinal Stenosis & Pinched Nerves" – Dr. Gregory H. Chow, Pali Momi Medical Center.
"Outpatient Hip and Knee Replacements" – Dr. Cass Nakasone, Straub Medical Center.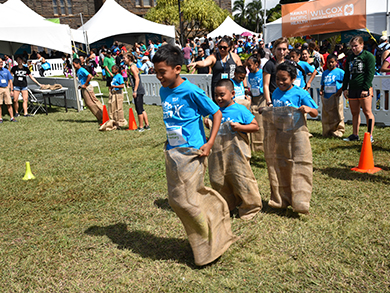 Offering Activities and Fun for the Whole Family
On Sunday, Oct. 25, 2017, Hawaii Pacific Health celebrated Kids Fest, a free health education event for kids and families. This year's event offered interactive games and activities to promote healthy active lifestyles, exercise and nutrition, and childhood injury prevention.
A highlight of the annual event was the "Are You Fitter Than a 5th Grader?" Sports Challenge, a friendly competition of local news personalities and elementary school students. Teams of fifth graders from local elementary schools competed for the opportunity to challenge the winning news team and tested their athletic abilities for the overall championship.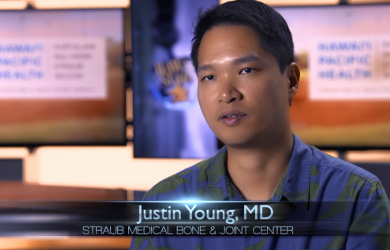 Shining a Light on HPH Sports Medicine Fellowship
As the official partner of UH Athletics, the Hawaii Pacific Health Bone & Joint Center has been helping student athletes get back in shape - and back in the game - as quickly as possible. 
But the Bone & Joint Center does more than just help athletes. The Sports Fellowship program takes doctors in training, or fellows, and puts them right into the action. Each fellow spends a year at Straub and at the University of Hawaii, learning about what it takes to provide the best care possible for athletes.
Dr. Justin Young is one of the doctors at Straub that works with the fellowship program. 
"It's one of the favorite things that I love to do, to teach young doctors who are ready to learn about the Sports Medicine field how to be really good at what they do." said Dr. Young.
Through the partnership, athletes are able to get the best care, doctors at Straub are able to hone their skills, doctors in training learn from the experts, and the community as a whole benefits as well.
Watch the Hawaii Stars video and learn about the HPH Sports Fellowship Program. >>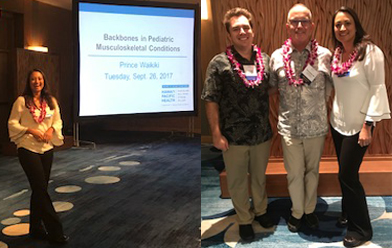 Sharing Their Expertise with Other Medical Professionals
On September 26, 2017 Hawaii Pacific Health educated primary care physicians, advanced practice nurses, physician assistants, physical therapists and other professionals on common sports medicine conditions in children and adolescents. Speakers and topics included:
Dr. Jennifer King, "Ankle and foot injuries in children"
Dr. Robert Durkin & Jason Ishikawa, ATC, "Knee injuries in children – Functional assessment"
Dr. Christopher Lynch, "Return to sports – Sports performance in children"
The Backbones of Pediatric Musculoskeletal Conditions conference was offered as part of Hawaii Pacific Health's ongoing commitment to sharing its expertise with other medical professionals for the benefit of their patients.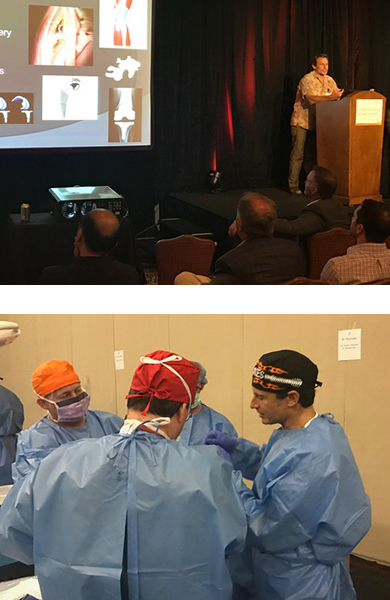 Wilcox Surgeon Teaches Others how to Advance Their Practice
Wilcox Bone & Joint Center Orthopedic Surgeon Dr. David Rovinsky has been traveling around the country recently, speaking at medical conferences and serving as a course instructor sharing his expertise and experience in total hip and knee replacement.
Rovinsky served as a course chairman, moderator and presenter at the Contemporary Solutions in Joint Surgery Conference in Salt Lake City, Utah. He gave three lectures on various total hip and knee replacement procedures.
He also served as a session moderator and presented three lectures at the North American Hip and Knee Symposium in Scottsdale, Arizona. This meeting attracts an international audience with delegates from Canada, Japan, and Central and South America joining attendees from across the United States. He was invited specifically to share with the attendees the techniques and protocols in use at Wilcox Medical Center, including computer aided design and custom patient instrumentation for total knee replacement, fixed versus mobile bearing design for partial knee replacement, and patient selection and optimization for short stay total joint replacement.
In addition to speaking at conferences, Rovinsky also lends his expertise as an instructor. He recently led the first-ever course on the Journey II XR – Bi-cruciate Total Knee Replacement. Wilcox is the first in Hawaii to use this knee resurfacing implant and one of the first in the country.
After the training event, eight surgeons from North America requested to visit Wilcox to learn more about the orthopedic program. Surgeons from Japan also have requested a total knee course to be held on Kauai to teach them these best practices for use in their home country.
Wilcox is privileged to have surgeons who are performing cutting-edge orthopedic surgery normally only offered in select large, academic medical centers, and to have them share their expertise with other orthopedic surgeons from around the world.