State-of-the-Art Orthopedic Care on Kauai
Our team of experts at the Wilcox Bone & Joint Center provides individualized care using the very latest in medical technology. Wilcox offers robotics-assisted partial knee replacement and performed the first robotics-assisted total knee replacement in Hawaii in June 2017.
We believe that using the best available technology in total joint replacement will improve the quality of surgery and outcomes for our patients. The benefits of using more precise instrumentation to do total knee replacements are many: better mechanical alignment of the implant, better balancing of the ligaments that stabilize the knee, less invasive surgery, shorter hospital stays, reduced care costs, higher patient satisfaction, better patient function, and a return to high-level activities.
This technology is available right here at Wilcox, proudly serving Kauai and beyond for 79 years.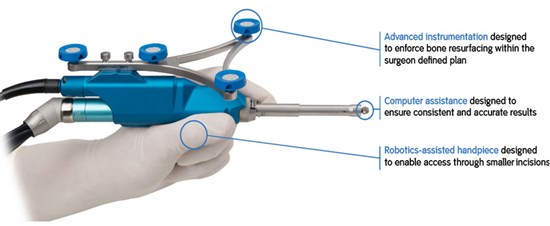 Meet Our Team:
 To book an appointment with our joint replacement specialists, call: 808- 245-1523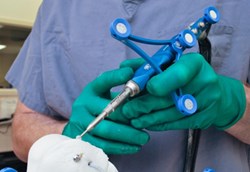 How does the robot system help perform knee replacement?
Through an advanced computer program, the system provides robotic assistance that relays precise information about the patient's knee to a robotics-assisted hand piece used by our surgeons during the procedure. By collecting patient-specific data, boundaries are established for the hand piece so the surgeon can remove the damaged surfaces of the knee, balance the joint and position the implant with great accuracy. This added level of accuracy can help improve the function, feel and potential longevity of the knee implant.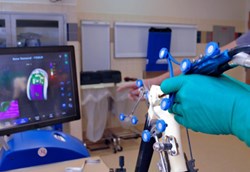 How does it work?
The system works in conjunction with the surgeon's skilled hands to achieve the accurate positioning of the knee replacement components based on each patient's unique anatomy. It enables the surgeon to create a 3D real-time model of each patient's knee in the operating room. The computer is then used to create a custom surgical plan for each individual patient. The robotic burr enables the surgeon to execute the computer designed plan to within 0.1 degrees or 0.1mm of accuracy.
Featured Videos:


---
 Total or partial knee replacement - which would be right for you?
For patients suffering from knee pain caused by osteoarthritis and whose damage is limited to a single compartment or area of the knee, partial knee replacement may be an option because it preserves healthy bone and ligaments while replacing the damaged area.
Learn more about partial knee replacement at AAOS.org
Total knee replacement is more common. More than 600,000 total knee replacement procedures are performed each year in the U.S. and more than 90 percent of these patients experience a dramatic relief in knee pain and are better able to perform common activities.
Learn more about total knee replacement at AAOS.org
Is robotic surgery right for everyone?
Our Wilcox Bone & Joint Center surgeons use the latest technologies based on each patient's individual activities and anatomy. In some cases, our surgeons use robotics-assisted surgery. Another option is the combination of computer-aided design and custom patient instrumentation. For these cases, we get a preoperative MRI and standing X-rays. Based on these studies, a virtual 3-D model of the knee is made and a computer is used by the surgeon for preoperative surgical planning. A 3-D printer is used to create custom instruments that match each patient's individual anatomy. These custom instruments are used in surgery and enable precise execution of our surgical plan.
First robotics-assisted total knee resurfacing in the region!
Dr. David Rovinsky performed the first robotic bicruciate sparing knee replacement of this kind west of New York on Sept. 26, 2017. It was only the third case of this type in the world. The JOURNEY II XR bicruciate knee replacement is ideal for young, active patients and enables their return to high-level sports such as surfing and skiing. This surgery preserves the ACL and PCL (ligaments that stabilize the knee) and restores normal knee biomechanics. It is truly a total knee resurfacing where minimal bone is removed to make room for a cap that covers the worn surfaces so they become smooth. The end result for patients is a knee that feels more "natural" with a high level of range of motion and stability.