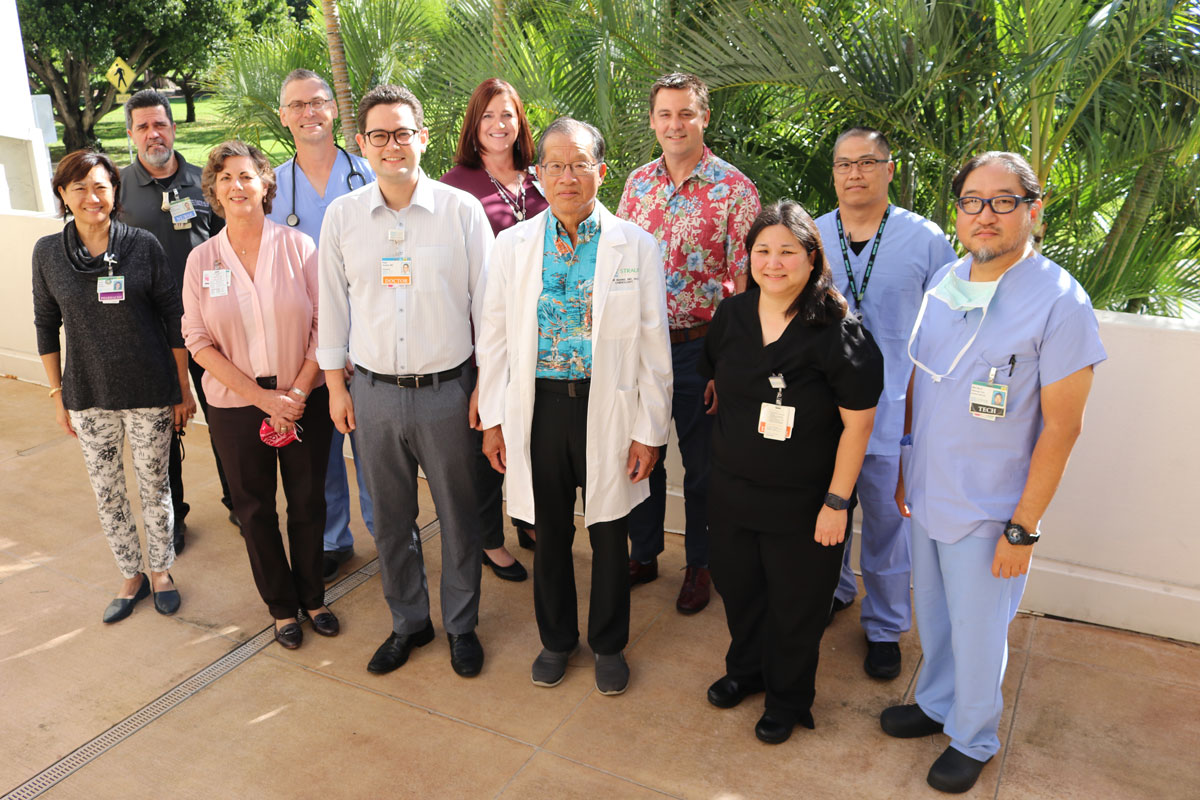 Members of the Straub STEMI program, including structural and interventional cardiologist Dr. Rayji Tsutsui (front row, third from left), gathered at the medical center in February 2022 to recognize the team's work to improve heart care.
Straub Reaches Milestone Metric for Treating STEMI Heart Attacks
Innovative programs are saving lives from heart-health issues every day in Hawaii.
In February 2022, Straub Medical Center marked a lifesaving achievement in its care for patients suffering from the most severe heart attacks. A collaborative effort led by structural and interventional cardiologist Dr. Rayji Tsutsui reduced Straub's average "door-to-balloon time" to just 53 minutes – far below the nationwide goal of 90 minutes.
Tsutsui sat down with Hawaii News Now to explain the revamped STEMI program at Straub and how the collaborative efforts of the heart care team has led to improved patient outcomes.
"The STEMI program is a program that we launched in March 2021 at Straub Medical Center where we identify opportunities for improvement in patients that suffered the worst subset of heart attacks called ST-segment elevation myocardial infraction, or STEMI. It's a program designed to help medical professionals deliver care in a very timely fashion," Tsutsui said.
A STEMI heart attack occurs when at least one of the main arteries leading to the heart is obstructed.
"It can lead to severe medical consequences, including death. It is very important that we open the artery in a timely fashion, and that is a very critical part of the medical care that we provide for our STEMI patients," Tsutsui said.
Cardiologists use the term "door-to-balloon time" as a metric to count the minutes between when a patient arrives to the hospital (the "door") and when cardiologists are able to open the blocked artery (the "balloon").
"The lower the door-to-balloon time, the better the patient outcome," he explained.
In 2020, Straub was able to open the artery within 67 minutes after patients arrived at the emergency department. Input from various teams allowed Straub to reduce that time by 21% in less than a year.
"It's a significant reduction that directly translates to better patient outcomes, including survival," Tsutsui said. "With this type of project, not only are you touching one life, you're touching many lives. That difference is really hard to make, and it cannot be made alone."
Tsutsui also offered viewers his tips for a healthier heart. 
"I cannot stress enough how important exercise is," he said. "I would really like to recommend everybody to get out there and exercise for a minimum of half an hour for five days out of seven."
As for the type of exercise, Tsutsui recommended aerobic movement, such as walking, jumping rope, swimming or riding a bike.
"This will not only help your cardiovascular health overall, but it will make you feel good too. So, get out there, guys, and exercise!" he said. 
---
This segment originally aired Feb. 9, 2022, as part of the Hawaii News Now "Sunrise" Healthier Hawaii series. Watch the full broadcast here, or learn more about the Straub STEMI program in the video below.
Published on: January 25, 2023