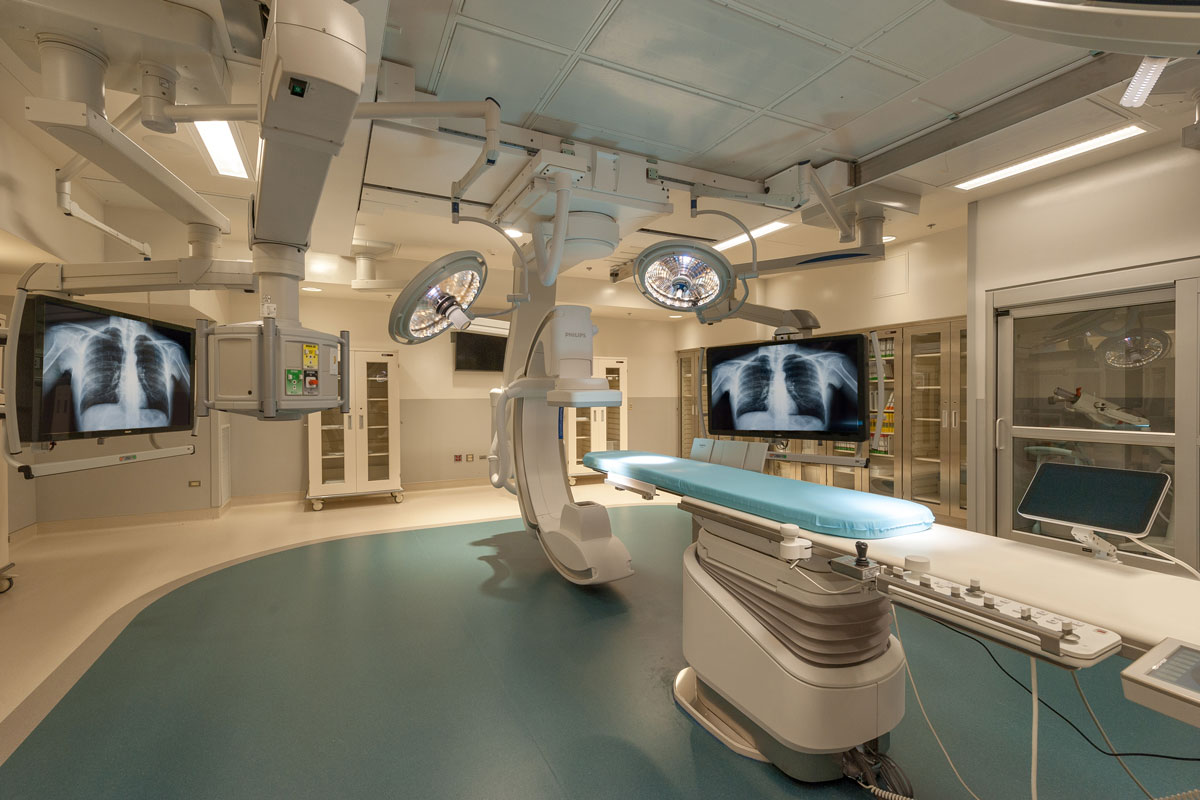 Straub Medical Center Expands Heart Services with Addition of State-of-the-Art Hybrid Suite
Straub Medical Center welcomed the addition of a new hybrid suite developed for patients with cardiovascular conditions. 
Located on the second floor of the King Street medical center next to the cardiac catheterization lab, the $7.9 million hybrid suite combines the capabilities of a cardiac catheterization lab with the disinfected environment of an operating room to allow for the quick, seamless transition from an endovascular procedure to open surgery. 
Other advantages of the hybrid suite include:
State-of-the-art angiography system, which allows a team to work together with greater comfort and precision.
Advance imaging systems to provide quick and detailed information for faster and more accurate treatment.
Unique technology that allows multidisciplinary teams to work together on a case-by-case basis, in the best interest of each patient.
"This is a game-changer," say Dr. Mark Grattan, medical director of cardiac surgery at Straub.
"The hybrid suite is really the evolution of the operating room. It gives us so many more opportunities with what we can do," Grattan says.
As its name suggestions, a hybrid suite can be utilized for multiple purposes, from surgical procedures to vascular and cardiac catheterization procedures as well.
Examples of procedures that can be done in a hybrid suite include:
TAVR/structural heart procedures.
Protected/high-risk PCI with Impella or percutaneous assist devices.
Thoracic endovascular, abdominal or iliac endovascular, and stent grafts and hybrid revascularization.
Future procedures include venous thrombectomy and lead extractions.
The facility also is designed to handle both minimally invasive and open procedures, so that in the event there is ever any overflow from Straub's two functioning cardiac cath labs, the hybrid operating room can quickly be made available.
"Stent patients would be normally discharged, then readmitted, but this gives you the ability to do things in combination where you couldn't do those things before," says Dr. Roy Chen, medical director of the Straub Heart Center.
Another advantage to this multidisciplinary design is added patient safety.
Because the hybrid suite is all-inclusive, complications can be handled immediately, without causing further problems or putting the patient at risk.
The flexibility of the facility also allows physicians to finish different procedures without the need to move between floors or discharge patients, saving patients both time and money.
All of these benefits mean patients experience quicker recovery times, reduced treatment times and less time in the medical center.
"It is much more effective to do these procedures in the one, right location," Chen says. 
"We are now able to do things that five to 10 years ago, we could not do. We're able to take care of patients we couldn't take care of. Now, we can add on years of life – meaningful life," Grattan adds.
The development of the hybrid suite was a group effort, with physicians, anesthesiologists, technical staff and many more providing input to the design of the space and equipment needs.
"It started with a vision about 12 years ago," says Dr. Elna Masuda, Straub vascular surgeon and champion for the hybrid suite. 
"We visited hybrid suites in New York and Philadelphia, and we came back with the knowledge to put it together," Masuda says. "The product is really the result of a multidisciplinary team putting away their egos and self-interests and saying, 'We're going to build this hybrid room – we're going to use it and we're going to make it work as a group.'"
The Straub Heart Center is nationally recognized for complete cardiovascular care, with accolades from the Society of Thoracic Surgeons and the American Heart Association for achieving high standards of care.
Its team of specialists provides a broad range of cardiovascular services, from prevention to diagnosis to treatment and rehabilitation. 
To learn more about the Straub Heart Center, click here.
Published on: August 31, 2018