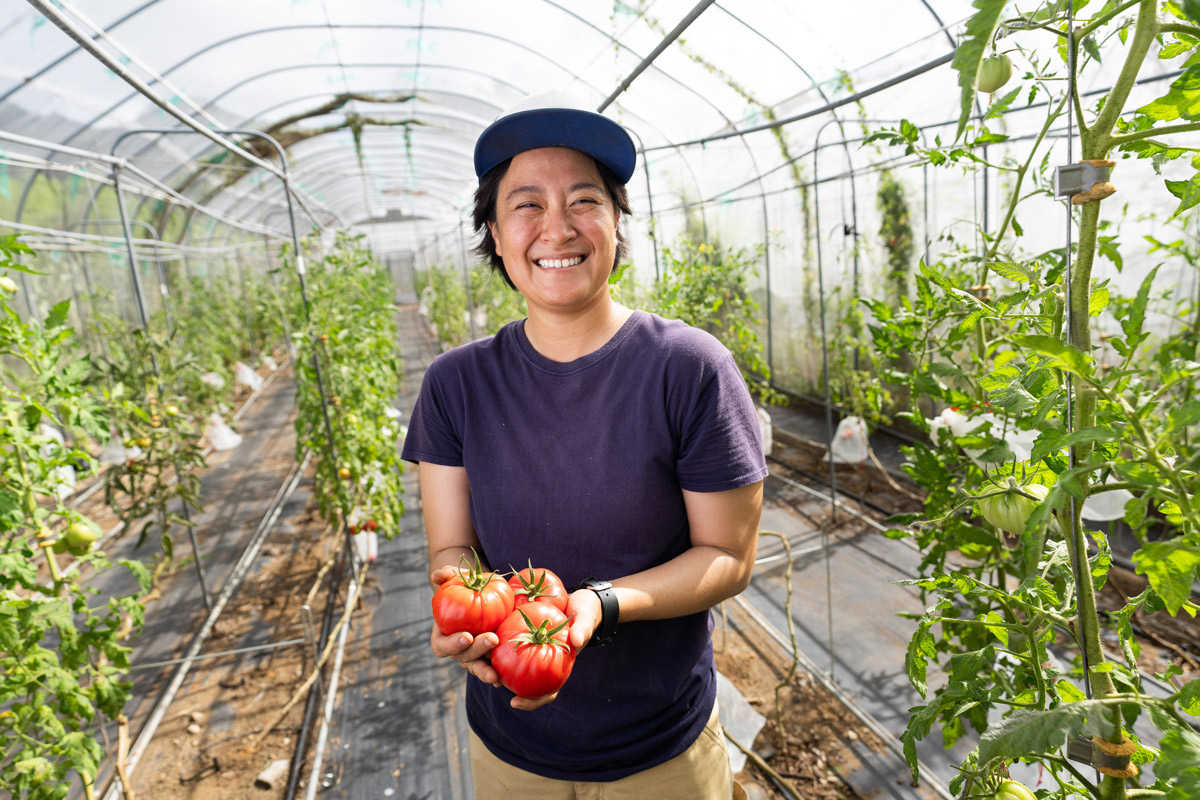 Gina Kanekoa, founder of Kanekoa Farms in Waimanalo on Oahu, is all smiles thanks to a partnership between Feed The Hunger Fund, Hawaii Pacific Health and Kamehameha Schools. Kanekoa used Feed The Hunger Fund loan money to purchase a hook-and-trellis system for the farm's tomato crop.
Innovative Partnership Supports Hawaii's Small Farms & Food Producers
A healthy diet is a key part of a healthy lifestyle.
In Hawaii, which is separated from much of the world by water, developing healthy food systems is essential to ensuring that our communities have consistent access to fresh local produce and food.
Yet, for many small farms and food producers in the islands, it can be a struggle to find the finances needed to maintain and expand production needed for food security for Hawaii's people.
Now, an innovative partnership between Feed The Hunger Fund, Hawaii Pacific Health (HPH) and Kamehameha Schools is providing support for local food entrepreneurs.
HPH and Kamehameha Schools recently committed to more than $1 million for Feed The Hunger Fund, with each organization providing $525,000.
HPH committed $500,000 in loans through the HPH Place-Based Investment (PBI) Fund, and an additional $25,000 in grants from HPH Community Benefit funds.
Feed The Hunger Fund is a federally certified Community Development Financial Institution (CDFI) that works to alleviate hunger and poverty by providing small-scale food businesses in Hawaii and California access to funding.
Most of Hawaii's more-than-7,300 farms are small farms. In addition, 80% of Hawaii farms have annual sales under $25,000. Low-interest loans would help these entrepreneurs increase food production, but many have trouble qualifying for commercial loans.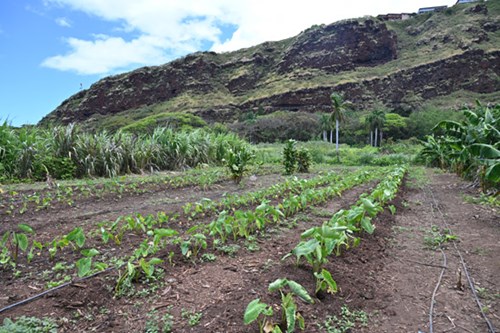 Feed The Hunger Fund helps fill that need through microloans and small loans to low-income individuals. Many borrowers are women, Native Hawaiian or are immigrant status living and working in low-resourced communities.
Among the first businesses receiving loans from this Feed The Hunger Fund partnership are:
Aloha Aina Poi Company, Kauai – Based in Makaweli Valley, Aloha Aina Poi Company's goal is to provide the highest quality kalo products to reinvigorate and support a thriving mahiai kalo (kalo farming) complex in west Kauai. The farmer-owned enterprise is centered on aina-based community enrichment, empowerment and economic development. The company received $150,000, which went toward new equipment and building renovations to expand refrigeration storage capabilities, as well as additional delivery vehicles and staff, e-commerce enhancement and facility upgrades.


Kanekoa Farms, Oahu – Founded in 2021 by Gina Kanekoa in response to the COVID-19 pandemic, which rattled the food and restaurant industry, Kanekoa Farms provides high-quality vegetables to chefs so that they can showcase the beauty of local produce. The Waimanalo-based business secured an agricultural lease agreement on Kamehameha Schools' lands in East Honolulu on Oahu. The farm used the $15,000 in funding to buy a hook-and-trellis system for its tomato crop.


Mokuwai Piko Poi, Hawaii Island – Home of the "Poi Pops," Mokuwai Piko Poi is a family-owned poi mill. Located in Honokaa along the Hamakua Coast of Hawaii Island, Mokuwai Piko Poi sources kalo (taro) from Kauai and Waipio Valley. Mokuwai Piko Poi received $95,000, allowing the business to purchase heavy machinery.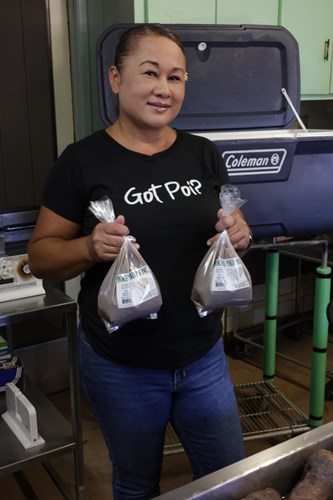 "By investing in the establishment and expansion of healthy, locally sourced food-based businesses, low-income communities gain greater food equity and security, as well as increased economic and environmental vitality," said Patti Chang, Feed The Hunger Fund CEO and cofounder.
Keeping people healthy must begin where they live, work and play. The collaboration with Feed The Hunger Fund and Kamehameha Schools is just one way HPH is engaging organizations throughout the community through social-impact and place-based investments in the areas of affordable housing, education, economic empowerment and food system development.
"At Hawaii Pacific Health, we believe that creating a healthier Hawaii begins beyond the walls of our medical centers through community partnerships," said Michael Robinson, HPH vice president of government relations and community affairs. "A key part of building strong communities are healthy local food systems. Small farms are the backbone of Hawaii's food system and ensuring access to capital for these growers is essential for sustainability. Our co-investment with Kamehameha Schools for Feed The Hunger Fund will help ensure that small farming businesses can continue to produce the foods Hawaii can grow locally."
"Investing in Feed The Hunger Fund will broaden Kamehameha Schools' agricultural impact," said Kaeo Duarte, Kamehameha Schools vice president of community and aina resiliency. "The fund looks to support compelling businesses that will accelerate the revitalization and diversification of food systems, including our own Kamehameha Schools portfolio of aina and tenants. This enables us to more directly invest in enterprises that aim to provide healthy and accessible food to feed Hawaii and beyond, as part of a resilient economy with new jobs and career pathways."
HPH and Kamehameha Schools have partnered on a number of initiatives aimed at improving health, economic stability, education and the social well-being of communities across Hawaii.
Published on: July 27, 2023