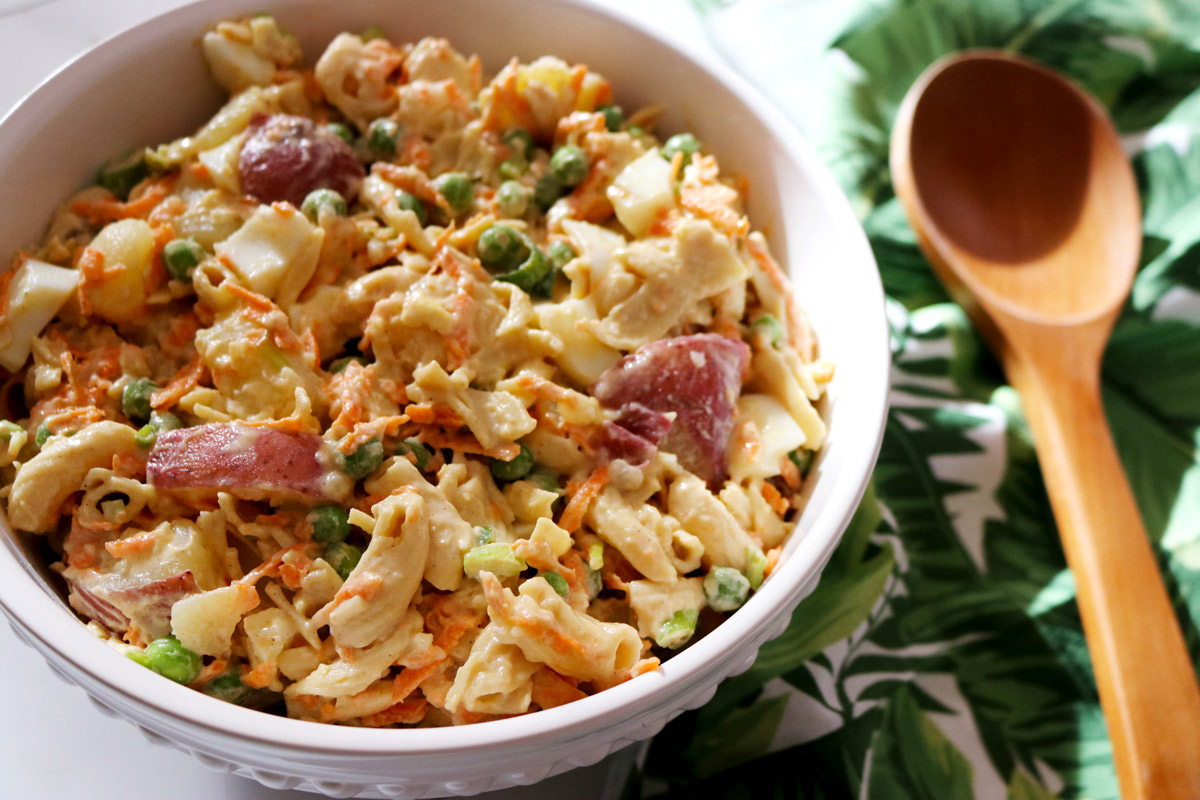 A Healthier Hawaiian-Style Potato-Mac Salad
Potato-mac salad is a requirement for any Hawaiian-style potluck.

The unique blend of macaroni, potatoes, eggs, mayonnaise and veggies – including peas! – make for a wonderfully delicious explosion of flavors and textures in each spoonful.
However, the traditional potato-mac salad found on plate-lunch platters at many Hawaii restaurants can be loaded with unhealthy saturated fats, sodium and processed carbs.
Thankfully, a few simple substitutions make this beloved local side dish better for your health – and waistline.
Using chickpea pasta* in place of regular macaroni increases the amount of satiating protein in this recipe. It also provides additional fiber, which helps even more with making you feel full, not stuffed, at the end of the meal.
Egg yolks contain vitamins A, D, E and K, along with folate, vitamin B12 and other good-for-you nutrients – however, if you are on a low-fat diet, the fat in egg yolks can push you to the upper end of your daily intake limit.
Though this calls for five eggs total, only two yolks are used to reduce the amount of saturated fat even more without sacrificing taste.
Swapping full-fat mayo for low-fat Greek yogurt also is a smart substitution that helps cut the amount of fat and calories per serving by nearly one-half!
As with any healthier take on a well-known recipe, the taste, texture and appearance of the dish will be a little different than the original.
That being said, don't be afraid to try it out, and feel free to put your own spin on our version, too!
*Side note: Chickpea pasta can become mushy if overcooked, so err on the side of al dente when checking your noodles.
A Healthier Hawaiian-Style Potato-Mac Salad
Serves 10
Ingredients:
1 8-ounce box chickpea pasta (elbow or ziti)
5 red potatoes
5 hard-cooked eggs, yolks and whites separated
1 large carrot, shredded
1/2 cup scallions, chopped
1/2 cup frozen peas, thawed and drained
1 cup low-fat plain Greek yogurt
1 teaspoon yellow mustard
1 tablespoon apple cider vinegar
1 teaspoon ground allspice
2 teaspoons paprika
Salt and black pepper, to taste
Directions:
1. Cut the potatoes into 1-inch cubes and place them in a large pot. Fill the pot with cold water until it covers the potatoes by an inch. Place on the stove and turn to high heat; bring the water to a boil and cook for 10 minutes, until potatoes are just soft enough to be pierced with a fork but still hold their shape. Remove from heat, drain and allow to cool.
2. Cook chickpea pasta according to package directions, making sure not to overcook the pasta. You want the noodles to be al dente. Drain pasta, rinse and set aside to cool.
3. Place two egg yolks into a small bowl and using a fork, mash to form a paste. Discard remaining yolks, or save for another recipe. Chop the 5 egg whites and put in a medium bowl with the chopped scallions and shredded carrots; set aside.
4. Add the egg yolks to a medium bowl and mix together with the Greek yogurt, mustard, apple cider vinegar, allspice and paprika until smooth. Season with salt and pepper to taste.
5. Combine cooled potatoes and pasta in a large salad bowl. Add in chopped vegetables and sauce; mix until well combined. Add additional salt and pepper to taste.
6. Cover and refrigerate at least 4 hours before serving (it tastes even better after a day or two!). Store in an airtight container in the refrigerator for up to 1 week.
Nutritional information per serving:
Calories: 274; Carbohydrates: 46.3g; Protein: 18.4g; Total Fat: 4.4g; Saturated Fat: 0.6g; Cholesterol: 35mg; Dietary Fiber: 9.2g; Sodium: 107mg
Published on: August 12, 2019