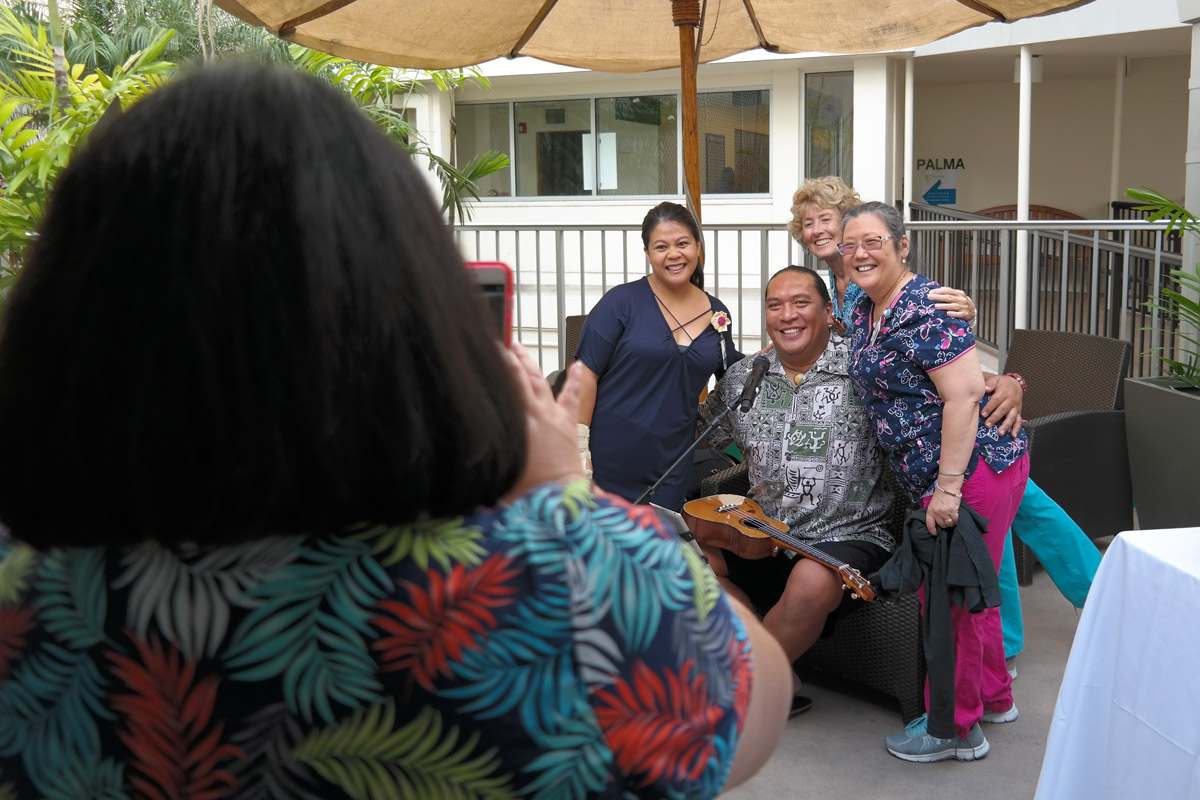 Healthier Survivors Celebration Honors Strength of the Human Spirit
As the sun slowly lowered in the early evening sky, the soft strums of Bruce Naluai's ukulele welcomed guests to the Straub Medical Center rotunda, which had been transformed into an outdoor oasis perfect for finding a seat to kick back, relax and talk story. 
This dreamy summer scene was the setting for the Hawaii Pacific Health Cancer Centers' first-ever Healthier Survivors Celebration, held June 26, 2017. 
It was a bittersweet reunion as patients reconnected with doctors, nurses and other members of their health care team, many of whom they hadn't seen since their last days of treatment. 
"The last time I saw many of you, I said 'I hope I never see you again.' And while I meant those words, I really did want to see you again and hear how you're doing – that's why this event is so special," said Liz Wright, director of Oncology Services for Hawaii Pacific Health. 
"This is a pretty special event this evening," agreed Art Gladstone, CEO of Straub Medical Center and Pali Momi Medical Center. 
"The care that we provide in our cancers centers is just phenomenal, but it's not the bricks and the mortar that bring our patients here; it's the people – the doctors, the nurses, all of the clinicians, everyone who provide the care to them as they go through their treatment," Gladstone said. 
The evening also served as an opportunity for patients to meet others who also had made the journey from cancer diagnosis through treatment to, ultimately, survivorship. 
"When a patient is going through treatment, the focus is getting through the cancer and eradicating the disease – the focus is on the quantity of life. But in survivorship, we want the focus to be on the quality of life," said Nurse Practitioner Francisco Conde, an oncology-certified nurse and head of the survivorship program at Straub. 
"There was a time when a person diagnosed with cancer automatically thought they were going to die. Now, patients are living longer," Conde said. "The number of cancer survivors here in the United States is growing every year. Last year, there were more than 15.5 million cancer survivors. That is awesome, but with that, there may be some lingering side effects from cancer and its treatments – be it physical, emotional or social. That's what our focus is in our survivorship program." 
Testimonials from former Cancer Centers patients and a hula performance ended the official program, but attendees lingered a little longer to savor and share their stories. 
"We had at least 50 survivors and their guests attend. The doctors and nurses were so happy reuniting with patients – exactly our goal! We're already looking forward to next year," Wright said. 
For more information about the Hawaii Pacific Health Cancer Centers and how it's helping cancer patients become cancer survivors, click here.
View photos from the event in the slideshow below.
Published on: June 28, 2017