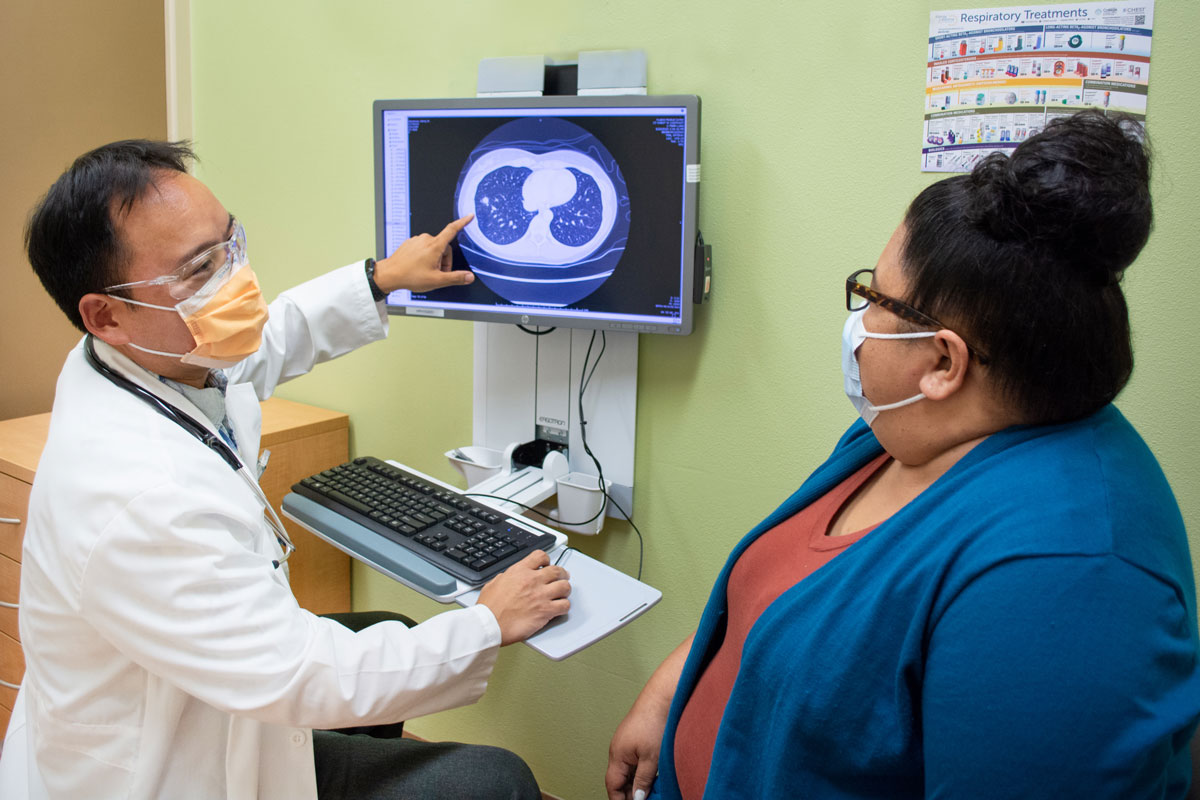 Pulmonologist Dr. Ronson Sato consults with a patient.
Sleep Tight with the Right Advice
As a pulmonologist with Hawaii Pacific Health, Dr. Ronson Sato evaluates people with lung-related complaints such as wheezing, coughing or shortness of breath, and works to alleviate those symptoms.
This involves learning more about a patient's history as well as utilizing diagnostic tools including radiographic imaging or lung-function testing to help determine the best treatment. He is also a board-certified sleep specialist and treats people with various sleep disorders.
In this article, he expounds further on the reasons he chose his field of work and offers insight about sleep-related health issues.
What inspired you to pursue a medical degree and pulmonology?
Watching my parents struggle to care for an ailing family member through the complexities of our health system motivated me to study medicine. I was naturally drawn to pulmonary and sleep medicine since many in my family snore or suffer from asthma. Equipped with a background in medicine, I feel fortunate to help others and enjoy my relationships with my patients. 
What would you like readers to know about your medical training?
I was born and raised on Oahu and received most of my education and training in Hawaii.
Graduating from University of Hawaii John A. Burns School of Medicine and Hawaii Internal Medicine Residency program empowered me to better understand the needs of the community and challenges to health care access.
After completing specialty training in pulmonary, critical care and sleep medicine in California, it was always a goal of mine to return home. I am grateful for my local upbringing and strive to provide care for my patients as if they were family. I feel truly blessed to work and live in Hawaii and intend to help its people for as long as possible.
When should a person see a specialist?
People should seek the help of a specialist if their symptoms fail to improve or affect their daily function and quality of life. A specialist can help to determine the seriousness of symptoms, possible causes, and how to best treat them and prevent recurrence.
What are some of the most common causes of sleep disorders that you see?
Obstructive sleep apnea is the most common sleep disorder that I treat. It is when the upper airway periodically collapses, reduces air flow and disrupts a person's sleep. I also see many patients with other problems such as insomnia, delayed sleep phase disorder and poor sleep hygiene. Many people could improve their quantity and, more importantly, quality of sleep by reinforcing a regular sleep schedule and practicing healthy sleep habits. 
What are the range of treatments and how have they changed?
The range of pulmonary illnesses has not changed significantly over the years, with the exception of evolving infections such as COVID-19. However, laboratory testing, imaging, medications and diagnostic procedures have improved significantly. One example is a flexible camera pulmonologists use to evaluate the lungs, which is called a bronchoscopy. It is used to evaluate a person who has a lung nodule, lung mass, or enlarged lymph nodes for possible inflammation, infection or cancer.
Technology has improved the accuracy and reliability in diagnosing smaller, more peripheral abnormalities, as well as those deep in the chest, all without surgery. The same goes for sleep medicine. Although positive airway pressure, or PAP devices, remain first-line treatment for obstructive sleep apnea, a new, implantable device which does not require wearing a mask or oral appliance during sleep can be an effective alternative.
Is there anything else you'd like to add?
I enjoy fishing and exchanging stories with my patients, especially when they're willing to share their secret fishing spots!
---
This article was first featured in the June 29, 2022, issue of MidWeek as a part of the "Dr. in the House" series. See the full publication here.
Published on: December 7, 2022