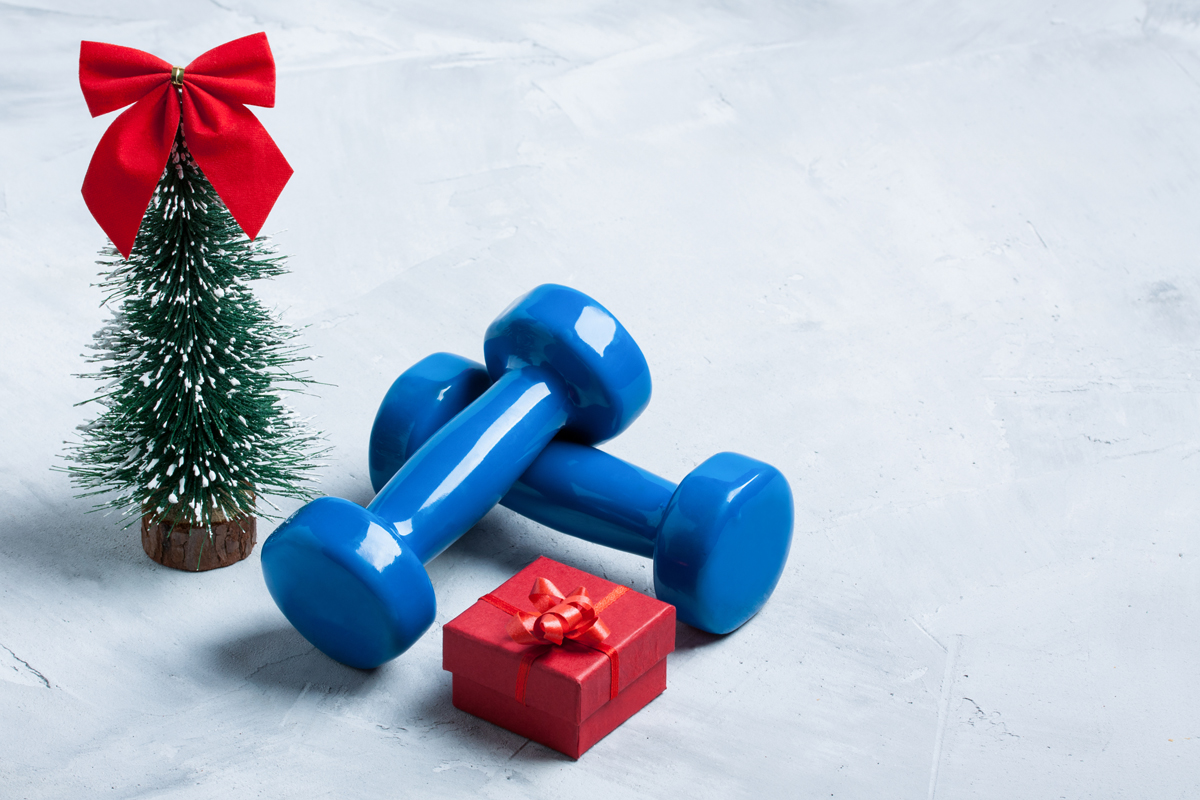 Give yourself the gift of good health by finding ways to fit in fitness during the holidays.
Get a Head Start on Your Healthier Resolutions
It's almost holiday time – family fun, parties, food … and more food! 
Food is everywhere this time of year, but that doesn't mean all of your health and fitness progress over the last 10 months needs to stop!  
Americans only gain an average of 3-4 pounds every holiday season. However, most of us never lose that excess weight once the festivities are over. This leads to a gradual accumulation of excess weight year after year, setting us up for health problems.  
Why wait until the New Year to start working on the new you?
Think about how much better you will feel if you don't start January off with regrets. 
Here are some tips to enjoy the holidays while being smart with your lifestyle choices.
Never go to a holiday party with an empty stomach.
Doing so sets you up to overeat or make poor choices. Try having a small high-protein snack before you go, such as 1/4 cup Greek yogurt, string cheese, a boiled egg with some cut-up veggies, or a 1-ounce serving of nuts. Having a snack high in protein will help you feel full, making you less likely to overindulge.
Think "protein and green" whenever you eat out.
Many of a food binge's adverse effects come from carbohydrate overloading and the subsequent "carb crash" afterward.
On Thanksgiving, go for lean white meat turkey, green beans, cauliflower mash and salad; avoid marshmallow-laden sweet potatoes, dinner rolls and sweets.
Stay active.
Holidays can be busy and stressful, but schedule into your calendar a minimum of 15-30 minutes of some type of physical activity daily.
A recently published study suggests that our ability to succeed with health and fitness goals can be increased if we have already put in the effort to exercise.
While this won't offset a giant food binge, it will help keep metabolism, appetite and motivation in check.
Minimize alcohol.
It not only tacks on extra calories, alcohol lowers our inhibitions to overindulge.
Alcohol also can be dangerous on a ketogenic diet, as it inhibits the liver's ability to produce sugar for our brain's function.
Sparkling seltzer with mint, lemon or lime and a spritz of liquid stevia makes a good substitute for a holiday beverage.
If you choose to indulge, steer clear of cocktails with loads of simple syrup (such as premade mixes) and instead enjoy a vodka cocktail made with stevia-sweetened tonic, or a glass of dry chardonnay.
Drink plenty of water.
Keep a bottle on you at all times to sip on throughout the day. Staying hydrated helps to curb your appetite and keep energy levels up so you'll be less tempted to snack on unhealthy choices.
No matter what, remember what the holidays are truly about – spending time with loved ones and reflecting on all of the happy memories from this past year.
Published on: November 3, 2017