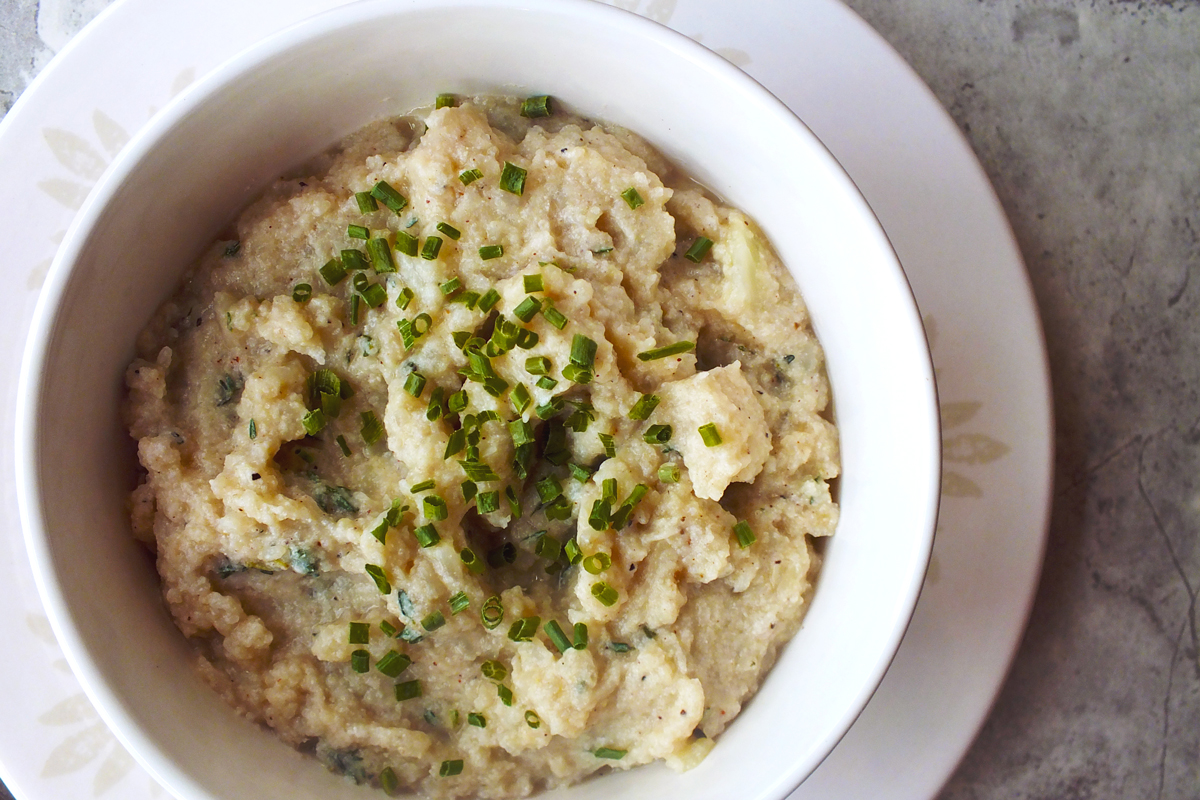 Mashed Cauliflower
Nothing is more traditional on Thanksgiving Day than a roasted turkey, mashed potatoes and pumpkin pie. 
But for those on a restricted diet due to health concerns, staying on track during the holidays can be near-impossible when all of your favorite foods are ready for feasting. 
Though you may be tempted to dig in to your favorite holiday treats, experts advise that it's important to stick with a healthy eating plan, especially if you have conditions like heart disease and diabetes.
Eating even a single high-fat meal can lead to chest pains for hours following the meal, and eating foods high in simple sugars can cause spikes in blood sugar levels
For a happier, healthier holiday season, you can make the following smart ingredient substitutions: 
Instead of using an excessive amount of sugar in your pumpkin pie or baked treats, use dates to provide a sweet taste from a more natural source.


Applesauce also is a great replacement for oil.


If you want to cut down on the amount of fat from recipes requiring heavy cream, use silken tofu or evaporated skim milk as replacements.
Looking for warm winter comfort food that's a little more exciting than plain old mashed potatoes? Try Mashed Cauliflower instead! 
Scented with nutmeg and thyme, this creamy cauliflower puree offers a generous dose of cell-protective antioxidants and powerful phytochemicals, including cancer-protective isothiocyanates and indoles. 
Cauliflower is high in fiber, has anti-inflammatory properties, and helps boost and maintain a healthy immune system. 
This cruceferious vegetable comes in colors other than white – seek out golden or purple cauliflower to add a splash of festive color to your next holiday gathering. 
Mashed Cauliflower
Serves 4


Ingredients:

6 1/2 cups cauliflower florets (1 medium head cauliflower, about 2 pounds)
1/3 cup unsweetened almond milk
1 teaspoon fresh thyme, chopped (or 1/2 teaspoon dried thyme)
1/4 teaspoon fine sea salt
1/8 teaspoon freshly ground pepper
1/8 teaspoon freshly ground nutmeg
1 tablespoon chives (optional)
1 tablespoon nutritional yeast (optional)
 
Directions:
1. Place a vegetable steamer basket in a saucepan and add water to just below bottom of steamer basket. Bring water to a boil over high heat.
2. Add cauliflower florets, cover and steam until tender, about 8 to 10 minutes. (You may need to steam cauliflower in batches, depending on the size of your steamer.) Remove strainer basket. Discard steaming water from the pot.
3. Place steamed cauliflower back into the empty pot. Add soy milk, thyme, salt, pepper and nutmeg. Using a hand masher, sturdy whisk or immersion blender, mash the cauliflower to desired consistency. Taste for seasoning, adding more thyme, salt, pepper, or nutmeg, as needed.
4. Serve warm with a sprinkle of chives and/or nutritional yeast, if desired.
Nutritional information per 3/4-cup serving:
Calories: 70; Carbohydrates: 12g; Protein: 6g; Total Fat: 1g; Cholesterol: 0mg; Dietary Fiber: 5g; Sodium: 221mg
Published on: November 21, 2016