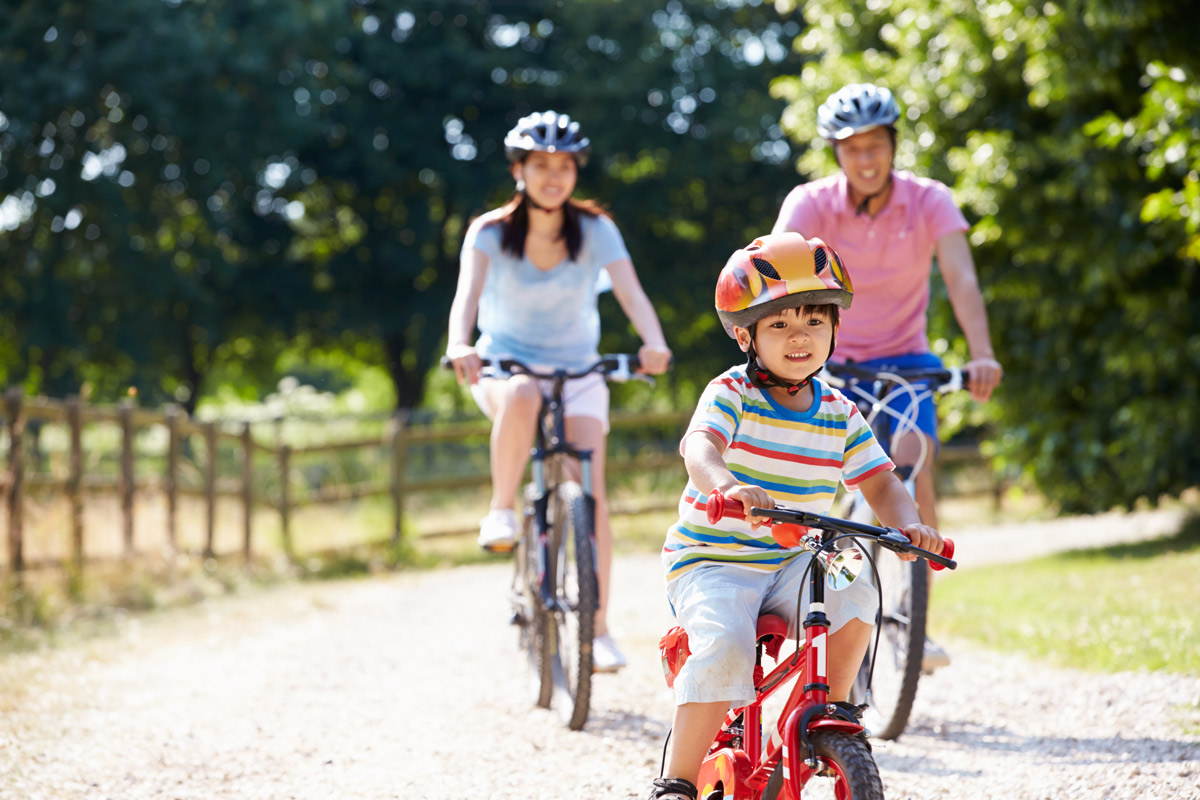 Create Healthier Traditions This Holiday Season
Most of the focus during the holidays often centers on food. This year, why not shift gears and plan an activity out of the house that involves the whole family? 
"While food is central to holiday celebrations, these celebrations are truly about being together with our family and friends," says Dr. Malia Shimokawa, a pediatrician and medical director of the N.E.W. (Nutrition + Exercise + Weight Management) Keiki Program at Kapiolani Medical Center for Women & Children. 
"Spending quality time together, away from screens, is crucial," Shimokawa continues. "Interacting with one another rather than our smartphone or tablet or TV strengthens our family relationships and keeps us active and healthy!" 
Simple activities Shimokawa recommends are going for a family hike or bike ride. 
"Sixty minutes of physical activity per day – whether all at once or broken up into short bursts – helps us to balance the holiday treats we enjoy at family parties and keep our energy levels up during a fun but exhausting time of year," Shimokawa says. 
Here are other ways to start new fitness-focused family traditions this holiday season:
Instead of watching the big game on TV, play touch football in the yard. The anticipation of besting your big brother or seeing your daughter score a TD will be all the motivation you need to get off the couch. 
Head to the beach or park for a holiday picnic. One of the perks of living in Hawaii is that it's warm and sunny year-round. Take advantage of the 75-degree weather with an al fresco feast, followed by some fun, like building a "sandman" or cardboard-sledding down a grassy hill. 
Take part in a turkey trot or reindeer romp. Dress up in costumes or festive colors. Or, race in honor of family members and friends who have passed away this year. You can find listings for upcoming events online. 
Go on a walking tour of the neighborhood light displays. Snap a few photos in front of your favorite winter wonderland scenes and upload it to Facebook or Instagram so your friends and family on the mainland can see how you're helping to create a #HealthierHawaii 
"Walking is beneficial for everyone, from children to the elderly," says Shimokawa. "Walking stimulates the brain and improves balance, coordination and even a person's mental health – especially when walking as a family of three or four generations!" 
No matter how you stay active over the holidays, the most important thing to remember is to keep things fun and interesting. 
As Shimokawa notes: "Variety helps to keep us all motivated and committed!" 
For more fun, local ideas on fitness and nutrition for keiki year-round, visit Hawaii 5210. 
Based at the University of Hawaii John A. Burns School of Medicine Department of Pediatrics and led by the Hawaii Initiative for Childhood Obesity Research and Education (HICORE), Hawaii 5210 is an initiative to promote healthy eating and active living and prevent childhood obesity in Hawaii through a coordinated, collaborative, locally relevant health education campaign. Find out more here.
Published on: November 21, 2016