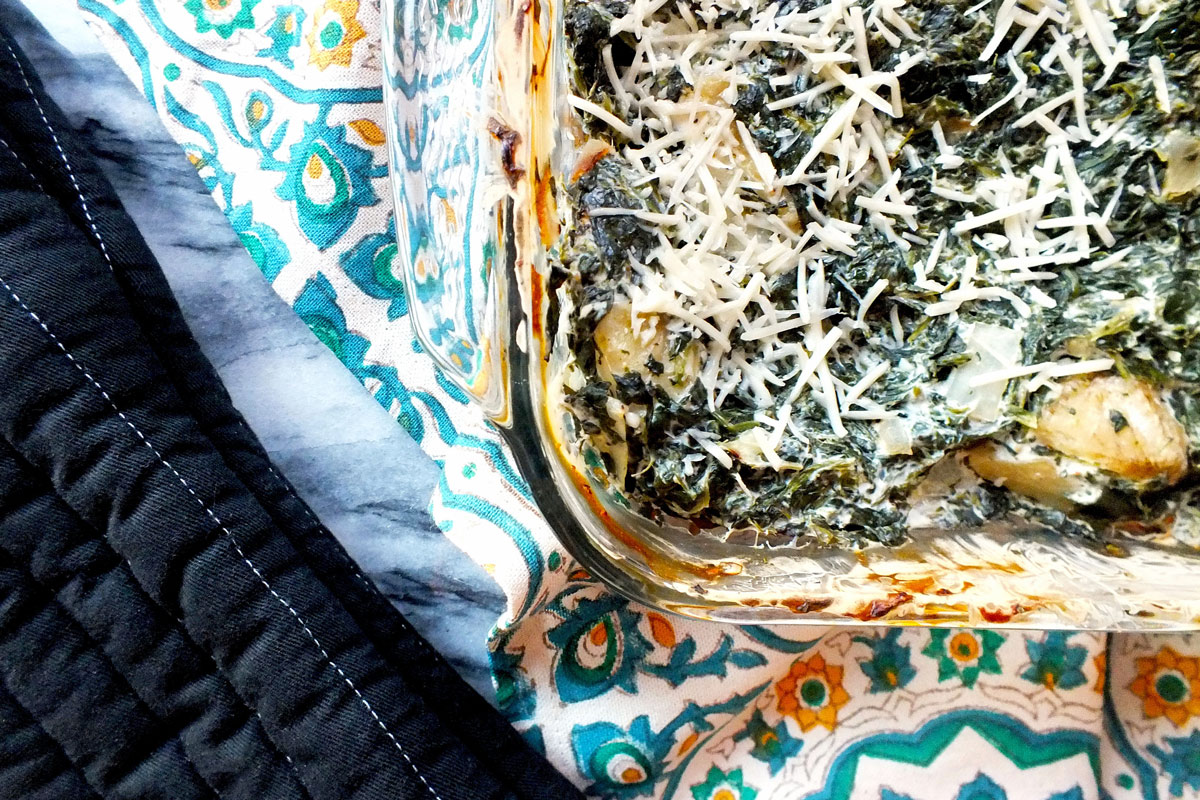 Spinach Artichoke Casserole
The incidence of food allergies and intolerances is on the rise.
Luckily for patients at Hawaii Pacific Health's network of hospitals, each cafeteria features something for everyone's taste.
"If our patients have specific allergies, we will substitute those ingredients with other options or offer another entrée more suitable for our patients," says Robin Lotu, manager of Food and Nutrition Services at Wilcox Memorial Hospital.
"In our cafeteria, we removed peanuts from all foods," Lotu adds. "We also have a sign posted near our hot food line that reads, 'To Our Valued Customers: IF you have any known food allergies, please ask our cafeteria servers to identify the ingredients in our food products ...' All customers notice our sign and will always ask our servers for the ingredients in our entrees if they have an allergy to certain foods."
A customer favorite free of a majority of the top food allergies, including wheat, soy and eggs, is the cafeteria's Spinach Artichoke Casserole.
However, the original recipe uses sour cream and margarine, both of which are high in not-so-good-for-you saturated fats.
Here, Nicole Sievers, RD, registered dietitian at Wilcox, gives the original recipe a healthy upgrade by replacing sour cream with Greek yogurt and margarine with EVOO.
"Plain, fat-free Greek yogurt adds vegetarian protein and reduces the fat content, especially the un-heart-healthy saturated fats," says Sievers. "Olive oil further improves the quality of fat. With the average person recommended to eat no more than 10-15 grams of saturated fat daily, saving 5 grams of saturated fat by simply changing from margarine to olive oil is a big win."
Spinach, artichoke hearts and onions supply a smattering of essential vitamins, minerals and other health benefits like fiber, folate and antioxidants.
Parmesan cheese also provides bone-building calcium, muscle-building protein and vitamin A, which is good for vision.
Spinach Artichoke Casserole
Serves 6
Ingredients:
3 10-ounce packages frozen, chopped spinach, thawed and squeezed to release excess water
1 cup white or yellow onions, chopped
1 tablespoon extra virgin olive oil
1/2 cup Parmesan cheese, shredded
1 cup plain nonfat Greek yogurt
1/4 teaspoon salt
1/2 teaspoon black pepper
1 1/2 cups artichoke hearts marinated in oil, quartered, drained and patted dry to remove excess oil
Directions:
1. Preheat oven to 350 degrees. Thaw and drain spinach thoroughly.
2. In a medium sauté pan, sauté onions in olive oil, until translucent.
3. In a separate bowl, mix Greek yogurt, Parmesan cheese, salt and pepper. Fold in spinach, artichoke hearts and onions.
4. Spread mixture into a pan sprayed with non-stick cooking spray. Bake for 25-35 minutes, or until it reaches an internal temperature of 150 degrees.
5. Remove from oven and sprinkle with extra Parmesan cheese. Serve while still warm.
Nutrition information per serving:
Original version:
Calories: 212; Carbohydrates: 15g; Protein: 7.6g; Total Fat: 15.3g; Saturated Fat: 6.4g; Sodium: 501mg
Healthier version:
Calories: 156; Carbohydrates: 15g; Protein: 10.3g; Total Fat:  7.7g; Saturated Fat: 1.5g; Sodium: 473mg
For more allergy-friendly options, check out:
Kapiolani Medical Center for Women & Children's Traditional Garlic Hummus
Pali Momi Medical Center's O'Brian Potatoes
Straub Medical Center's Mango Barbecue Salmon
Published on: May 19, 2015