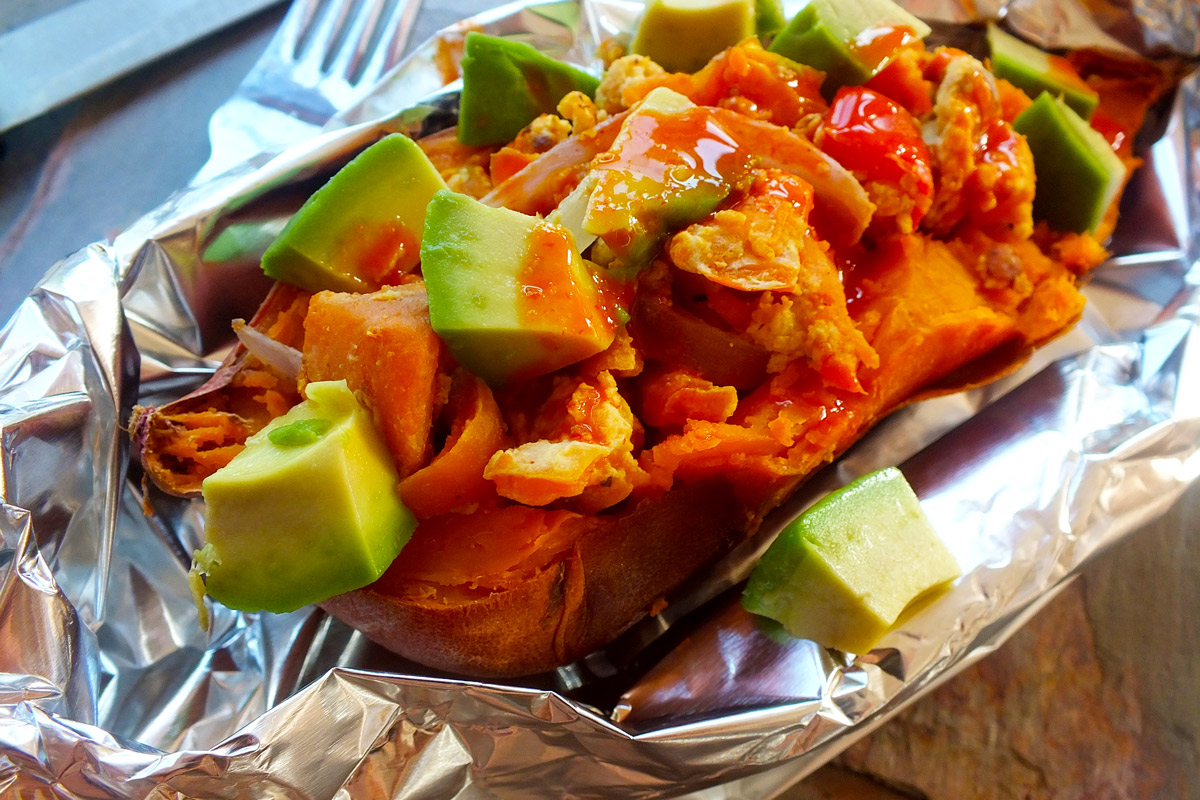 Southwestern Stuffed Sweet Potatoes
Rise and grind with these Southwestern Stuffed Sweet Potatoes! 
Filled red and green bell peppers, onions, eggs and cheese, these Southwestern-inspired breakfast boats are literally overflowing with a hearty and healthy mix of flavors and textures that also pack a beneficial boost to your morning routine. 
Sweet potatoes are an amazing source of beta-carotene, which helps protect vision. They also are high in vitamins C and B6, as well as iron, potassium and magnesium. 
Don't let their name fool you – sweet potatoes are sweet in taste, but, thanks to filling fiber, you won't experience the spikes and dip in blood sugar levels that are linked to fatigue and weight gain. 
For an easy breakfast-to-go, make a batch of these beauties the night before, stopping before step 5. 
Allow the potatoes to cool, then wrap each individual boat in foil and store in the fridge. In the morning, heat the potatoes in the oven according to the directions, or remove from foil and reheat in the microwave. 
Southwestern Stuffed Sweet Potatoes
Serves 6
 
Ingredients:
3 small-to-medium sweet potatoes
2 tablespoons avocado oil
1/2 cup red bell pepper, finely chopped
1/2 cup green bell pepper, finely chopped
1/4 cup red onion, sliced
1 cup egg whites
1 tablespoon red pepper flakes
1 teaspoon cumin
1 teaspoon chili powder
1/2 teaspoon garlic powder
1/4 teaspoon salt
1/4 teaspoon ground black pepper
1/2 cup low-fat Mexican cheese blend, shredded
1/2 avocado, diced
 
Directions:
1. Preheat oven to 350 degrees. Prick potatoes with a fork in several places and place on a foil-lined baking sheet. Bake until tender, 50 minutes to 1 hour.
2. When cool enough to handle, cut the potatoes in half lengthwise and scoop out the flesh, leaving a 1/4-inch border. Chop enough of the potato flesh to equal about 1 cup. (Save the remaining potato for another use.)
3. Heat oil in a large nonstick skillet over medium-high heat. Add bell peppers, onion, red pepper flakes and the chopped potato. Cook, stirring often, until the pepper softens, 3 to 4 minutes. Add egg whites, cumin, chili powder, garlic powder, salt and black pepper. Cook, stirring until set, 1 to 2 minutes. Remove from heat. Fold in cheese.
4. Generously stuff each potato half with about 1/2 cup of the egg mixture and individually wrap with heavy-duty foil.
5. Return to oven and cook, turning once or twice, until steaming hot and completely heated through, 10 to 15 minutes. Open carefully. Top with diced avocado and a splash of hot sauce. Enjoy! 
Nutritional information per serving (1 potato boat):
Calories: 175; Carbohydrates: 29.2g; Protein: 7g; Total Fat: 3.8g; Saturated Fat: 0.9g; Cholesterol: 2mg; Dietary Fiber: 5.4g; Sodium: 172mg
Published on: September 14, 2017