Slow Cooker Chicken Stew with Kale & White Beans
For days when you're low on time but still want to make a hearty home-cooked dinner, turn to this Slow Cooker Chicken Stew with Kale & White Beans.
The simplicity of this stew allows each ingredient equal time in the spotlight.
When allowed to cook in a richly seasoned broth, chicken breast becomes tender, juicy and extremely flavorful.
Cannellini beans add a richness to the broth, along with plant-based protein and fiber.
Also called dinosaur kale, lacinato kale provides a pop of color to the stew, along with a slew of vitamins, minerals and other nutritional superstars – all for around 33 calories per cup!
Once your ingredients are in the slow cooker, simply set it and forget it ... until you come home to a delicious, healthy meal!
Round out the dining experience by serving the stew with a crusty baguette and leafy green salad.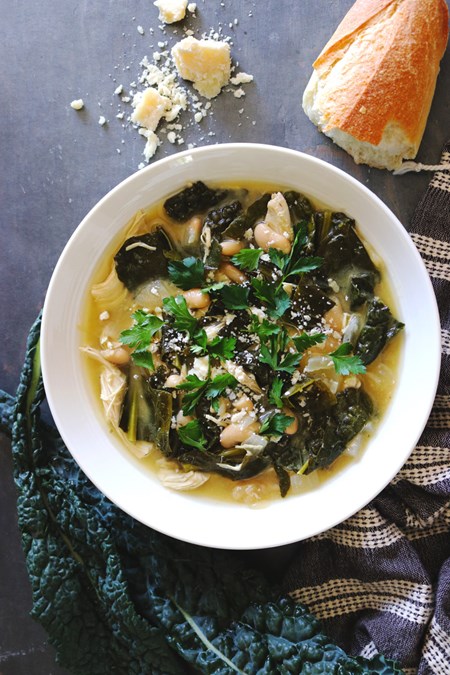 Slow Cooker Chicken Stew with Kale & White Beans
Serves 4
Ingredients:
2 pounds bone-in skinless chicken breasts
6 cups low-sodium chicken broth
1 medium yellow onion, chopped
1 teaspoon Herbs de Provence
2 Bay leaves
1 Parmesan cheese rind (about 4 ounces)
2 15-ounce cans cannellini beans, rinsed and drained
4 cups lacinato kale, roughly chopped
1 tablespoon lemon juice
Salt and fresh black pepper, to taste
1/4 cup fresh Parmesan cheese, grated
1/4 cup fresh flat-leaf parsley, roughly chopped
Directions:
1. Combine chicken breasts, broth, onion, Herbs de Provence, Bay leaves and Parmesan rind in a 6-quart slow cooker. Cover and cook on HIGH until onions are tender, about 2 hours.
2. Remove chicken and transfer to a clean cutting board. Shred chicken and discard the bones. Return chicken to the slow cooker.
3. Stir in the kale and beans. Cover and continue to cook on HIGH until the kale is tender, about 30-40 minutes.
4. Turn off heat; discard Parmesan rind and Bay leaves. Add lemon juice and salt and pepper, to taste.
5. Ladle into bowls and serve sprinkled with fresh parsley and grated Parmesan.
Nutritional information per serving (1 1/2 cups):
Calories: 387; Carbohydrates: 30.3g; Protein: 41.3g; Total Fat: 10.3.9g; Saturated Fat: 5g; Cholesterol: 74mg; Dietary Fiber: 6g; Sodium: 575mg
Published on: September 4, 2019