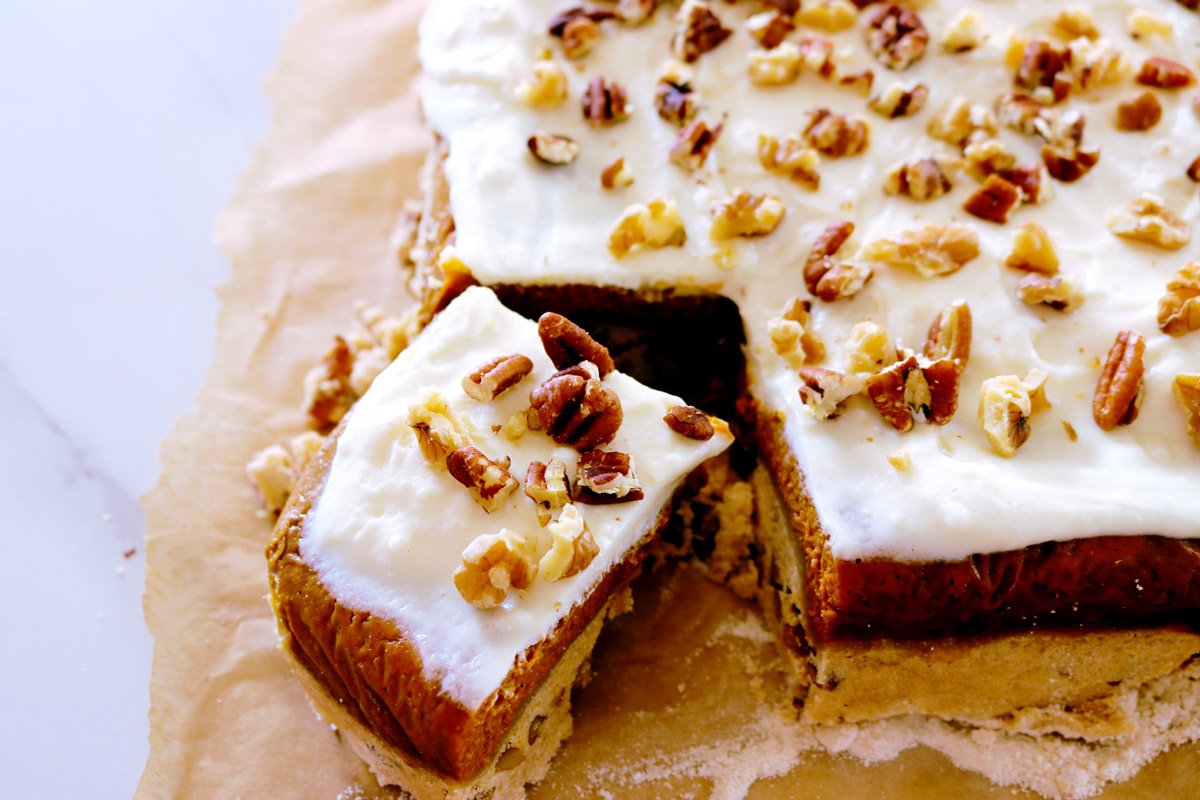 Pumpkin Crunch Cake
Spiced pumpkin, gooey cake, crunchy caramelized nuts – now these are layers we can get behind!
Welcome pumpkin season with a healthier version of Hawaii's favorite fall treat – Pumpkin Crunch Cake.
Pumpkin in its natural state is touted as a super food. It's high vitamin A content protects your eyesight, while studies show beta-carotene (which your body converts to vitamin A) can strengthen the immune system and help ward off infections, something that is especially important during flu season.
Pumpkin also is a good source of vitamin C, vitamin E, folate and iron, all of which help keep the immune system in peak fighting form.
Though pumpkin is undoubtedly healthy, what we add to it (i.e., sugar, sugar and more sugar!) can negate all the wonderful benefits of this winter squash.
Smart substitutions to traditional pumpkin crunch can go a long way toward making this recipe a healthier choice in a sea of seasonal sweet treats.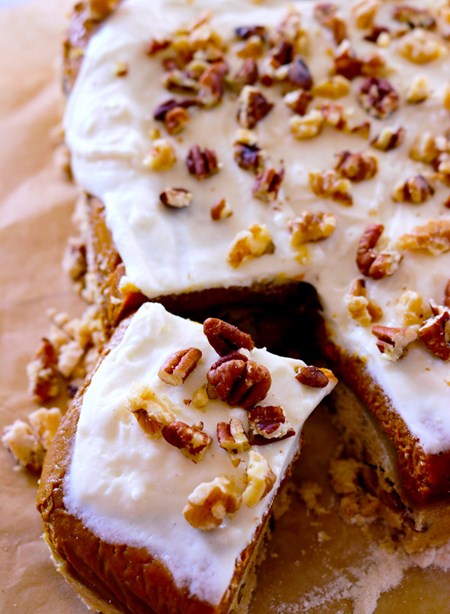 Boxed yellow cake mix is replaced by a homemade mix of cassava flour, monk fruit and buttermilk powder.
Cassava flour is made from the root of the cassava plant, a starchy tuber similar to taro and yam.
Since the flour comes from the finely ground root vegetable, it is higher in dietary fiber than white flour, plus it's naturally gluten free.
Another super sub is monk fruit, a small melon native to parts of China and Thailand that has been used for centuries in traditional Eastern medicine as a sweetener and herbal remedy.
While incredibly sweet, monk fruit does not raise blood sugar levels the way other natural sweeteners like honey or agave do. It also has marginal calories in powder form and is recognized as "generally safe" by the Food and Drug Administration, even for those who are diabetic.
Monk fruit also takes the place of sugar in the pumpkin filling and frosting of this recipe, which helps cut down significantly on the calorie and added sugar content of the cake.
Other interesting ingredients on the list you may not have heard of include quark, a mild, creamy European-style cheese that is light and fluffy with a slightly tangy taste.
Naturally low in fat, quark is high in protein and calcium, making it a perfect replacement for cream cheese.
Also to note is the use of ghee (clarified grass-fed butter) and coconut in various forms (oil, butter and milk).
While still high in fat – a bit of fat is a good thing – these ingredients offer additional layers of flavor and health benefits that actually help you feel satisfied with just one serving.
Truthfully, this recipe does take a bit of time and practice to pull off, but the results are well worth the extra effort.
Pumpkin Crunch Cake
Serves 24

Ingredients:

For the cake mix:
1 1/2 cups cassava flour
1/4 cup sweet rice flour (also called mochi rice flour)
1 cup monk fruit granulated sweetener
3 teaspoons baking powder
2 tablespoons dry buttermilk powder
1 teaspoon salt

For the pumpkin filling:
1 15-ounce can pumpkin puree (not pumpkin pie filling)
1/2 cup monk fruit granulated sweetener
1 teaspoon ground cinnamon
1/2 teaspoon salt
1/2 teaspoon ground ginger
1/4 teaspoon ground cloves
1/2 cup canned low-fat coconut milk
1/2 cup nonfat plain Greek yogurt

For the crunch topping:
1 1/2 cups walnuts, divided
1 1/2 cups pecans, divided
6 tablespoons ghee, melted
3 tablespoons coconut oil, melted
2 teaspoons pure vanilla extract

For the frosting:
1 8-ounce package quark (can also substitute Neufchatel cheese)
1/4 cup coconut butter (also called coconut manna)
1/2 cup monk fruit granulated sweetener

Directions:
1. Combine all ingredients for the cake mix into a large bowl. Stir until well-incorporated and set aside.
2. For the pumpkin filling, combine pumpkin puree, monk fruit sweetener, salt and spices in a food processor. Pulse for 30 seconds, until ingredients are blended.
3. Transfer mixture to saucepan and heat over medium-high heat. Once mixture begins to bubble, reduce heat and simmer for 5 minutes, stirring frequently.
4. Remove from heat and whisk in coconut milk and yogurt. Allow mixture to cool slightly for about 10 minutes.
5. Heat oven to 350 degrees. Place walnuts and pecans on an unlined baking sheet; toast for 10 minutes, until slightly browned.
6. Line a 9-by-12-inch baking pan with parchment paper. Pour pumpkin filling mixture onto paper. Pour half of cake mix over pumpkin filling.
7. In a small bowl, combine 1 cup walnuts and 1 cup pecans with remaining half of cake mix. Pour over the first cake mix layer in the baking pan.
8. Combine ghee, coconut oil and vanilla in a small mixing bowl. Mix well. Spoon evenly over nut and cake mixture.
9. Bake for 60-65 minutes, until cake mixture is slightly brown and set. Remove from heat and allow to cool completely.
10. While waiting for the cake to cool, combine the quark, coconut butter and monk fruit sweetener in a large mixing bowl and mix until smooth and creamy. Keep chilled in fridge until ready to frost the cake.
11. Once cake is completely cool, invert pan over a sheet pan or large serving plate and remove from pan. Frost with frosting and sprinkle with remaining walnuts and pecans. Cut into 24 squares and serve.
Nutritional information per serving (1 piece):
Calories: 240; Carbohydrates: 14.8g; Protein: 6.6g; Total Fat: 20g; Saturated Fat: 11.9g; Cholesterol: 9mg; Dietary Fiber: 4.1g; Sodium: 194mg
Published on: November 14, 2018