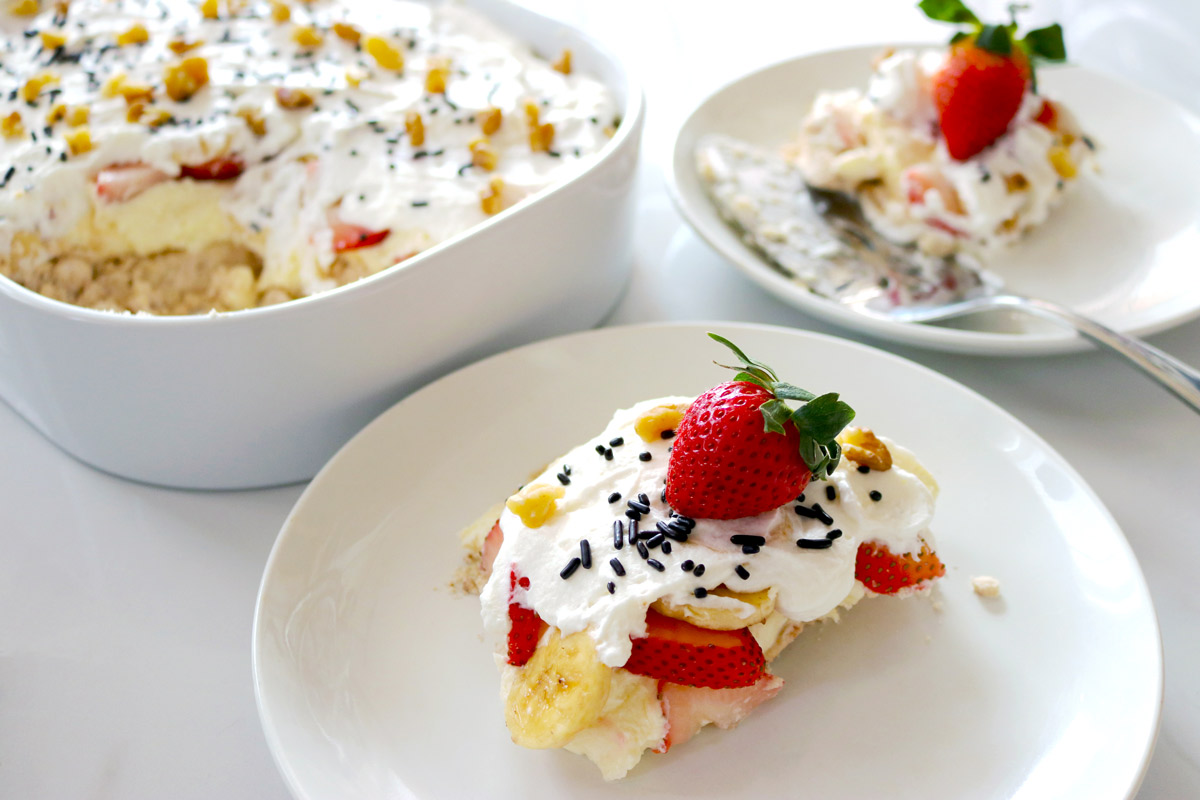 No-Bake Banana Split Cheesecake
This No-Bake Banana Split Cheesecake is full of childhood nostalgia, from the cookie crumble crust to fluffy peaks of whipped cream dotted with chocolate sprinkles.
However, unlike the sickenly sweet version of your youth, this banana split can be enjoyed guilt-free, even if you're following a low-carb diet!
"This keto-friendly dessert is low in net-carbohydrates, meaning it contributes only a small amount of carbohydrates to your daily intake and will have less of an impact on your blood sugars," says Lianne Metcalf, a registered dietitian with the Hawaii Pacific Health 360º Weight Management Center at Pali Momi Medical Center.
That being said, Metcalf advises making this treat just that – something to be savored once in a while, not an everyday indulgence.
"When you're on a low-carb plan, the majority of your carbohydrates should consistently come from nutrient-dense veggies," Metcalf says. "We definitely don't want the 'treats' to be replacing veggies or your full-fat dairy if that is part of your plan. Our focus is good nutrition!"
Curious about going keto? Click here to learn how the diet works, plus a sample menu of what to expect when embarking on a low-carb lifestyle.
No-Bake Banana Split Cheesecake
Serves 20

Ingredients:
For the crust:
2 cups almond flour
2 teaspoons cinnamon
1/3 cup low-carb sweetener (monk fruit, stevia, etc.)
2/3 cup butter, melted
For the filling:
16 ounces Neufchâtel cheese
1/2 cup powdered monk fruit sweetener
1 cup butter, melted
For the topping:
2 pints strawberries, sliced
1 banana, chopped (can be left out and banana extract added to filling)
1 tablespoon lemon juice
1 1/2 teaspoons gelatin
3 tablespoons water
2 cups heavy whipping cream
1 teaspoon vanilla extract
3 tablespoons low-carb sweetener
Chopped walnuts (optional)
Sugar-free chocolate sprinkles (optional)

Directions:
1. In a large bowl, mix together all crust ingredients until mix resembles slightly wet sand. Cover bottom of 9-by-13-inch pan with crust ingredients and press firmly into pan to form crust.
2. In a medium bowl, mix together cream cheese and monk fruit sweetener. Add melted butter and mix until smooth.
3. Spread filling mixture on top of crust.
4. Mix strawberries and banana in medium bowl with lemon juice.
5. Spread strawberries and banana mixture over cream cheese mixture.
6. In a small bowl, add water to gelatin to soften. Pour gelatin into the heavy cream and beat until soft peaks form. Gently fold in vanilla extract.
7. Top fruit mixture with whipped cream and sprinkle with chopped nuts and chocolate sprinkles, if desired.
Nutritional information per serving (1 square):
Calories: 271; Carbohydrates: 7.7g; Protein: 3.7g; Total Fat: 26.6g; Cholesterol: 74mg; Dietary Fiber: 1.3g; Sodium: 206mg
Published on: January 30, 2019