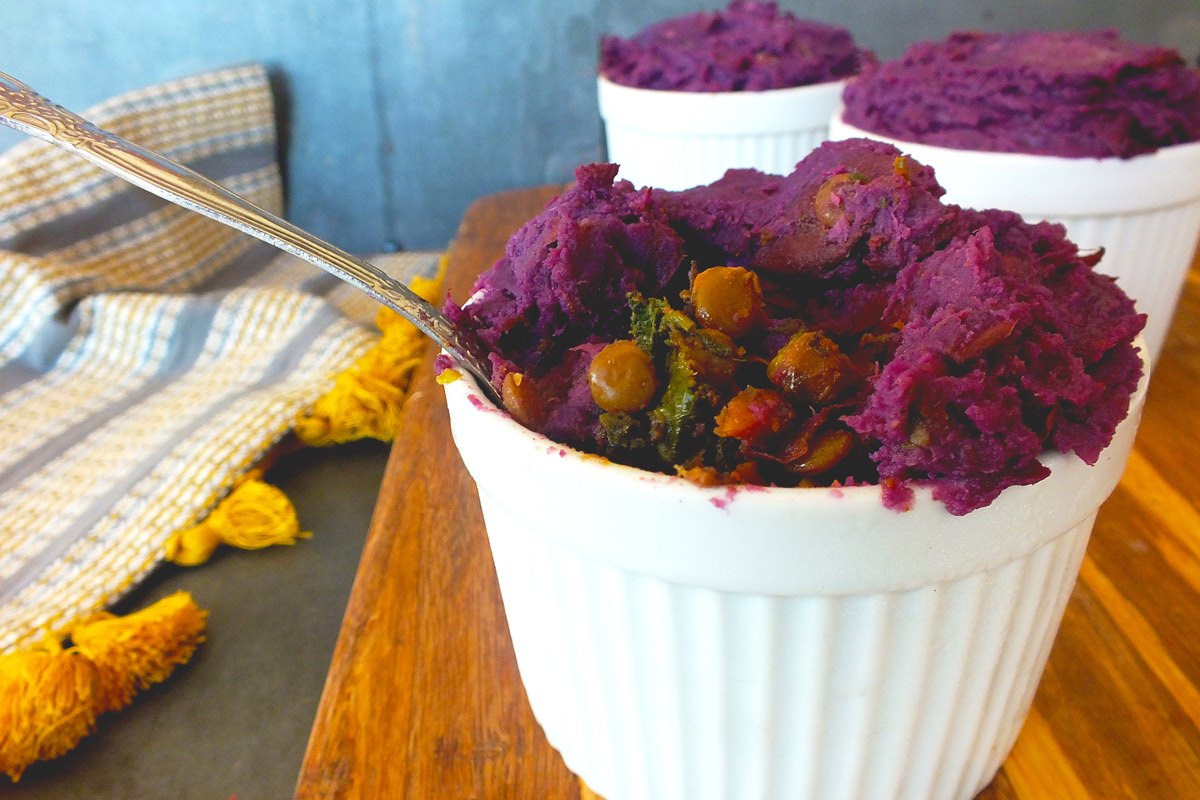 Mini Vegetarian Shepherd's Pies
Shepherd's pie is a comfort food classic, and it's no wonder why when reviewing its ingredients list – hearty meat and savory veggies all topped with a pillowy pile of mashed potatoes.
While the traditional trappings of this dinnertime favorite are no doubt tasty, they can also weigh you down.
Lighten things up with these Mini Vegetarian Shepherd's Pies instead!
Green lentils are a good source of plant-based protein as well as filling fiber, while kale and mushrooms add good-for-you vitamins (think A, C and D) and minerals (such as iron and potassium).
Whimsical whipped purple potatoes not only add antioxidants and phytonutrients to the plate – their fun color will make this a dish even the pickiest eaters will want to gobble up!
Mini Vegetarian Shepherd's Pies
Serves 6
 
Ingredients:
2 1/2 cups baby purple potatoes
2 tablespoons butter
1/4 cup almond milk
1 cup green lentils
2 tablespoons avocado oil
2 carrots, finely chopped
4 ounces baby bell mushrooms, finely chopped
4 cups baby kale
1/2 cup frozen peas, thawed
1/3 cup ketchup
1/4 cup Worcestershire sauce
1 tablespoon Herbs de Provence
Coarse salt and freshly ground pepper, to taste
 
Directions:
1. Preheat oven to 400 degrees.
2. Bring a large pot of salted water to a boil. Boil the potatoes until soft, about 20 minutes. Drain the water. Add the butter and milk and mash until smooth. Sprinkle in salt and pepper to taste.
3. In the meantime, bring another medium pot of salted water to a boil. Cook the lentils until soft, about 20-25 minutes. Drain and set aside.
4. Heat avocado oil in a large skillet over medium-high heat. Add the carrots and sauté until they start to soften, about 4 minutes. Add the mushrooms and sauté another 3 minutes.
5. Add the kale and cook until wilted. Add the peas, cooked lentils, ketchup, Worcestershire sauce and Herbs de Provence. Stir until combined. Taste and adjust seasoning as needed.
6. Divide the lentil filling evenly among six ramekins and top with the whipped potatoes.
7. Arrange the pies on a baking sheet and slide into the oven for about 10 minutes, until the tops harden a little.
8. Remove from oven, garnish with chopped parsley and serve!
Nutritional information per serving (1 pie):
Calories: 286; Carbohydrates: 43.6g; Protein: 12.7g; Total Fat: 7.5g; Saturated Fat: 7.5; Cholesterol: 10mg; Dietary Fiber: 13g; Sodium: 329mg
Published on: September 7, 2017