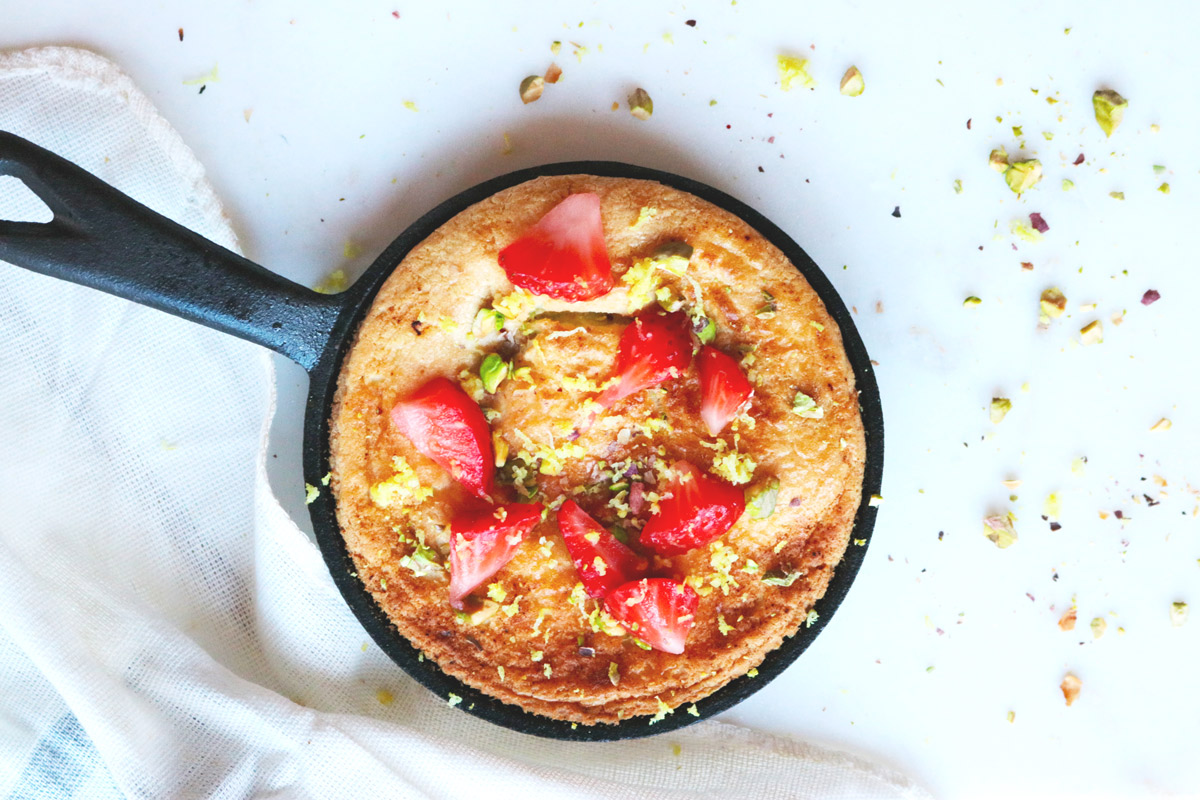 Mini Dutch Babies with Strawberries & Pistachios
You'll absolutely flip over these Mini Dutch Babies with Strawberries & Pistachios. 
These airy pastries get there puff from a process called "oven spring" – when the batter is poured into a sizzling hot pan then placed in a hot oven, the jolt of heat and steam cause the mixture to instantly inflate. 
Almond flour produces a nutty, rich flavor that is complimented well by the sweet strawberry-honey topping. 
Crushed pistachios provide a pleasant crunch to contrast the Dutch babies' creamy, custardy center.
Mini Dutch Babies with Strawberries & Pistachios
Recipe adapted from CookingLight
Serves 4
Ingredients
1 quart fresh strawberries
2 teaspoons honey
2 teaspoons grated lemon rind, divided
2 tablespoons fresh lemon juice
Cooking spray
1 tablespoon cornstarch
10 tablespoons almond milk
2.25 ounce almond flour (about 1/2 cup)
2 large eggs
1 large egg white
2 1/2 tablespoons butter, melted and divided
2 tablespoons shelled unsalted pistachios, crushed
Directions 
1. Hull and slice strawberries; place in a medium bowl. Add honey, 1 teaspoon lemon rind and juice; toss well. Set aside. 
2. Spray two 6-inch cast-iron skillets with cooking spray. Place in oven and preheat to 450 degrees. 
3. Combine cornstarch, milk, flour, eggs, egg white, remaining 1 teaspoon lemon rind and 1 tablespoon butter in a blender. Blend until smooth. 
4. Once oven is preheated, remove pans. Distribute the remaining 11⁄2 tablespoons of butter evenly between each skillet; swirl to coat. 
5. Pour half of the batter into each skillet and place in oven. Bake for 10-15 minutes, or until batter is very puffed and deeply browned. Remove from oven. 
6. Slice Dutch babies in half and serve on a plate topped with strawberry mixture and crushed pistachios. 
Nutritional information per serving:
Calories: 256; Carbohydrates: 30g; Protein: 9g; Total Fat: 12g; Saturated Fat: 5.6g; Cholesterol: 113mg; Dietary Fiber: 4g; Sodium: 125mg
Published on: February 4, 2018