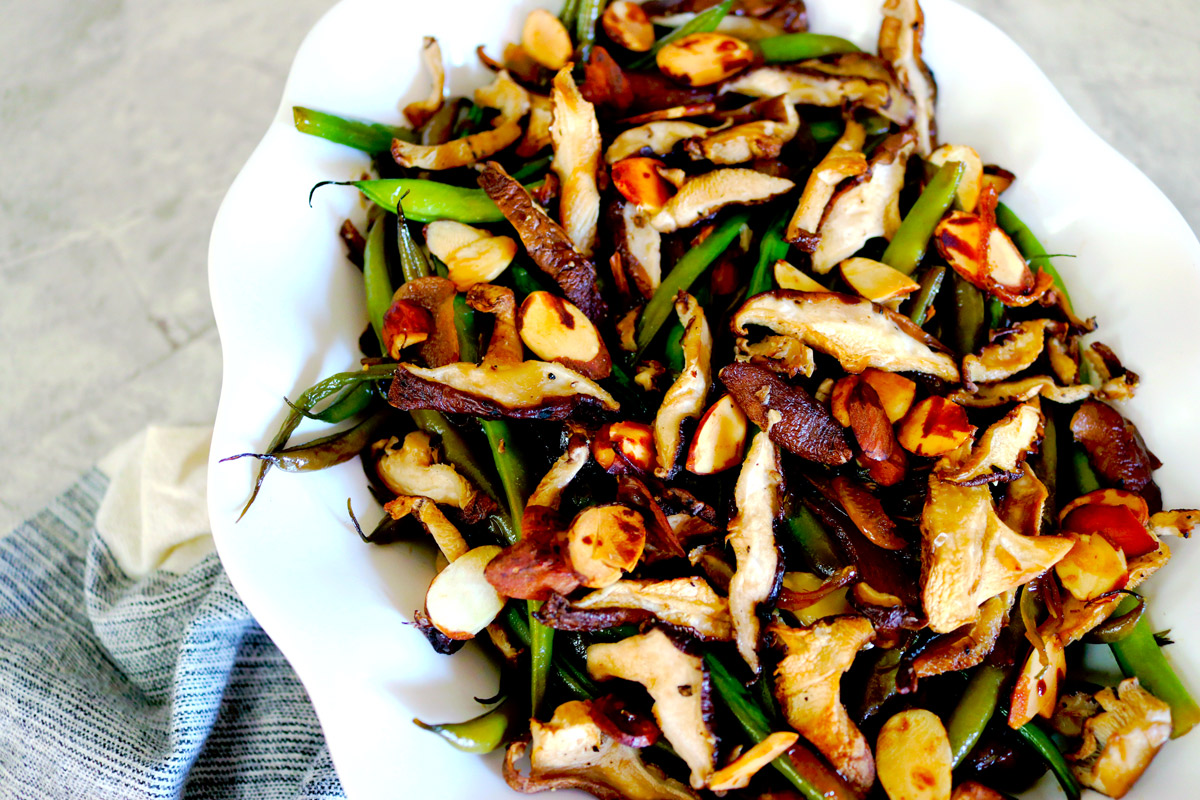 Garlicky Green Beans with Crispy Mushrooms & Toasted Almonds
Snap-worthy green beans, crispy shiitake mushrooms, toasted almonds, and lots and lots of garlic … this ain't your average green bean casserole!
The often overlooked Thanksgiving side gets a sophisticated upgrade in this recipe for Garlicky Green Beans with Crispy Mushrooms & Toasted Almonds.
The key to keeping green beans crisp and not mushy is to quickly boil them in a pot of water before plunging them in an ice water bath to halt the cooking process.
Roasting the beans in the oven also prevents them from going soggy.
Full of umami, shiitake mushrooms make a smart swap for canned, high-sodium soup, while toasted almonds take the place of deep-fried onions to add a hearty crunch – plus healthy fat and protein!
A light dressing made of Dijon mustard, balsamic vinegar and fresh herbs complements the natural flavors of the veg, bringing a bright, fresh flavor to an otherwise simple dish.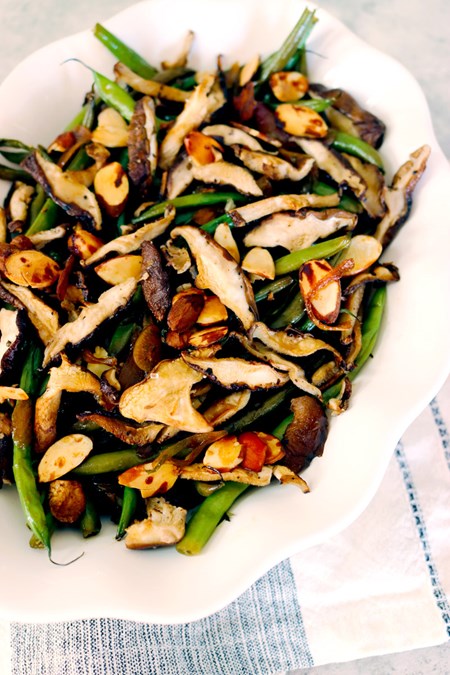 Garlicky Green Beans with Crispy Mushrooms & Toasted Almonds
Serves 8
Ingredients:
1 1/2 pounds fresh green beans, trimmed 
3 tablespoons extra-virgin olive oil 
1/3 cup shallots, thinly sliced
2 garlic cloves, thinly sliced 
3 cups fresh shiitake mushrooms, stemmed and thinly sliced 
1/4 cup apple cider vinegar
1/2 teaspoon Dijon mustard
1/4 cup aged balsamic vinegar 
3 tablespoons fresh flat-leaf parsley, chopped 
2 teaspoons fresh thyme, chopped 
3/4 teaspoon kosher salt 
1/2 teaspoon freshly ground black pepper
3 tablespoons almonds, sliced and toasted
Directions:
1. Preheat oven to 450 degrees. In a large saucepan or Dutch oven, bring 4 quarts water to a boil over medium-high. Add green beans and cook until crisp-tender, about 4-5 minutes. Drain beans and immediately plunge into a large bowl filled with ice water to stop the cooking process. Drain beans and dry thoroughly with paper towels.
2. Line a rimmed baking sheet with aluminum foil or a silpat non-stick silicone baking sheet. In a large bowl, toss together the mushrooms with 1 tablespoon oil, salt and pepper; arrange evenly on the prepared baking sheet.
3. Roast mushrooms until they are deep brown in color and crisped, about 12-15 minutes, stirring halfway through. Transfer mushrooms to a wire rack lined with paper towels; allow to rest. Set baking sheet aside and reserve for later.
4. Heat remaining oil in a large skillet over medium-high heat. Add shallots and garlic; sauté 3 minutes, stirring occasionally. Stir in apple cider vinegar and bring to a boil. Cook until liquid almost evaporates, about 2 minutes. Add mustard, aged balsamic vinegar, parsley and thyme; cook an additional 30 seconds. Remove from heat and add green beans; toss to coat.
5. Arrange green beans on the baking sheet and bake in the oven for 5-7 minutes, until the beans are warmed and the sauce begins to caramelize.
6. Transfer green beans to a platter and sprinkle with crispy mushrooms and toasted almonds.
Nutritional information per serving:
Calories: 132; Carbohydrates: 17.3g; Protein: 3.2g; Total Fat: 6.6g; Saturated Fat: 1g; Cholesterol: 0mg; Dietary Fiber: 4.5g; Sodium: 355mg
Published on: November 12, 2019