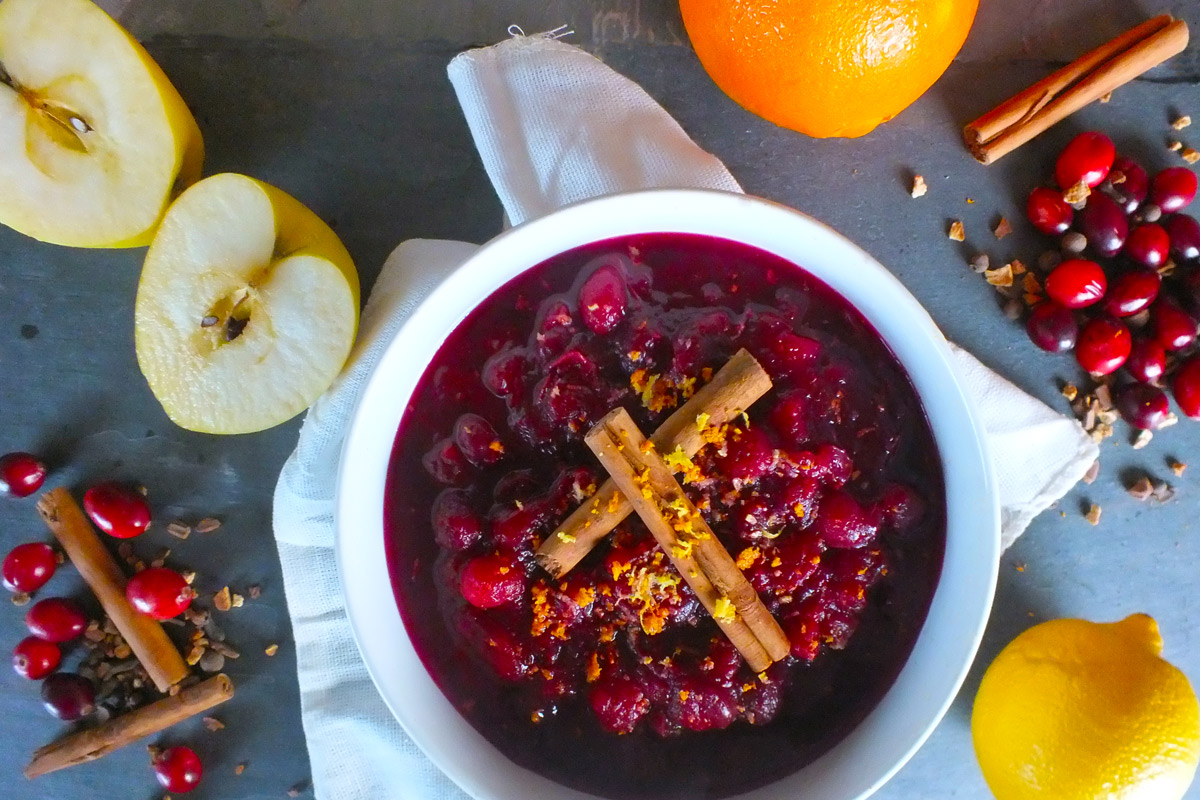 Fresh Cranberry Chutney with Apples, Cinnamon & Citrus
Loaded with chunks of fall fruits, this recipe for Fresh Cranberry Chutney with Apples, Cinnamon & Citrus is a tangy-tart take on a holiday classic that's sure to become a family favorite. 
Cranberries are a powerful little fruit with big health benefits. They are high in vitamin C and dietary fiber, and are a good source of vitamins E and K, copper and pantothenic acid. 
Studies show that consuming cranberries can lower the risk of urinary tract infections, improve immune function, decrease blood pressure and help prevent certain types of cancers. 
While cranberries on their own are a tasty treat, many recipes often call for loads of added sugar to counteract the tartness of these berries. 
This recipe, however, uses natural sugars found in apples to help sweeten the sauce. Make sure to leave the peel on the apple – the skin of the fruit provides extra fiber, which helps slow down digestion and makes you feel fuller, longer. 
A few cinnamon sticks, spices and zest from citrus fruits like oranges and lemons only add extra depth to the dish and help ring in the holiday season on a healthy note. 
Fresh Cranberry Chutney with Apples, Cinnamon & Citrus
Serves 10-12
 
Ingredients:
2 cups water
2 cinnamon sticks
1 teaspoon ground ginger
1/2 teaspoon ground cloves
1/2 teaspoon ground nutmeg
4-5 drops liquid Stevia
2 (12-ounce) bags fresh or frozen cranberries
1 golden delicious apple, chopped
Zest of 2 oranges
Zest of 1 lemon
2 tablespoons pomegranate juice
Pinch fine sea salt
 
Directions:
1. In a medium bowl, combine water, Stevia and cinnamon sticks. Bring to a gentle simmer and cook for about 5 minutes.
2. Add cranberries, lemon and orange zests, ginger, cloves, nutmeg, pomegranate juice and salt. Stir and cook slowly over low heat for 10 minutes.
3. Add apples and continue cooking for another 20-30 minutes, stirring frequently, until all cranberries have burst and sauce becomes a thick syrupy consistency.
4. Remove from heat and let cool. Serve warm, cold or at room temperature.
Nutritional information per 1/4-cup serving:
Calories: 45; Carbohydrates: 8.6g; Protein: 0g; Total Fat: 0g; Cholesterol: 0mg; Dietary Fiber: 3g; Sodium: 21 mg
Published on: November 23, 2016