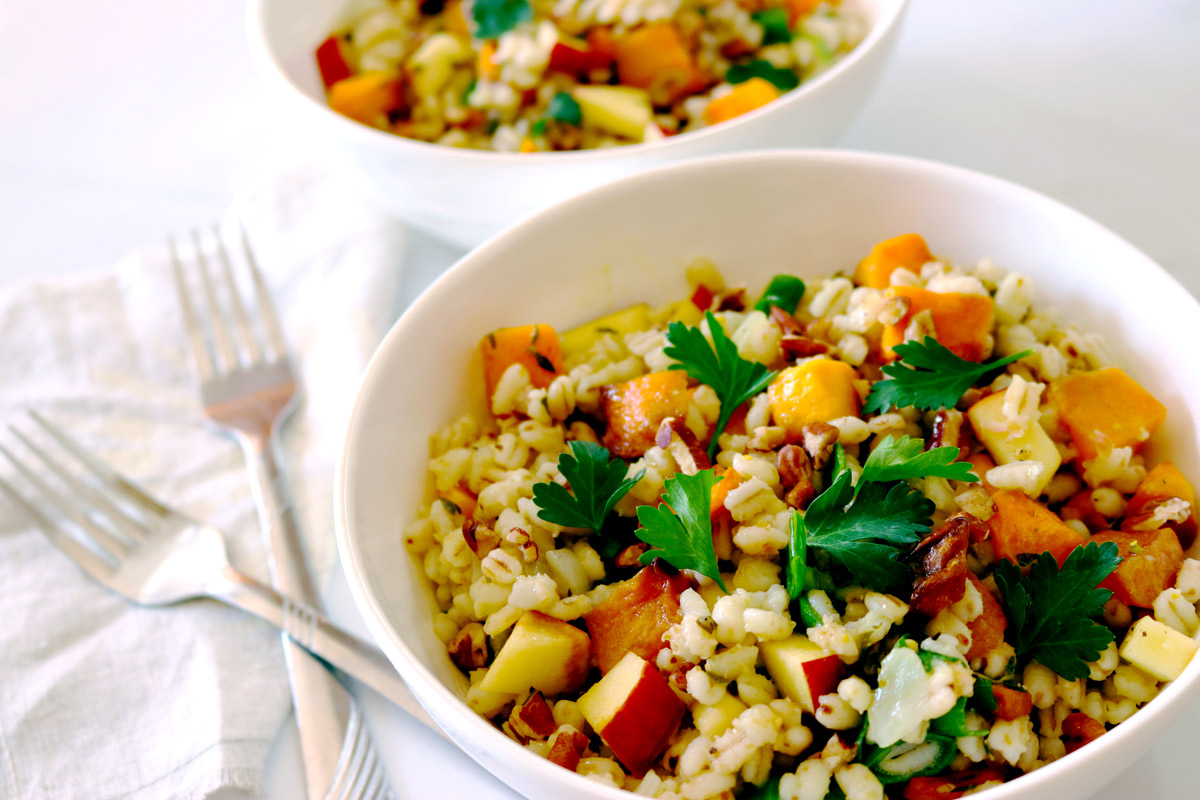 Fall Farro Salad
Full of fall flavors like butternut squash, apples and toasted farro, these harvest bowls are brimming with nutritional goodness in every bite.
Haven't tried farro before? Fall is the perfect season to sink your teeth into this rich, hearty grain.
Farro is an ancient wheat grain similar to barley in taste and appearance – nutty, with a unique, chewy texture that makes it a satisfying alternative to oatmeal, rice and quinoa.
A single serving of farro provides around 15% of your recommended daily intake of zinc – an essential mineral that promotes a healthy immune system and wound healing – along with a fair amount of magnesium, iron, vitamin B3 and plant-based protein.
Farro also is full of hunger-satisfying fiber, and provides added depth and dimension when added to soups and salads.
This recipe, courtesy of the Kobayashi & Kosasa Family Dining Room at Kapiolani Medical Center for Women & Children, uses farro as the base to a wonderfully aromatic, filling salad.
Enjoy it warm, or let the flavors meld together overnight in the refrigerator before serving slightly chilled.
Either way, this salad will become a favorite at your dinner table.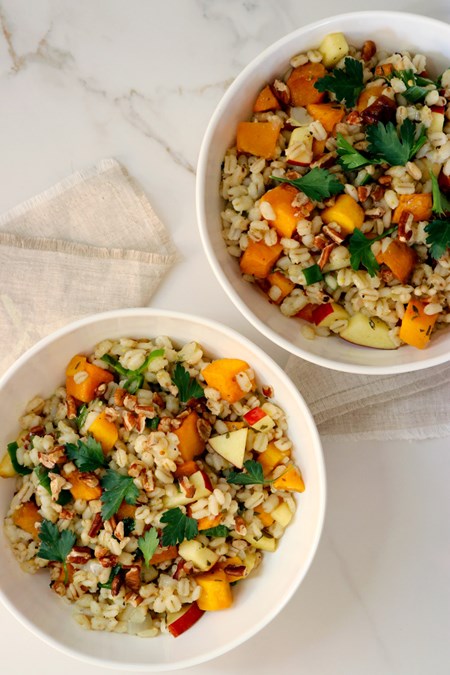 Fall Farro Salad
Recipe courtesy of the Kapiolani Medical Center for Women & Children Kobayashi & Kosasa Family Dining Room
Serves 8
Ingredients:
1/2 cup butternut squash, peeled and diced into 1/2-inch pieces
Salt and pepper, to taste
3 tablespoons pecans, toasted and coarsely chopped
1/3 cup red delicious apple, diced into 1/2-inch pieces
1 2/3 tablespoons scallions, thinly sliced
For the farro:
2 cups farro, raw
4 teaspoons olive oil
3 tablespoons yellow onion, diced
6 cups water
2 1/2 tablespoons low-sodium vegetable broth
1 1/3 teaspoons flat leaf parsley, chopped
3 bay leaves
Freshly ground black pepper, to taste
For the vinaigrette:
1/2 cup apple cider vinegar
2 teaspoons honey
2 teaspoons thyme, chopped
2 teaspoons shallots, minced
1 teaspoon salt
1 teaspoon black pepper
4 teaspoons whole-grain mustard
1/4 cup extra-virgin olive oil
Directions:
1. Preheat oven to 400 degrees. Arrange butternut squash on a baking sheet and season with salt and pepper, to taste. Roast until squash is tender (not mushy) and lightly browned, about 25-30 minutes. Remove from oven and allow to cool.
2. To prepare the farro, heat olive oil in a large saucepan over medium heat. Add farro and toast, stirring occasionally for 3-5 minutes, until grains start to crackle and turn golden brown.
3. Add onions and sauté for an additional 3-5 minutes, until onions are translucent.
4. Add water, vegetable broth, parsley, bay leaf and pepper. Cover and bring to a low simmer for 45-60 minutes, until tender. All liquid may be absorbed, or some may need to be drained off. Remove bay leaf.
5. While the farro is cooking, prepare the vinaigrette by combining the apple cider vinegar, honey, thyme, shallots, salt, pepper and mustard in a bowl. Whisk well.
6. In a slow, steady stream, whisk in the oil to emulsify. Store in refrigerator until ready to use.
7. To assemble the salad, toss cooked farro together with squash, pecans, apples and scallions in a large bowl. Drizzle dressing over salad and gently toss.
Nutritional information per 4-ounce serving:
Calories: 208, Carbohydrates: 14.3g; Protein: 2.7g; Total Fat: 16.4g; Saturated Fat: 2.2g; Cholesterol: 0mg; Dietary Fiber: 2.2g; Sodium: 346mg
Published on: November 18, 2019