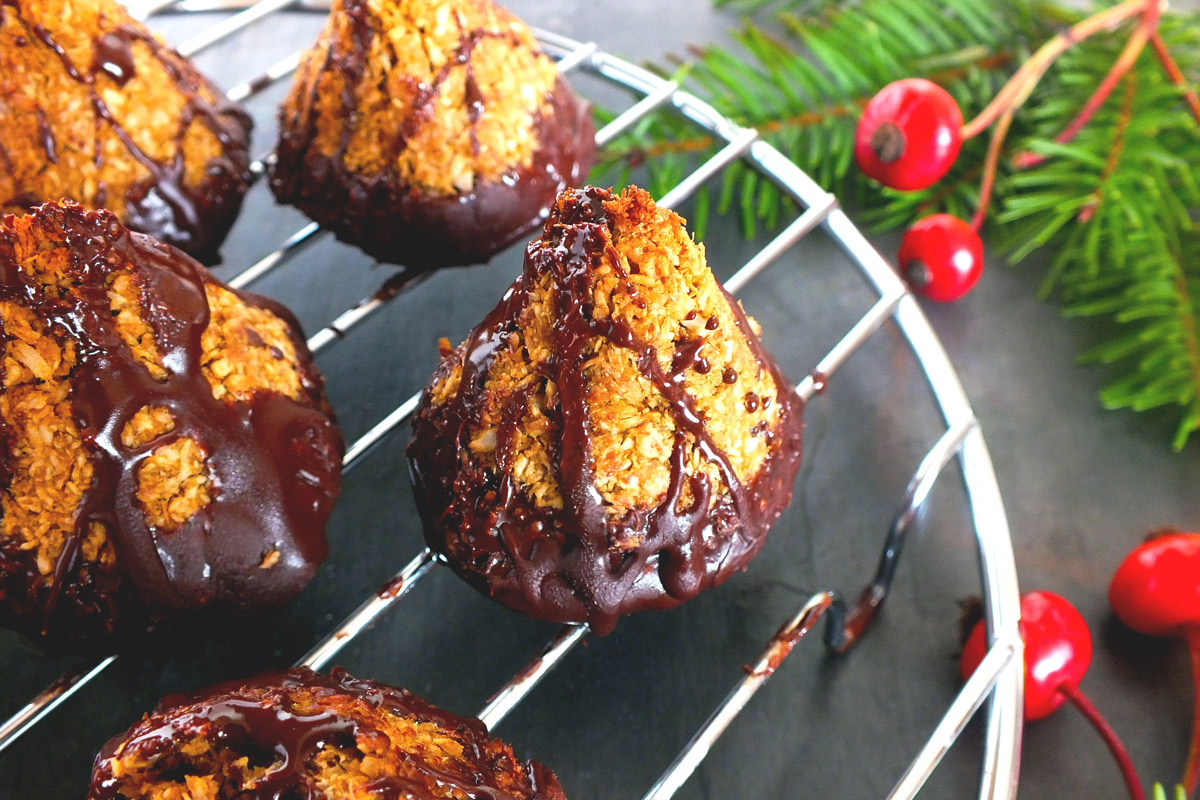 Dark Chocolate-Dipped Mint Macaroons
These mini mint macaroons are a sweet way to spread holiday cheer. 
A blend of shredded coconut and almond flour give these cookies a rich, nutty flavor that's enhanced by the refreshing hint of mint infused in both the batter and chocolate drizzle. 
Give as a gift, or have a baking party and decorate these tree-shaped treats with family and friends. 
Dark Chocolate-Dipped Mint Macaroons
Serves 16
Ingredients:
2 large egg whites
1/4 cup blackstrap molasses
1/2 teaspoon vanilla extract
3/4 teaspoon mint extract, divided
Pinch of salt
2 cups unsweetened shredded coconut
1/4 cup almond flour
1/4 cup dark chocolate chips
1 teaspoon coconut oil
Directions:
1. Preheat the oven to 350 degrees.
2. Add egg whites to the bowl of a stand mixer and beat with the whisk attachment on high for about 2 minutes, or until fluffy.
3. Add the molasses to the eggs and continue beating for another 2 minutes.
4. In a medium bowl, combine shredded coconut, almond flour, salt, vanilla extract and 1/2 teaspoon of the mint extract.
5. Using a spatula, fold the egg whites into the bowl with the dry ingredients until they are completely incorporated.
6. Shape the dough into a cone shape and place on a baking sheet lined with parchment paper.
7. Bake for about 15 minutes, until the tops of the cookies begin to turn golden brown. Remove from the oven and let cool completely.
8. Melt the chocolate, coconut oil and remaining 1/4 teaspoon mint extract in a double boiler. Dip the flat end of the macaroons into the chocolate and place them on a cooling rack with the tip pointed down.
9. Once the chocolate is cooled and hardened, flip the macaroons right-side up and drizzle with remaining chocolate. Store in an air-tight container in the refrigerator.
Nutritional information per serving (1 macaroon):
Calories: 102; Carbohydrates: 7.2g; Protein: 1.3g; Total Fat: 7.7g; Cholesterol: 0mg; Dietary Fiber: 1.4g; Sodium: 22mg
Published on: December 4, 2017