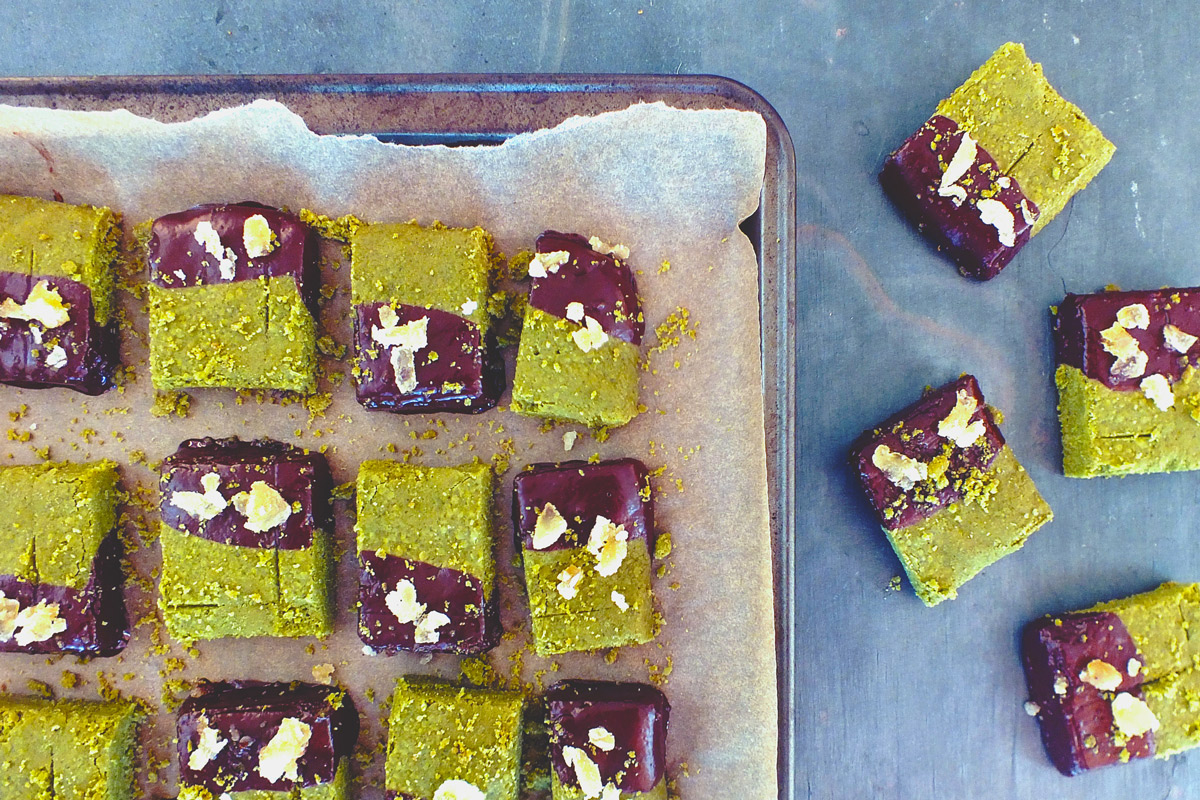 Chocolate-Dipped Whole-Wheat Matcha Shortbread Cookies
Move over wheatgrass – the latest "it" beverage of choice is matcha. 
Literally meaning "powdered tea," matcha is made from green tea leaves that have been stone-ground into a fine powder. When you drink matcha tea, you're ingesting the actual leaves, which means you're also reaping the full health benefits green tea leaves have to offer, including vitamins, minerals and antioxidants called polyphenols. 
"Studies have shown that polyphenols can help reduce heart disease and protect against cancer," says Lianne Stephanos, a registered dietitian with the Hawaii Pacific Health 360º Weight Management Center at Pali Momi. 
"Polyphenols also have been shown to help regulate blood sugar, blood pressure and the aging process," Stephanos adds. 
Traditionally, matcha tea is made by mixing about a teaspoon of the powder with a third cup of hot water and then whisking the mixture with a bamboo brush until it froths. 
However, you can add the rich, earthy powder to recipes for soups, casseroles and even desserts, like this one for Chocolate-Dipped Whole-Wheat Matcha Shortbread Cookies. 
"These shortbread cookies are every bit as buttery and flaky as the traditional holiday version, but by using whole-wheat flour, you add fiber, which helps slow digestion," Stephanos says. "And, not only does dark chocolate taste delicious, it's good for you!" 
For extra oomph, sprinkle cooled cookies with chopped crystalized ginger and a light dusting of matcha. 
Chocolate-Dipped Whole-Wheat Matcha Shortbread Cookies
Recipe adapted from Cooking Light
Serves 36
 
Ingredients
2 1/4 cups whole-wheat pastry flour
1/2 cup powdered sugar
1/4 cup cornstarch
2 1/2 tablespoons matcha powder
1/2 teaspoon kosher salt
1/2 cup butter or ghee, softened
1/2 cup coconut oil
1/4 cup granulated sugar
1 teaspoon vanilla extract
4 ounces dark chocolate, chopped
 
Directions:
1. Preheat oven to 325 degrees.
2. Lightly spoon flour into dry measuring cups; level with a knife. Combine flour, powdered sugar, cornstarch, matcha and salt, stirring with a whisk.
3. Place butter, oil and granulated sugar in a large bowl; beat with a mixer at medium speed until well combined. Beat in vanilla. Add flour mixture; beat on low speed just until combined.
4. Pat dough onto a baking sheet lined with parchment paper. Pat dough into a 10-inch square. Bake for 30 minutes or until set and lightly browned around the edges.
5. Remove from oven, and immediately cut into 36 squares. Cool on pan.
6. Place chocolate in a small microwave-safe bowl. Microwave on HIGH 1 minute, stirring every 20 seconds, until chocolate melts and is smooth.
7. Dip one end of each cookie into melted chocolate; place on parchment paper. Cool until chocolate sets.
Nutritional information per serving (1 cookie):
Calories: 108; Carbohydrates: 12g; Protein: 1g; Total Fat: 6.7g; Saturated Fat: 2.4g; Cholesterol: 7mg; Dietary Fiber: 1g; Added Sugars: 5g; Sodium: 56mg
Published on: December 12, 2022