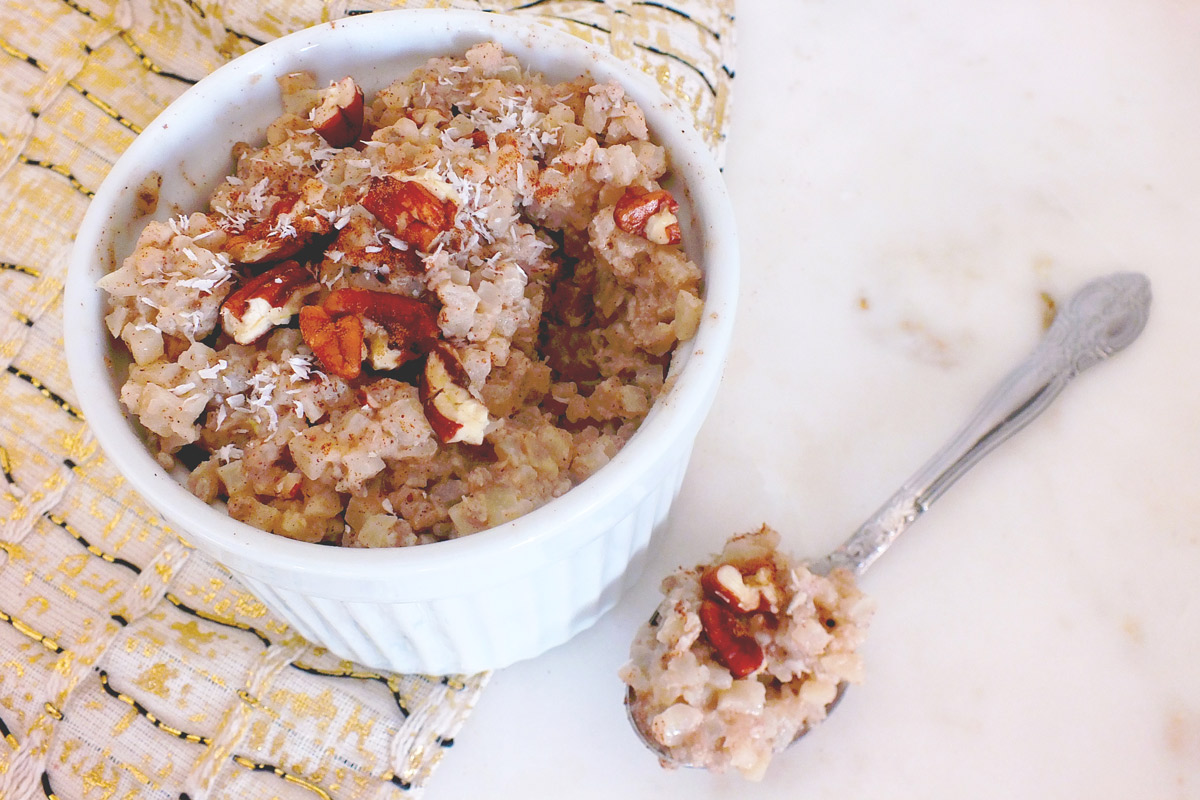 Coconut Cauliflower "Rice" Pudding
Rice pudding is a comfort-food classic for a reason – this ooey and oh-so-gooey dessert is the equivalent of a warm blanket or giant hug. 
For a new spin on this old-fashioned staple, try this recipe for Coconut "Rice" Pudding. 
In place of white rice, sub in riced cauliflower. The low-carb veggie mimics the consistency of rice, but for a fraction of the calories. Plus, cauliflower is loaded with fiber – 3 grams in one cup! – which slows digestion and promotes satiety. 
Another beneficial bonus of cauliflower is its high antioxidant levels. Studies have shown that antioxidants such as carotenoids, flavonoids and vitamin C can help fight inflammation in the body and reduce the risk of chronic diseases like heart disease and cancer. 
Cauliflower contains all three of these antioxidants, plus other essential nutrients, giving you a great reason to dig in to this wholesome, whole food dessert! 
Coconut Cauliflower "Rice" Pudding
Serves 12
Ingredients:
4 cups raw cauliflower rice, approximately 2 large heads of cauliflower (see directions below)
1 cup coconut milk, unsweetened, boxed
1/2 cup coconut manna
1 tablespoon maca powder
2 tablespoons powered erythritol (Swerve)
2 teaspoons ground cinnamon
Pinch of salt
1 tablespoon chia seeds
1 large egg
1 tablespoon vanilla extract
2 tablespoons toasted coconut flakes (optional)
Directions:
1. To make the cauliflower rice, start by inspecting the cauliflower for brown or black spots, removing any with a paring knife. Rip the leaves off of the bottom and discard.
2. Cut the cauliflower in half and cut the florets off from core until you are left with just the core. Discard the core and break up the florets into evenly sized pieces.
3. Place florets in the bowl of a food processor, breaking them up into batches if necessary. Process the cauliflower until it is evenly chopped and resembles rice.
4. Place cauliflower rice, coconut milk, coconut cream, maca powder, maple syrup, cinnamon and salt into a medium pot and mix well.
5. Bring mixture to a boil and then lower heat to a simmer, stirring occasionally, until cauliflower rice is tender, about 10-12 minutes.
6. Crack the egg into a medium bowl; mix in chia seeds and vanilla extract.
7. Slowly add 1/2 cup of the warm pudding mixture into the egg mixture, making sure to vigorously whisk the egg mixture while pouring in the pudding mixture. (This prevents the egg from scrambling.)
8. Add the egg mixture back into the pot with the rest of the pudding. Cook, stirring occasionally, an additional 5 minutes or until thickened. Remove from heat and set aside to cool.
9. Serve warm or chill in the refrigerator and serve cold. Top with toasted coconut flakes or other desired toppings, such as nuts or dried or fresh fruit.
Nutritional information per serving:
Calories: 141; Carbohydrates: 8.7g; Protein: 2.6g; Total Fat: 11.9g; Saturated Fat: 10g; Cholesterol: 16mg; Dietary Fiber: 3.4g; Total Sugars: 4.9g; Sodium: 34mg
Published on: January 8, 2018