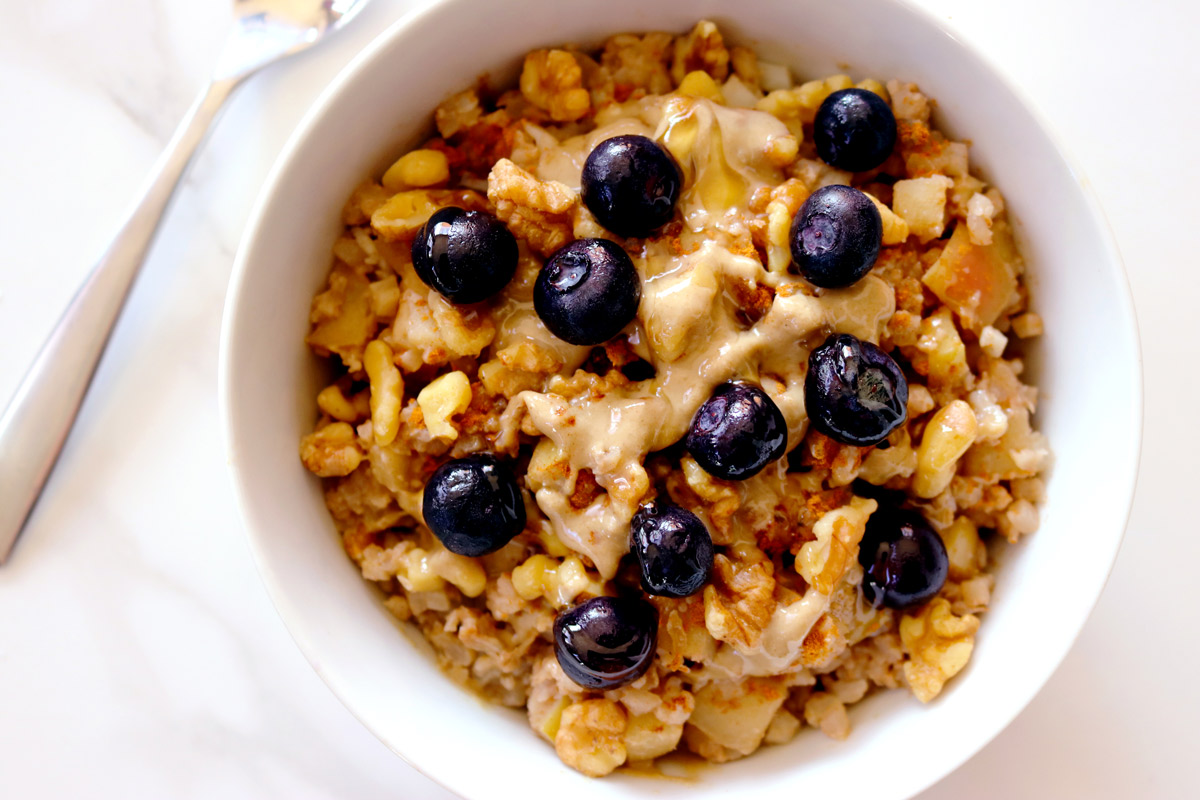 "Cauli-oats" Breakfast Bowls
Wake up your taste buds with this fresh take on the basic breakfast bowl.
Cauliflower proves its ability yet again to be a power player in the produce aisle, this time around taking the place of oats in this sweetly satisfying dish.
Full of filling fiber, cauliflower also contains an impressive line-up of nutrients. One cup of cauliflower contains nearly 80 percent of your vitamin C needs for the day, making it a smarter choice for that morning glass of OJ.
Cauliflower also is rich in vitamins K and B6, as well as folate, potassium and a group of antioxidants shown to protect against chronic diseases, including heart disease and cancer.
Fresh apples and blueberries add extra vitamins, antioxidants and a hint of natural sweetness, while walnuts and tahini – a paste made from ground sesame seeds – provide protein to make this bowl a powerful way to start your day.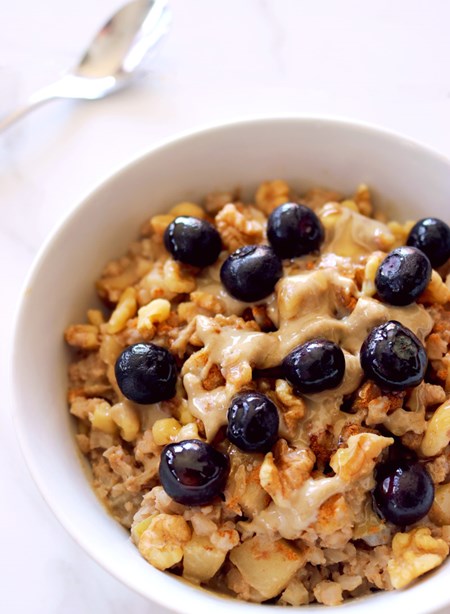 "Cauli-oats" Breakfast Bowls
Serves 2

Ingredients:
2 cups cauliflower rice
1 cup almond milk
1 1/2 teaspoons cinnamon
1 teaspoon ground ginger
1/4 teaspoon cloves
1/2 teaspoon vanilla extract
2 teaspoons honey
1 apple, diced into 1/4-inch cubes
1/2 cup blueberries
2 tablespoons chopped walnuts
2 tablespoons tahini

Directions:
1. Place the cauliflower rice and almond milk in a shallow pan set on medium heat. Stir in the cinnamon, ginger, cloves, vanilla extract and honey and cook approximately 5 minutes.
2. Add the apples and cook for an additional 10 minutes, until the cauliflower rice is tender and the liquid has been absorbed.
3. Add blueberries and give the mixture another good stir. Remove from heat.
4. Divide between two bowls and top each with chopped walnuts and a tablespoon of tahini. Add a drizzle of honey and extra blueberries, if desired.
Nutritional information per serving:
Calories: 305; Carbohydrates: 41.8g; Protein: 10.3g; Total Fat: 13.1g; Saturated Fat: 1.4g; Cholesterol: 3mg; Dietary Fiber: 7.6g; Sodium: 131mg
Published on: March 11, 2019