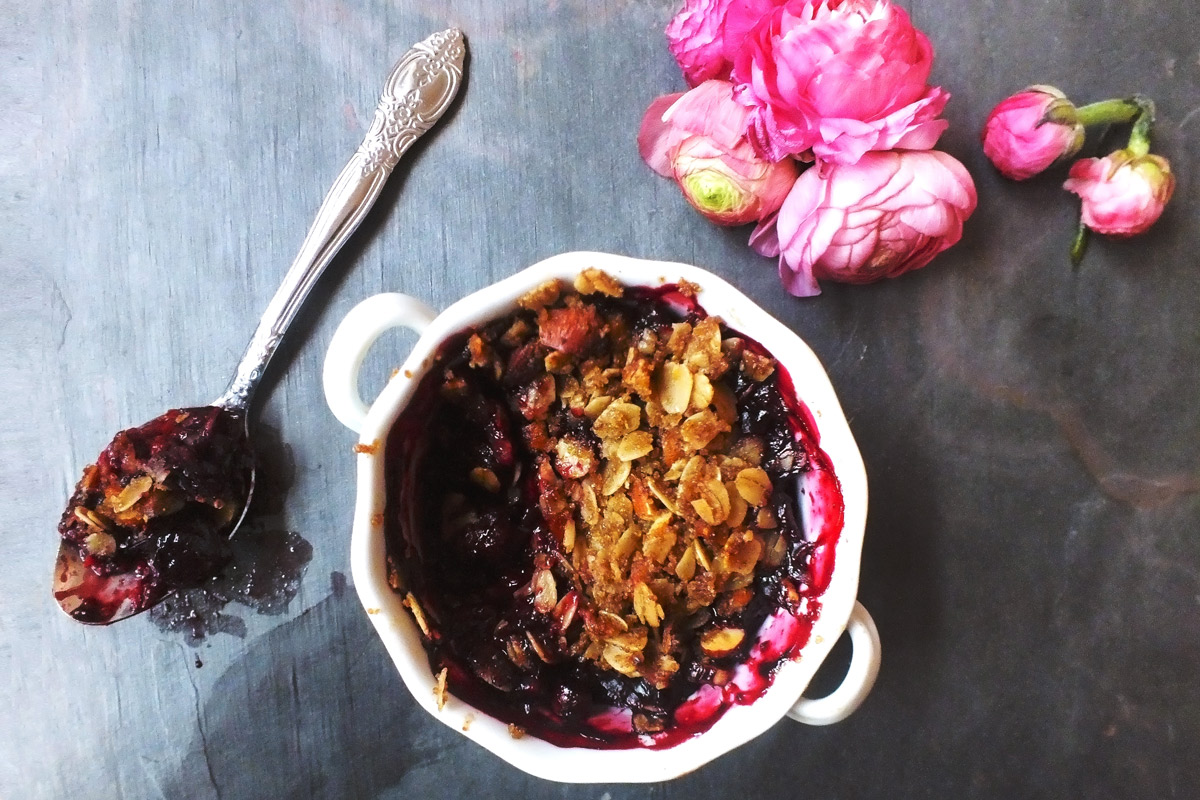 Old-Fashioned Fruit Crumble
A fruit crumble is an easy yet elegant way to satisfy your sweet tooth in a natural, healthy way. 
High in vitamins and fiber, fruits contain natural sugars called fructose that, when baked, caramelize into a sticky, gooey goodness that requires little to no added sugar. 
Feel free to improvise and use any combination of fresh or frozen fruit to meet your taste preferences and seasonality. 
For example, stone fruits like peaches and plums are at their peak during the summer months, while pears are at their juiciest in the winter. 
Apples and frozen berries, such as blueberries, raspberries and strawberries, work well year-round. 
Old-Fashioned Fruit Crumble
Recipe adapted from EatingWell
Serves 2
 
Ingredients:
1 1/4 cups fresh or frozen fruit
1 teaspoon honey
4 teaspoons whole-wheat flour, divided
1 1/2 teaspoons orange juice
1/4 cup old-fashioned oats
3 tablespoons chopped almonds
4 teaspoons brown sugar
Pinch of cinnamon
1 tablespoon canola oil 
 
Directions:
1. Preheat oven to 400 degrees. Combine fruit with honey, 1 1/2 teaspoons flour and orange juice. Divide between two 6-ounce ovenproof ramekins.
2. Combine oats, almonds, brown sugar, the remaining 2 1/2 teaspoons flour and cinnamon. Drizzle with oil and stir to combine. Sprinkle over the fruit mixture.
3. Place the ramekins on a baking sheet and bake until the fruit is bubbling and the topping is golden, 20 to 25 minutes. 
Nutritional information per serving:
Calories: 264; Carbohydrates: 37g; Protein: 4g; Total Fat: 12g; Saturated Fat: 1g; Cholesterol: 0mg; Dietary Fiber: 4g; Sodium: 1mg
Published on: February 8, 2017