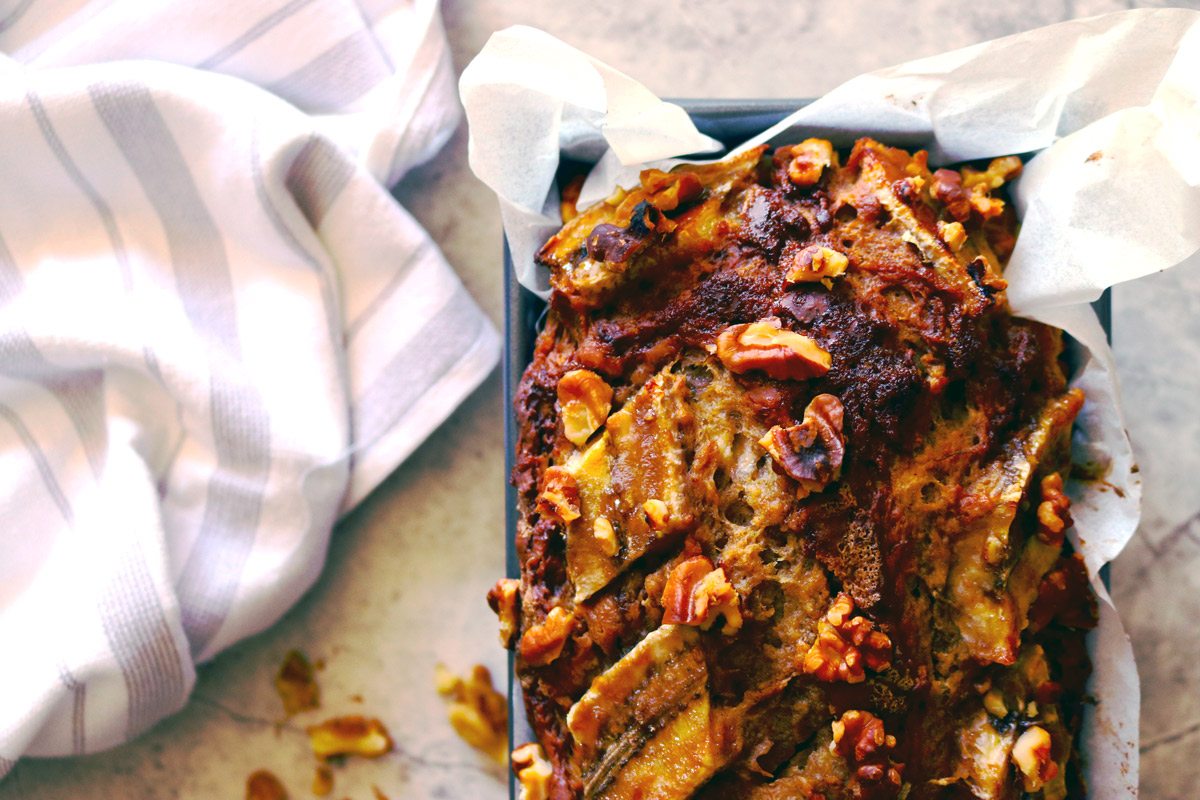 A Better Banana Walnut Bread Recipe
When life gives you brown bananas, don't get sad – make banana bread!
This Better Banana Walnut Bread Recipe has a secret ingredient to reduce the amount of sugar, fat and calories loaded into a traditional loaf.
Can you guess what it is?
Drumroll …
Greek yogurt!
Plain nonfat Greek yogurt works in a pinch as a substitute for higher-calorie ingredients like oil and butter, but keeps baked goods moist and fluffy.
Our recipe also uses a small amount of walnut oil to work in some heart-healthy omega-3 fats.
Using a zero-calorie sugar substitute reduces the calorie count even more, but feel free to use a natural sweetener like honey or maple syrup if you have trouble finding a sugar substitute you like.
Keep in mind that bananas are naturally sweet, so try to use no more than 1/3 cup of any added sugar source.
Spread some nut butter on top of your slice and sprinkle with a bit more cinnamon for a healthier breakfast on the go or midday snack.
This bread is best served slightly warm, but leftovers can be stored in the fridge for up to one week.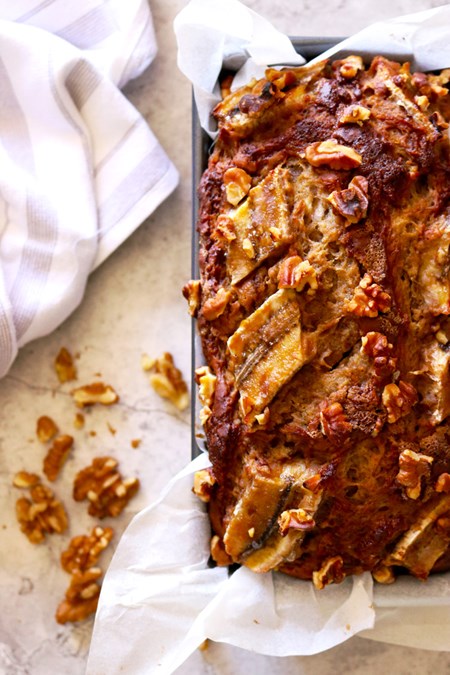 A Better Banana Walnut Bread Recipe
Serves 10
Ingredients:
3 medium overripe bananas, peeled and mashed
2 eggs
2 tablespoons walnut oil
1/3 cup zero-calorie brown sugar substitute (i.e., Swerve)
1/2 cup plain nonfat Greek yogurt
1 teaspoon vanilla extract
2 cups whole-wheat pastry flour
1 teaspoon baking soda
1/2 teaspoon cinnamon
1/4 teaspoon allspice
1/4 teaspoon salt
Chopped walnuts and 1 extra ripe banana
Directions:
1. Preheat oven to 350 degrees and line an 8-by-5-inch baking pan with parchment paper to prevent sticking.
2. In a large bowl, add mashed bananas, eggs, walnut oil, brown sugar substitute, Greek yogurt and vanilla and mix well, until all large lumps are smoothed out.
3. Add the flour, baking soda, spices and salt to the bowl and mix well until just combined. Be careful not to overmix!
4. Pour the batter evenly into the prepared baking pan. Split an extra ripe banana down the middle, then slice each half into four equal pieces. Top batter with banana slices and a handful of chopped walnuts.
Optional: Mix together 1 tablespoon brown sugar substitute and 1 teaspoon cinnamon and sprinkle generously over the top of the batter.
5. Bake for 55-65 minutes or until a knife inserted into the middle of the loaf comes out clean. Remove from oven and let the bread cool in the pan for 10 minutes. Remove from pan and transfer to a wire rack to finish cooling.
Nutritional information per serving (1 slice):
Calories: 196; Carbohydrates: 38.8g; Protein: 5.8g; Total Fat: 5.9g; Cholesterol: 33mg; Dietary Fiber: 2.2g; Sodium: 200mg
Published on: September 3, 2019