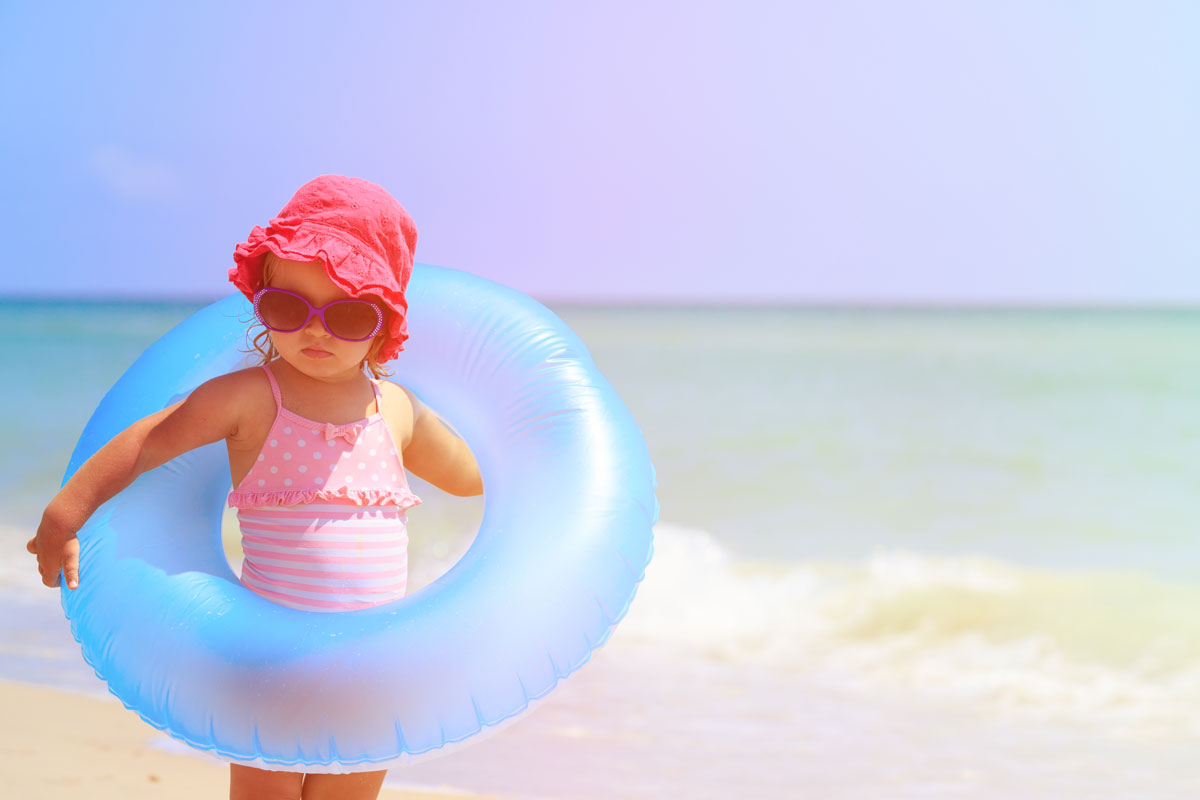 Two must-have accessories every child should have at the beach? Ample sun protection and a fun flotation device!
Ocean Safety Advice for Your Beach Baby
Hawaii's waters are known to be some of the most beautiful in the world. They also can be some of the most dangerous. 
"Summertime brings on the south shore swells, but anyone anywhere on the islands should be aware of rip tides that can carry you away unexpectedly," says Dr. Grace Galiza, a pediatrician at Kauai Medical Clinic. 
A local girl born and raised in Wailua on the island of Kauai, Galiza says one of the first things to look for when planning a beach day is a lifeguard station. 
"I would recommend swimming at a beach where there is a lifeguard on duty," Galiza says. "When you are swimming, be sure you can see the lifeguard station at all times. If you can see the lifeguard that usually means the lifeguard can see you." 
Galiza also notes that some beaches are naturally more family-friendly than others. For example, Lydgate Beach and Poipu Beach have protected swimming ponds, which make them a good option for families with young children. 
"We went to Lydgate Beach a lot as a kid because of the protected swimming areas and the picnic pavilions," Galiza says. "My favorite beach is Tunnels Beach on the North Shore – great swimming and snorkeling spot. I also like to stand-up paddleboard at Hanalei Beach, near the pier." 
No matter what beach you go to, always keep an eye on keiki. 
"Children are notoriously fast and curious. It just takes a split second for kids to get to the deep side or to a part of the water where they can't touch bottom and panic. They may also test their breath-holding skills longer than they're capable of," Galiza cautions. 
"Swimming lessons are always a good idea and a great skill to have, especially living in Hawaii," Galiza adds. 
Other ocean safety rules Galiza says parents should enforce when at the beach include:
Always have a capable adult or swimmer with eyes on children at all times.
 
Be mindful of current ocean conditions and posted warning signs. Remember, when in doubt, don't go out!


Have kids wear or be on some kind of flotation device. 
"Sun protection is also very important," Galiza notes. "Avoid intense sun exposure from 10 a.m. to 4 p.m. Wear sun-protective clothing, including hats, and apply a hypoallergenic sunscreen with at least an SPF of 30 at least 20-30 minutes before going out into the sun. Remember to reapply sunscreen every two hours."
Published on: June 17, 2016