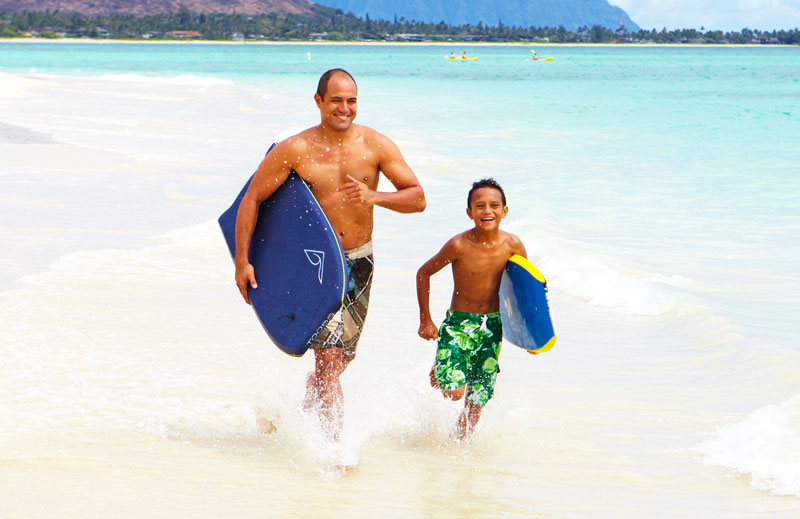 Navigating Hawaii's Oceans: Don't Be a Victim of Drowning
Hawaii's beaches are the envy of many, but as beautiful as it is, the ocean can pose great danger to the inexperienced or unaware. 
According to the Hawaii State Department of Health Injury Prevention and Control Section, there were nearly 400 fatalities among both visitors and residents due to drowning from 2010-2014, making drowning the fifth leading cause of fatal injuries in Hawaii.
Additionally, it is estimated that for every fatal drowning that occurs, another 13 non-fatal drownings take place, some of which are associated with long-term disability. 
"Spending time at the beach is a favorite activity for many of us, but it's very important to understand the power of our ocean, as well as our own limits in order to prevent injury and loss of life," says Dr. Monty Downs, an emergency department physician at Wilcox Medical Center and ocean safety advocate. 
Downs advises people to always be vigilant. Swim only at beaches with lifeguards, and be extremely cautious when walking on rock ledges. 
"Pay close attention to the intense ocean currents," Downs says, stressing that the white water created by breaking waves is not your friend. 
"The white water – or at times even clear-appearing water – can hold currents (rip currents) that will pull you out to sea," he explains. "If you do get caught in a current and are being pulled out, the key is DO NOT PANIC. Don't fight against the current or you'll get exhausted." 
Instead, Downs says you should "go with the flow, and the current will release you. Then you can gather yourself and figure out what to do next – for example, wave for help, find another place to come back to shore or wait for a rescuer. 
"STAY CALM," he adds. "That's the key to survival." 
Other important tips for enjoying a safe time at the shore this summer include: 
Never turn your back to the ocean. Ninety-five percent of serious trauma injuries (i.e., cervical/spinal injuries, broken bones, head wounds, reef gashes) occur when the surf is 3 feet and less.
 
Don't dive into the water until you have a clear understanding of its depth. There may be rocks, a reef or other obstructions hidden by a dark spot or waves.


Always slather on the sunscreen. An SPF 45 will provide all the sun protection you need, as long as you reapply every two hours and after going into the water.


Take time to master the basics of any new watersport. A snorkeling safari can turn tragic if you don't know how to use a mask, clear your snorkel or swim with fins. And if you're new to SUP (stand-up paddleboarding), learn on a day with no wind; you're like a sail when you stand up on the board, so if conditions are windy, you could get blown out to sea.


Being in and around the ocean year-round is one of the great things about living in Hawaii, but it's vital to be aware of the dangers.
"The more you know about Hawaii's oceans, the better and more enjoyable your day in the water should be," Downs says.  
To learn more about ocean safety, visit HawaiiBeachSafety.com.
Published on: May 7, 2016