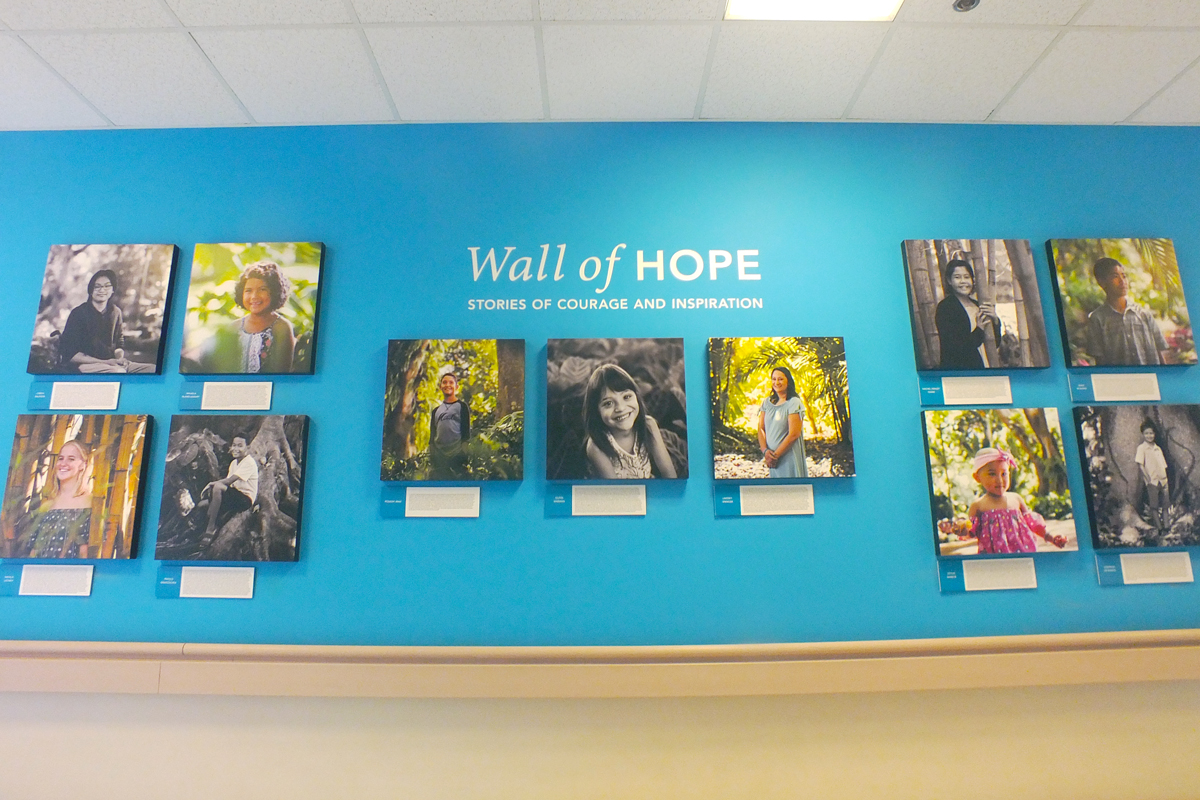 Kapiolani's Wall of Hope displays images and stories of former patients in the hopes to support and inspire current patients and their families as they brave their own medical journey.
Lyrryx Bautista
Wall of Hope: Stories of Courage & Inspiration
"A hero is an ordinary individual who finds the strength to persevere and endure in spite of overwhelming obstacles." – Christopher Reeve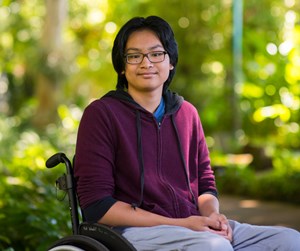 It was the last day of seventh grade for Lyrryx Bautista and, like any typical 13-year-old, he was spending his last minutes of the school year hanging out with his friends. 
As they were walking down the hall, Lyrryx ran up behind one of his friends and pushed off his friend's shoulders as if to launch himself into the air. Lyrryx fell backward, landing on his back, while his friend went forward onto his knees. 
Lyrryx stood up and walked away unscathed (his friend, on the other hand, suffered a few raspberries to his knees). 
However, later that evening, Lyrryx began feeling pins and needles in his right leg. A few hours later, the sensation moved to his other leg. 
When Lyrryx woke up the next morning, it was hard for him to walk. Gradually, he began having trouble breathing and developed a horrible headache. He also lost all feeling from the chest down. 
His parents took Lyrryx to the emergency department at Pali Momi Medical Center, but the teen was transferred to Kapiolani Medical Center for Women & Children. 
The next day, doctors told Lyrryx that he was paralyzed from the waist down. 
"They said the fall is what caused everything to happen," Lyrryx says. 
Lyrryx was admitted to the medical center on May 27, 2016, and would spend the next five months undergoing intense physical therapy. 
"The first month I didn't do anything except stay in bed. Then, I had to learn to get out of bed, then moving side to side, then transferring from my wheelchair to the bed. Then, we had to work on my arms because I wasn't used to having to use them so much," Lyrryx says. 
Lyrryx was at Kapiolani during the opening of the medical center's Diamond Head Tower, which is home to the Colonel Harland Sanders Pediatric Rehabilitation Center. 
"The old one had more sentimental value, but this center has more space to work out, and it has more room for other patients too," Lyrryx says. 
Lyrryx is back at home but continues to see a number to specialists at Kapiolani Medical Center. 
Now 15, Lyrryx recently began his freshman year at Farrington High School. His favorite subject is math, and he one day hopes to be a biomedical engineer. 
"No matter how hard things can seem, just know, you can do it!" Lyrryx says.
Published on: October 31, 2017