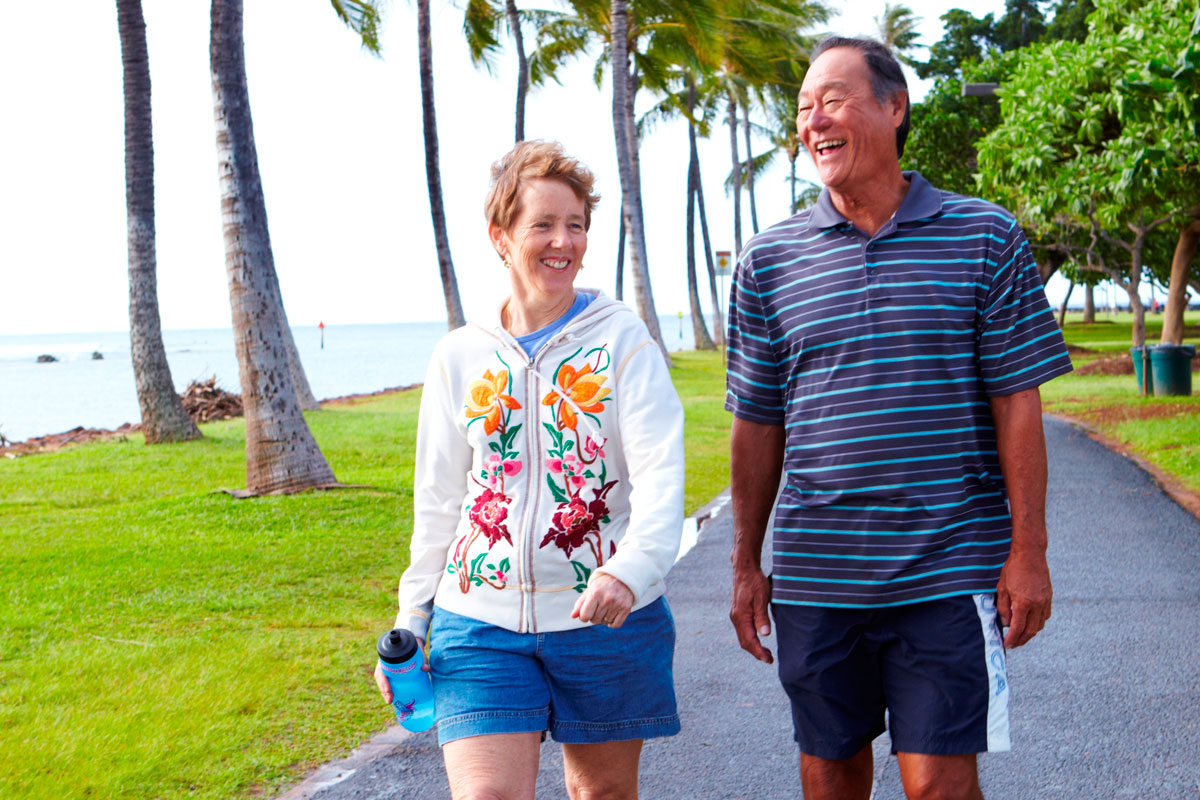 It Takes Two
If you're looking to make a few adjustments to your workout or diet routine, don't go it alone.
Numerous studies prove that having a partner – be it a spouse, significant other, friend or trainer – increases a person's odds of starting, and sticking with, healthy lifestyle changes.
"Maintaining a healthy lifestyle can be challenging; being able to count on others who empathize with your situation can encourage you when you're feeling frustrated," says Dr. Mika Yamazaki, a board-certified dermatologist with Straub Medical Center.
Yamazaki speaks from experience. Both she and her husband, Dr. Michael Kenji Yamazaki, a sports medicine/rehab specialist at Straub, have very hectic careers. But that doesn't prevent the physicians from leading active lifestyles outside the office.
"Because of our busy schedules, we both try to make an active effort to support each other's interests," Yamazaki says. "We make time to help each other take care of everyday responsibilities, such as household chores and grocery shopping, in order to give the other person time to pursue their interests."
While the Yamazakis' active pursuits are very different – he enjoys outdoor sports, such as surfing, while she gravitates toward indoor activities, such as classical Japanese dance and Taiko – they do find ways to spend time staying in shape together.
"One thing we enjoy together is walking around and exploring our neighborhood," says Yamazaki.
"Knowing that we have each other's support not only provides us with motivation to work toward a healthy lifestyle, but also makes doing activities – whether it be together or separately – more enjoyable," she explains. "We both know how important physical and emotional well-being are, so despite having very different interests, we encourage and support each other wholeheartedly."
Alton and Sheri Amimoto are another pair that proves the couple that is active together, stays together.
The Kauai residents recently enrolled in Wilcox Medical Centerl's New Year, New You program, and regularly participate in Nordic Walking with other New Year, New You and Walk Around the Block with a Doc participants. Led by Esti Grinpas, the Nordic Walking class meets on a weekly basis to hike either the Kauai Lagoons or the walking path in Kapaa.
"For me, I have found that if I joined a class, like Kauai Community College's Fitness Boot Camp class (which meets on a regular basis and is very convenient for me, because it is at my workplace), I will more than likely show up to class," says Sheri.
"Having a set class makes it more of a commitment for us," agrees Alton. "The encouragement and non-judgmental attitudes of the staff are nice."
The couple of nearly 30 years also makes it a priority to encourage healthy habits at home. Alton says he reinforces better food choices, while Sheri will push for physical activity.
"I force her and the kids (sons Jaimie, 17, and Ryker, 16) to eat vegetables with dinner, and she'll encourage me to go (work out) if I'm lazy, and I'll do the same for her," he says.
The Amimotos' team approach to implementing healthy change is a good one, according to experts.
New research out of England found that men and women who wanted to lose weight, get active and stop smoking had greater success if their partner adopted the same healthy habits. The study also showed that the benefits were greater for those who had a partner making those changes at the same time.
So whether you choose to take the buddy approach or join a group, remember – it takes two to tango.
In other words, if you expect your partner to help you reach your goals, be prepared to do the same.
"Be supportive of others who want to lose weight and get into shape," advises Alton. "It's a daily battle. It's so easy to sit back after work and watch TV or take a nap or snack. But having a partner definitely makes it easier."
Published on: April 29, 2016