Daneisha Quiamas
Wall of Hope: Stories of Courage & Inspiration
On Dec. 25, 2020, while others were celebrating the Christmas holiday with family, 11-year-old Daneisha Quiamas made her first visit to the emergency room (ER) for agitated personality changes. On her third ER visit five days later, following a CT scan, MRI, spinal tap and blood draws, doctors found an abnormality in her brain and sent her immediately to Kapiolani Medical Center for Women & Children.
It was here that her diagnosis was determined to be anti-NMDA receptor encephalitis. This neurological disease occurs when the body's own immune system attacks NMDA receptors in the brain that control functions like judgement, human interaction, and the formation and retrieval of memory and unconscious activities such as breathing and swallowing.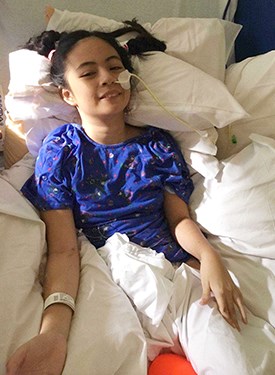 Kapiolani Pediatric Neurologist Dr. Keith Abe was involved in Daneisha's diagnosis and gratified that he was able to help her and her family. "It is a scary condition that can be so debilitating and cause such a variety of problems, but ultimately is often responsive to treatment and supportive care."
After three months of treatment, Daneisha was released from the hospital.
Francine Chang, an integrated service coordinator at Kapiolani, recalls Daneisha's perseverance throughout her treatment. "Daneisha's resilience through her hospital stay was incredible. My experience caring for her and her mom was truly a blessing because it validates why and what I do for our patients ... to provide the best care and support to our patients and families."
Daneisha credits her care team at Kapiolani for contributing to her fast recovery. She says, "I have the best support team, from all the staff, doctors and specialists, who have supported me all the way. I'm getting stronger each day and to me, being where I am right now in my recovery is a miracle."
Adds Dr. Abe, "It's been so great to see her doing well in follow up when I think back on how debilitated she was at one time."
In reflecting on her experience and the overwhelming support offered by her mother and staff, Daneisha aims to remind people of the importance of trust. "Times can be so tough, but don't lose hope. Just have faith that God will heal you, and trust that the doctors, nurses, and staff are doing their best to help you get better and trust in the process of healing." 
Published on: October 17, 2021