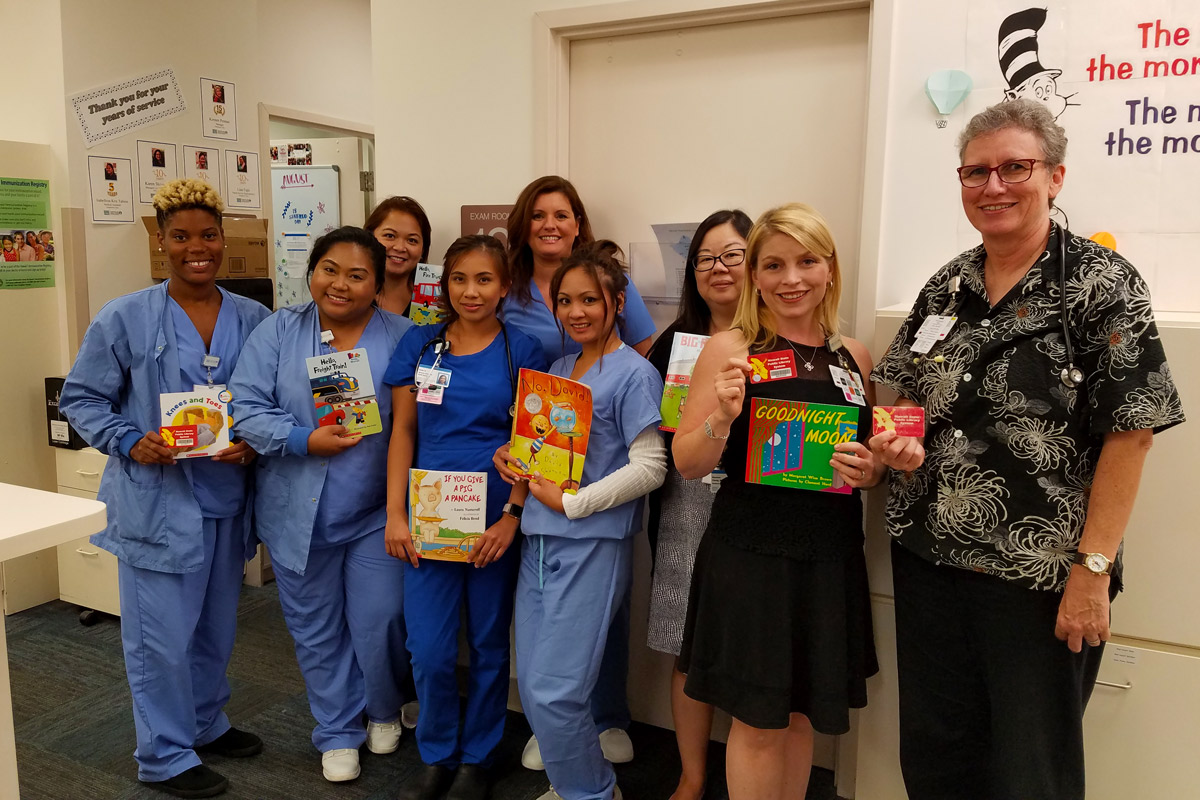 Physicians and staff from the Kapiolani Pediatric Outpatient Clinic recommend a daily dose of reading for healthier minds and family relationships!
An RX to Read: Kapiolani Medical Center Prescribes Books to Promote a Healthier Hawaii
Behold the benefits of books!
You may think health and wellness start with what you put in your mouth or how you move your feet, but a healthy body truly begins with a healthy brain. 
Books are the perfect nourishment for a growing mind, especially during the first few years of life, when early brain development is most critical for the health and well-being of a child. 
In fact, the American Academy of Pediatrics recommends that pediatric providers advise parents of young children to read aloud and talk about pictures and words in age-appropriate books with their keiki in order to help strengthen language skills, literacy development and parent-child relationships. 
Following these doctors' orders, Kapiolani Medical Center for Women & Children partnered with The Hawaii State Public Library System (HSPLS) and The National Network of Libraries of Medicine's (NNLM) Pacific Southwest Region for a pilot project that would promote resources and learning opportunities for patients and their families. 
Chapter One: A Prescription to Read
The program launched in January 2017 and was offered to all patients (from newborn to 18 years of age) and families who visited the Kapiolani Pediatric Outpatient Clinic. 
Physicians would encourage a "prescription for healthy reading" by distributing library card applications and helping their patients determine which public library would be most convenient to use. 
Kapiolani staff then routed the applications to the library on behalf of the patients, and the patients left the clinic with a HSPLS library card in hand. 
When the patient or family member went to the library to use their card for the first time, they were given an age-appropriate book to keep. 
Books were chosen based on relevance to health education and information. In order to narrow down the selection, HSPLS staff worked closely with staff from Kapiolani to identify the kinds of topics that would be most useful for patients and families. 
Making the final cut were titles that included "Eating the Alphabet," "Germs Make Me Sick," "I Like to Exercise," "You Wouldn't Want to Live Without Vegetables!" and "The Magic School Bus Chapter Book: The Giant Germ." 
"In recent years, we have noticed that as more and more people have access to cell phones, many of our patients' parents are giving their child access to their cell phones to stay occupied with games or videos. It is refreshing to witness how the introduction of a book often results in the child and family putting away their digital device to bond over the book," says Kapiolani Pediatric Clinic Medical Director Dr. Gina French, who participated in the project along with Dr. Brenda Nishikawa, pediatrician; Dr. Malia Rasa, who at the time of the project was a pediatric resident; Carla Franks, registered nurse care coordinator; and Kirsten Pennaz, manager of clinical operations.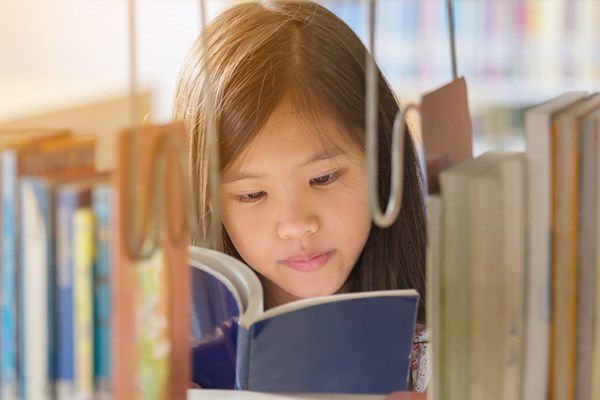 Chapter Two: Beginning a Lifetime of Learning
The 10-week trial project resulted in 331 library cards distributed to pediatric clinic patients and/or their parent. 
Not only did the program introduce families to the joys of reading, it allowed families to become more familiar with the public library. 
In addition to providing books, outreach funding by the NNLM Pacific Southwest Region enabled libraries to host health resources orientation sessions for patrons. 
Kalihi-Palama and Waipahu Public libraries hosted workshops in February and March, during which patrons were introduced to a diverse assortment of health resources and databases such as MedlinePlus, Pillbox and NIHSeniorHealth. 
French and Nishikawa attended one of the workshops to answer questions attendees had, while HSPLS created "frequently asked" health bookmarks highlighting related topics. 
"Education improves health, but a recent study out of Yale goes even farther. The study found that people older than 50 who read books for three-and-a-half hours a week are 17 percent less likely to die in the following 12 years. Those who read more were 23 percent less likely to die," said French. 
"The catch is that the reading habit tends to start early in life or not at all. When my mother told me that if you read you can do anything, who knew that included living a long life?" 
Chapter Three: A Trove of Healthy Resources
Funding for the project ended in April 2017, but both Kapiolani and HSPLS have held an ongoing narrative about renewing this partnership. 

"Public libraries are more relevant than ever! We are heartened by the promising successes in this pilot project," says Sheryl Ing, HSPLS project librarian with whom Kapiolani partnered on the project. 
Here, State Librarian Stacey Aldrich shares three reasons to check out your neighborhood library: 
Access. According to Aldrich, there are still many people who cannot afford internet at home or data plans on their cell phones.
"Many families only have one device at home, and they go to the library so that all of their children can do homework at once," Aldrich says. "There are even many parts of our islands that do not have basic infrastructure to provide high-speed internet! Our public libraries provide free access for our communities so that they can get access to information on the internet via public computers and access to Wi-Fi."
 
Vetted information. While the internet is full of "information," not all information is reliable, realistic or safe, especially when it comes to information about health. There are a lot of good resources out there, but there are also a lot that could potentially hurt people.
"Our public libraries provide access to vetted and trusted resources both in print and online. Our library staff provide direct assistance to patrons who have a hard time locating information, and also making sure it is from a trusted source," Aldrich says.
 
A place for learning. Last year, the HSPLS offered more than 10,000 free programs across 50 library branches for keiki to kupuna. From story time and literacy programs to get young readers ready for school, to learning opportunities that relate to subjects like art, health, taxes, businesses and becoming legal citizens, there is a program for everyone.
"No matter who you are and how much money you have, the public library is a place to come together and learn," Aldrich says.
To learn more about your local public library, click here.
Published on: August 28, 2017