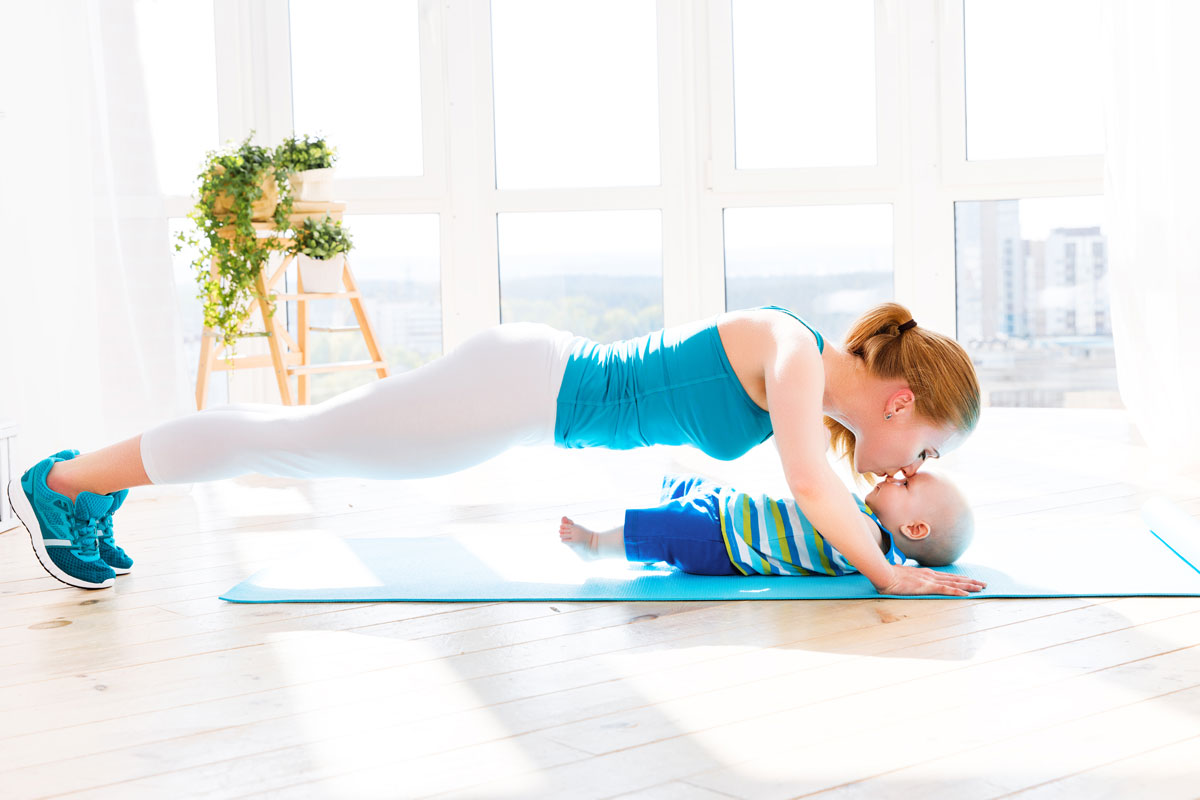 Strengthen Your Body While Bonding with Baby
Being a new mom can feel like you're constantly jumping through hoops. From feedings to diaper changes to 2 a.m. wake-up calls, there's hardly a minute to spare for yourself – which is why one of the biggest hurdles new moms have is losing the pregnancy pounds.
But finding time to fit in fitness not only does wonders for your physical health; exercise boosts mental health, lowers stress levels, improves sleep quality and reduces the chance of postpartum depression.
A smart strategy experts recommend is to work out with baby.
"Postpartum mommies are motivated to lose the 'pooch,' and exercises with the baby can help build the bond between Mom and baby," says Dr. Angela M. Pratt, a board-certified obstetrician and gynecologist and chair of the OB-GYN Department at Kapiolani Medical Center for Women & Children.
A simple starting point to work in a great workout with baby is Stroller Strider Intervals. Find an uncrowded sidewalk or walking path and go for a walk with baby in her stroller. As you push the stroller, speed up for 30 seconds, then slow down. Speed up again for 30 seconds, then return to your normal walking pace. Continue these intervals for the entire walk. To make it harder, do the same thing going uphill.
Other easy exercises you can do from the comfort of your own living room include:
Baby Bench Press –

Lie on your back, holding baby securely above your chest with your arms straight out in front of you. Lower elbows, making sure to keep arms close to your sides. Hold for two counts, then extend arms straight up. That's one rep. Repeat for 8 to 10 reps, making sure to smile and make funny faces as you lift baby up and down.
Coo-Coo Crunch –

Lie on your back, knees bent, with baby resting on his back and supported by your thighs. Engaging your abs and with your head supported with one hand, crunch halfway up, hold for two counts, then lower yourself back down. Repeat for 3 to 4 reps; switch arms and perform 4 to 5 reps. Remember to smile or tickle baby as you lift yourself up to meet him.
Kiss and Push-Up –

Lay baby flat on her back on the floor. Get into a standard or modified push-up position, with your head right above baby. As you lower your body, give baby a big kiss. Hold for two counts, then raise yourself back up. Repeat for 8 to 10 reps. 
The Tummy Tamer –

Sit on an exercise ball with baby on your lap. Keeping your abs engaged and holding baby close to you, gently bounce up and down, making sure the bouncing action is not too rigorous in order to protect baby. Not only are you tightening your tummy while performing this move, baby also is having a ball. In fact, you can even use this move to help put baby to sleep.
It is important to get medical clearance from both your physician and baby's pediatrician before beginning any of the above exercises.
"After delivery, a mom needs to make sure she is fully recovered and is cleared by her obstetrician before starting up an exercise program," Pratt stresses. 
Most experts advise waiting six to eight weeks post-delivery to start a workout program, but women who have had a C-section or a difficult pregnancy will need a longer recovery period. Baby should be old enough and strong enough to support her own head.
Once you get the go-ahead, work at a beginner level and focus on performing the moves correctly in order to prevent injury.
Most importantly, don't rush to get back to the fitness level or dress size you were before getting pregnant. Remember that your body has been through a lot over the past nine months creating a new human being. It may take nine months – or longer! – to return to your pre-baby shape.
Published on: February 11, 2015