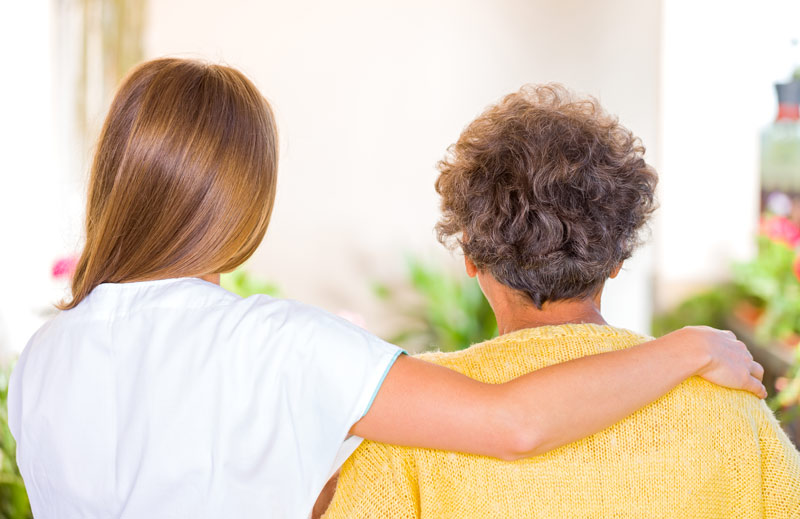 A Caregiver's Guide to Living with Alzheimer's Disease – Part 2
This is the second of a two-part series. Learn how to recognize signs and symptoms of Alzheimer's disease in Part 1.
 
The signs and symptoms of Alzheimer's disease can be difficult to spot at first. 
You may notice your loved one begins repeating conversations throughout the day, or he may become agitated easily if he has trouble remembering where he put his car keys, reading glasses or favorite book. 
These situations could just be a normal part of aging, but they also could point to the early stages of Alzheimer's disease. 
The most common form of dementia, Alzheimer's disease is a progressive disease that affects the brain and can result in the loss of memory, problem-solving, self-care and good judgment. 
Age and family history are the biggest influences when it comes to developing Alzheimer's, but other factors, including diet and lifestyle, may increase a person's risk. 
"As we get older, especially over 65 years of age, we are all at an increased risk for developing Alzheimer's disease," says Dr. Dawn Minaai, a geriatric, hospice and palliative medicine specialist at Straub Medical Center.
"It is important to seek help from a doctor who is experienced with dementia so that reversible causes for memory loss are excluded and appropriate evaluation and testing is completed," Minaai adds. 
"Check if other family members also have noticed recent changes or have expressed concerns about your loved one's behavior," says Dr. Sashi Braga, a family medicine physician at Kauai Medical Clinic. 
"Dementia is an acquired syndrome in which there is a decline in at least two cognitive domains and does not have to include memory loss. However, memory loss may be the most common initial symptom," Braga explains. 
Both Minaai and Braga agree that the sooner you can recognize the signs of Alzheimer's, the better. 
"I believe that an early diagnosis will allow patients and their families to have time to establish their life goals from that point onward, such as enjoying life closer to their loved ones – maybe go on a trip and spend time together," Braga says. 
"Individuals with early memory issues should plan in advance and express, document and share their future health care wishes," Minaai advises. "They should designate legally who they trust to make health care and financial decisions in the event they are no longer able to make decisions. They also should consider getting their finances in order." 
Caregivers and family members are strongly advised to receive education about Alzheimer's in order to better understand how memory impairment can affect daily life, what to expect as memory declines, and what kind of support an individual with memory issues needs. 
"We can help in educating the patient and their family members on what may happen and relate to issues that may benefit the patient, such as encouraging physical activities and healthy lifestyle habits," Braga adds. "We can offer supportive therapies, family and caregiver education and support, regular appointments with a doctor to monitor the speed of cognitive decline, attention to safety issues, as well as provide types of medical treatment that are available." 
As for caregivers, they also are encouraged to seek out help before they need it. 
"No matter how much love you have for the person being cared for, you will burn out. It is important to recognize your stress levels before this burnout happens," Braga says. 
"Caregivers may become isolated, lonely, alone and stressed. Because of this, it is important for caregivers to take care of themselves so that they can continue to be caregivers," Minaai adds. 
"Take breaks, go for walks, stay active, join community support groups, enroll with your local Alzheimer's association if you have a family member with Alzheimer's disease," Braga advises. 
Other helpful suggestions include:
Keeping a journal or calendar.


Getting regular exercise.


Seeking spiritual support.
 
"With individuals who have a dementia, it is important to know that the individual is not playing games and that their memory issues are real and an illness," Minaai says. "Although there is no cure or treatments that improve memory, there may be treatments that can possibly slow the progression of memory loss. Please understand that over time, their impairment will result in their inability to care for themselves. Be prepared, and support them with whatever they are having trouble with, and help with the things that they are no longer able to do. Above all, make sure they are safe." 
Patients or family members in need of assistance with Alzheimer's disease or other forms of dementia can visit the Hawaii Pacific Health Geriatrics Medicine site for information on services and advance care planning.
Published on: May 7, 2016