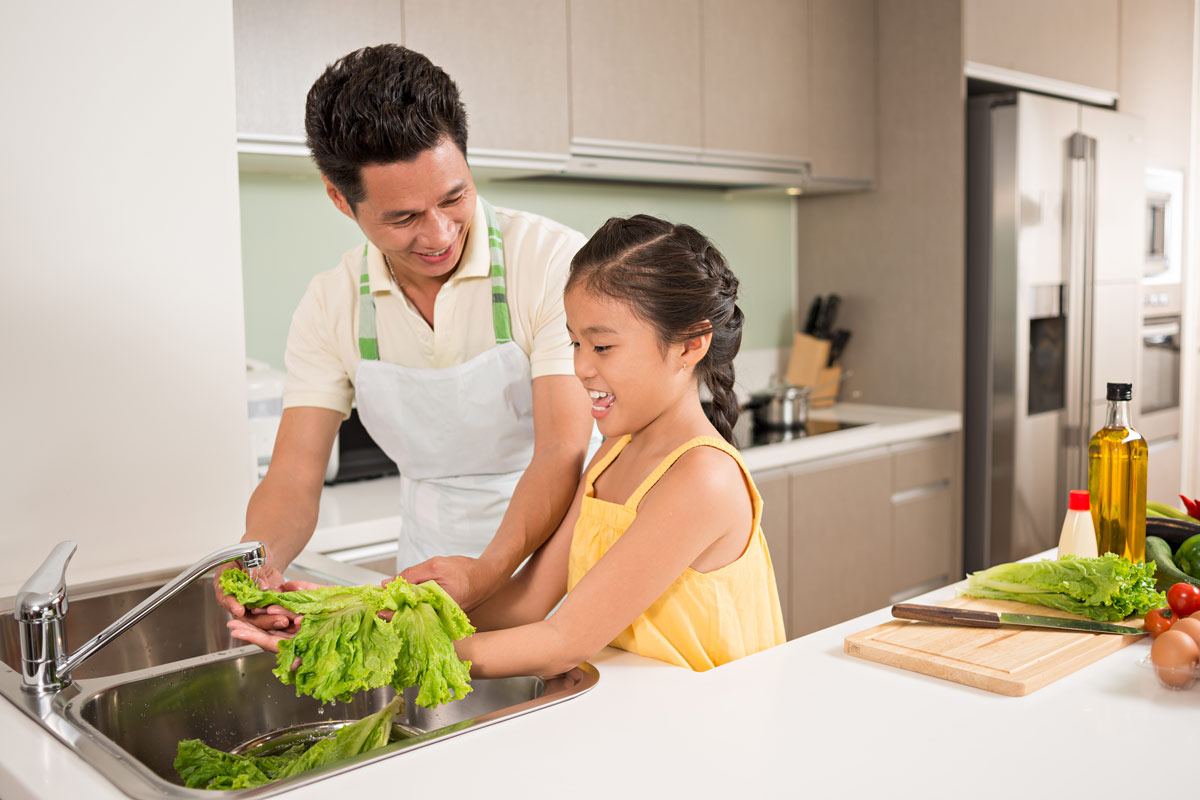 Ways to Encourage Keiki in the Kitchen
Contestants of the culinary competition show "MasterChef Junior" go home with some pretty enviable prizes, but any child can win big by learning to cook at an early age. 
"Learning to cook introduces keiki to healthy food habits by making them aware of what goes into their bodies," says Rebecca Izawa, a registered dietitian at Kapiolani Medical Center for Women & Children. 
"Parents can explain what is good for their digestive tract, eyes and heart when they are adding ingredients, and it is a good way to start learning about portion sizes," Izawa explains. "Cooking together also provides bonding time for the parent and child, and provides the child with knowledge (about) measurements, names of different types of foods and using different senses during the cooking process. This can give them the basic things they need to know when they are young, and they can keep building on these skills as they get older." 
To get your child's creative juices flowing, browse through recipe books together. Izawa says you also can invent your own recipe using foods your child already loves. For example, make a fruit parfait with low-fat yogurt and your favorite fruit with granola. 
"By preparing your own meals, you can modify the recipe and incorporate healthy ingredients," Izawa says. 
When at the supermarket, encourage your child to search out the items that will make up the menu, with a focus on whole grains, lean proteins and brightly colored fruits and veggies such as peppers, cherry tomatoes, broccoli, carrots and berries. 
Once at home, let your keiki don the chef's hat. Allowing little ones to feel in control of the meal increases their confidence and gives them ownership of the final dish, which in turn makes them more likely to eat – and enjoy! – their tasty creations. 
"Children love to help, and if you incorporate new foods into a dish, such as cauliflower into potato salad or broccoli into your lasagna, they may find it quite exciting that they are having something healthy to eat and not really tasting the difference!" Izawa says. 
While cooking with your child can be a fun and fulfilling experience, Izawa strongly advises parents implement the following safety rules: 
Never leave children unsupervised, especially when they are near sharp objects or heating elements. Establish a "kid-free zone" to ensure children stay a safe distance from stoves and appliances when you are not present.


Equip children with an apron, oven mitts and child-sized utensils (knives, spatulas, whisks, etc.), which are easier and safer for tiny hands to use.


Turn pot handles away from the edge of the stove to prevent accidental tipping or spilling.


Don't rush. Quick motions may lead to slips, spills, burns or cuts.


Use caution when opening the oven door or lifting lids covering hot liquids; steam can burn little fingers and faces.


Allow food to cool completely before tasting or serving.
Published on: March 24, 2015