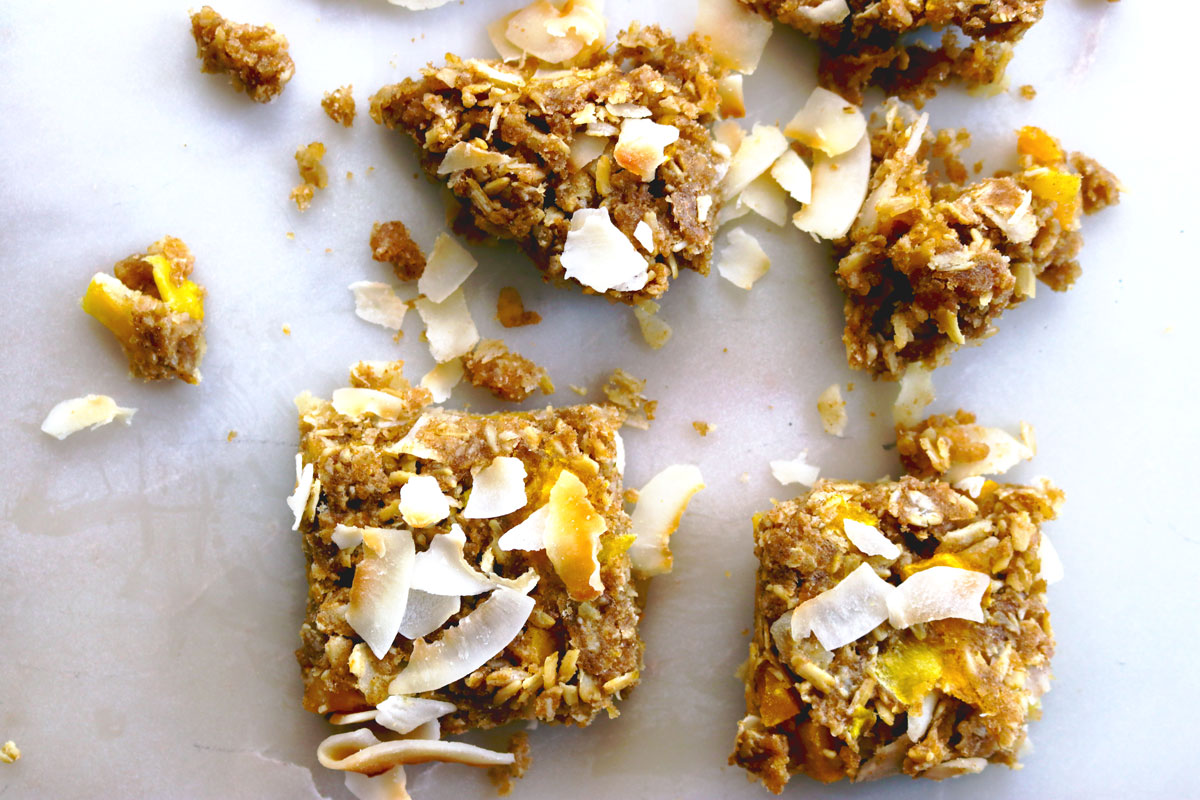 Tropical Breakfast Bars
Whole wheat and rolled oats are the base for a morning meal packed with island-inspired flavors in this recipe for Tropical Breakfast Bars. 
Whole grains give you a steady supply of energy to help get your day off on the right foot.
Mango, banana and lilikoi juice lend a hint of natural sweetness.
Bits of nutty coconut add unexpected crunch and richness for a well-rounded bar that tastes like a mini vacation with every bite.
Tropical Breakfast Bars
Serves 14
Ingredients:
1 overripe banana
1/4 cup unsweetened lilikoi juice or other fruit juice
2 cups rolled oats
1 cup self-rising whole-wheat flour
1/2 cup shredded coconut, plus extra for sprinkling
1 teaspoon cinnamon
2 cups mango, finely diced
1/2 cup coconut oil
Directions:
1. Preheat oven to 350 degrees. Grease and line an 8-by-8-inch baking pan.
2. Melt coconut oil in microwave or on the stove top and set aside to cool slightly.
3. In a large bowl, mash the banana and stir until smooth.
4. Add oats, flour, shredded coconut and cinnamon to banana and mix.
5. Add coconut oil and diced mango, and mix thoroughly.
6. Pour mixture into lined pan and press evenly and firmly, then sprinkle top with shredded coconut.
7. Bake for 20-25 minutes or until top is golden and springs back when touched lightly.
8. Cool completely before slicing into 28 bars. (Bars may be frozen afterward as well.)
Nutritional information per serving (2 bars):
Calories: 173; Carbohydrates: 20.2g; Protein: 3g; Total Fat: 8.8g; Saturated Fat: 7.4g; Cholesterol: 0mg; Dietary Fiber: 3.1g; Sodium: 1.6mg
Published on: August 20, 2018