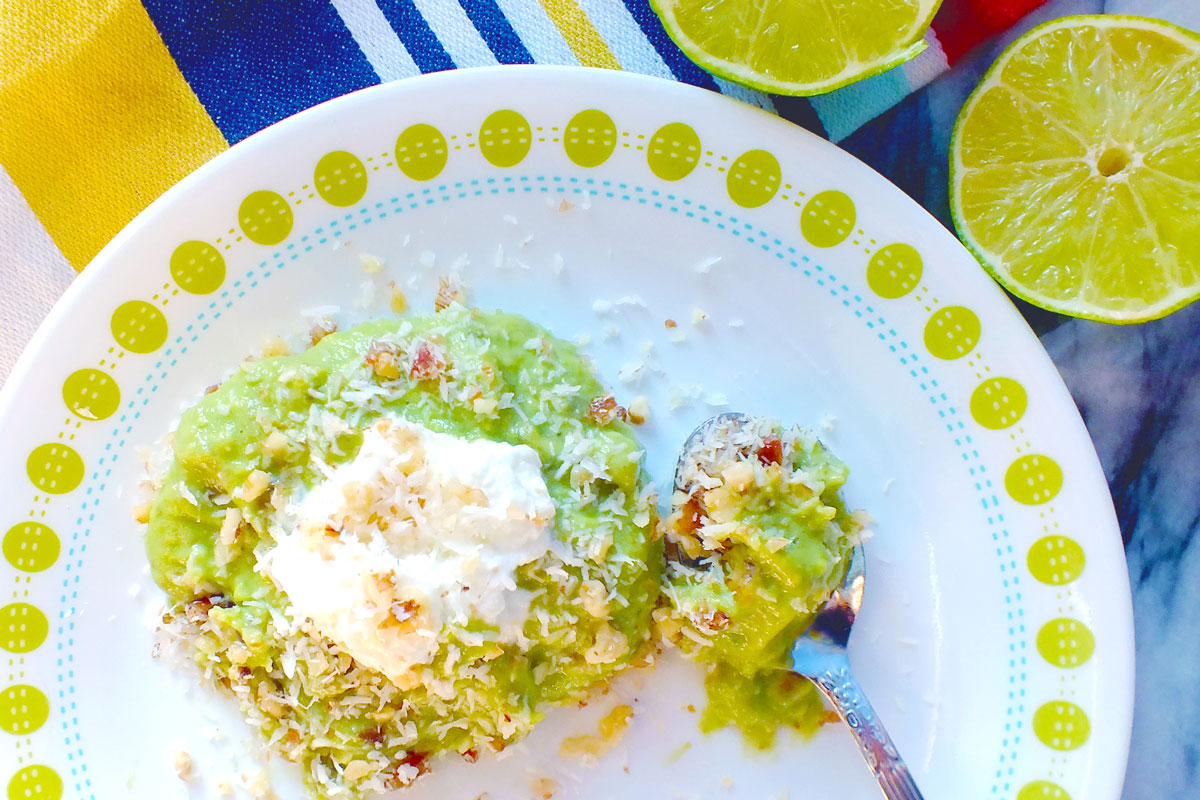 Key Lime Mousse
Sometimes you need to satisfy your sweet tooth. 
When those cravings strike, Rebecca Izawa, registered dietitian at Kapiolani Medical Center for Women & Children, recommends reaching for this Key Lime Mousse from Food & Nutrition Magazine. 
"The magazine is published by the Academy of Nutrition and Dietetics, the world's largest organization of food and nutrition professionals," Izawa says. "They have a lot of great things I like to try out!" 
This recipe was created by Registered Dietitian Alexandra Caspero and is described as a deconstructed key lime pie. 
However, unlike the traditional tropical treat that calls for loads of cream, sugar and condensed milk, this recipe relies on fresh fruits, like avocadoes, lemons and limes, for its creamy consistency and tangy flavor. 
"This is a healthier alternate for a dessert since it is packed full of nutrients such as potassium, protein, fiber and vitamin C," Izawa says. 
Though also high in fat, avocadoes contain the "good fat" – monounsaturated fat – which studies have shown actually are beneficial for heart and brain health. 
"The fats in avocadoes are the better choice if you need to add fat into foods because they can help lower blood cholesterol levels, decreasing the risk for heart disease and stroke," says Izawa. 
Bananas and dates supply all the sweetness you need, plus essential nutrients like potassium, iron and fiber.
"Fiber helps regulate your gastrointestinal tract, keeping it healthy," says Izawa.
If you'd prefer, do as Izawa does – replace the maple syrup with a few dates that have been soaked in water for 10 minutes.
Key Lime Mousse
Recipe from Food & Nutrition Magazine
Serves 4
Ingredients:
2 avocadoes, peeled and pitted
1 ripe banana
1/8 cup lemon juice
1/4 cup lime juice
1 tablespoon lime zest
4 tablespoons maple syrup (or 1/4 cup Medjool dates that have been pitted and soaked in water for 10 minutes)
1 teaspoon vanilla extract
1/4 teaspoon sea salt, divided
1/2 cup unsweetened coconut
1/4 cup walnuts
1/4 cup Medjool dates, pitted
Directions:
1. Place the avocadoes, banana, lemon juice, lime juice, lime zest, maple syrup, vanilla extract and a pinch of sea salt into a blender or food processor and purée until creamy. Remove from the blender and place into a bowl.
2. Place the coconut, walnuts, dates and remaining sea salt into a food processor, and mix until combined and crumb-like. Do not overprocess; it should look like coarse bread crumbs.
3. For each serving, place one-quarter of the crust mixture into a glass. Spoon one-quarter of the mousse mixture on top.
Optional: Serve each cup topped with 2 tablespoons plain nonfat Greek yogurt.
Nutritional information per serving (1/2 cup mousse and 1 3/4 ounces crust mixture):
Calories: 394; Carbohydrates: 41g; Protein: 5g; Total Fat: 27g; Saturated Fat: 8g; Cholesterol: 0mg; Sugars: 25g; Dietary Fiber: 9g; Sodium: 449mg; Potassium: 727mg
Published on: August 16, 2015