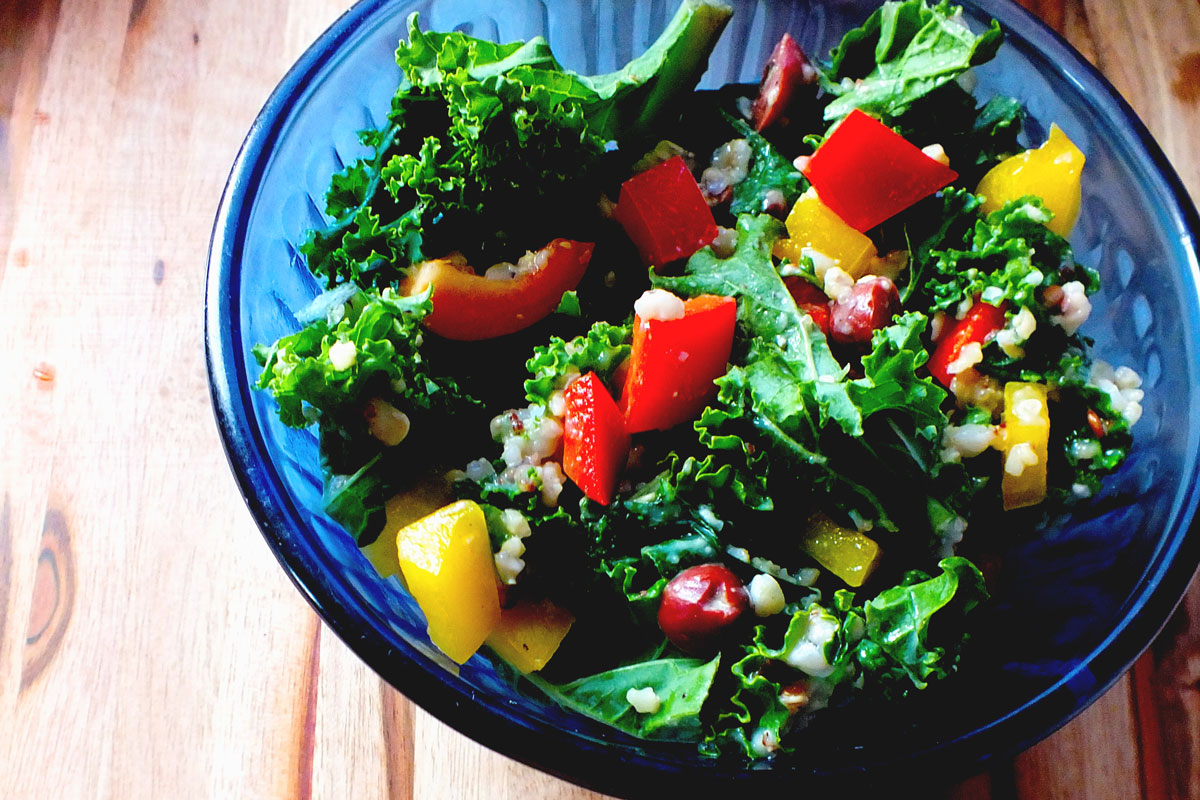 Kapiolani's Kale & Quinoa Salad
Looking for a quick, easy meal to restart your healthy-eating habits after a long holiday season of overindulging? Try this original Kale & Quinoa Salad by Rebecca Izawa, registered dietitian and board certified specialist for pediatric in nutrition at Kapiolani Medical Center for Women & Children. 
The two stars of this comforting winter salad are kale and quinoa. This dynamic duo has gotten a lot of attention in recent years as "superfoods," and for good reason.
Kale is a powerhouse source of important vitamins and minerals, like iron, fiber, folate, calcium, B vitamins and vitamins A, C and K.
Though touted as a whole grain, quinoa actually is a tiny seed. But don't let its size fool you – quinoa is chockfull of cancer-fighting nutrients as well as a mighty 8 grams of protein per cup.
Not to be outdone, sweet peppers add a hefty dose of vitamins A and C, along with essential minerals like iron, zinc, potassium, manganese and selenium. Kalamata olives provide a meaty texture and dose of heart-healthy fat that helps keep you fuller longer.
"I often add more kale, so my recipes always differ," says Izawa.
Follow her lead and add more leafy greens, if you so desire. Popular options that provide both flavor and disease-fighting nutrients include collard greens, chard, spinach, beet greens and watercress.
Kale & Quinoa Salad
Serves 8
Ingredients:
For the salad
1 cup quinoa (ancient blend or other)
1 1/2 cups water
2 cups kale, chopped
1 small red or yellow pepper
12 Kalamata olives
For the dressing
1 tablespoon red wine vinegar
1 teaspoon olive oil
1 tablespoon Dijon mustard or whole-grain mustard
1/4 teaspoon salt (optional)
Directions:
1. Lightly toast quinoa in a saucepan. Add 1 1/2 cups water and bring to boil. Cover and simmer for 15 minutes. Remove from stove and let cool.
2. In a small bowl, mix together olive oil, red wine vinegar and mustard.
3. In a separate large bowl, add chopped kale, sliced Kalamata olives and bell peppers. Stir in cooked quinoa.
4. Toss salad mixture together with dressing and add salt, if desired.
Nutritional information per 1/2-cup serving:
Calories: 120; Total Fat: 4g; Protein: 3g
Published on: January 4, 2015