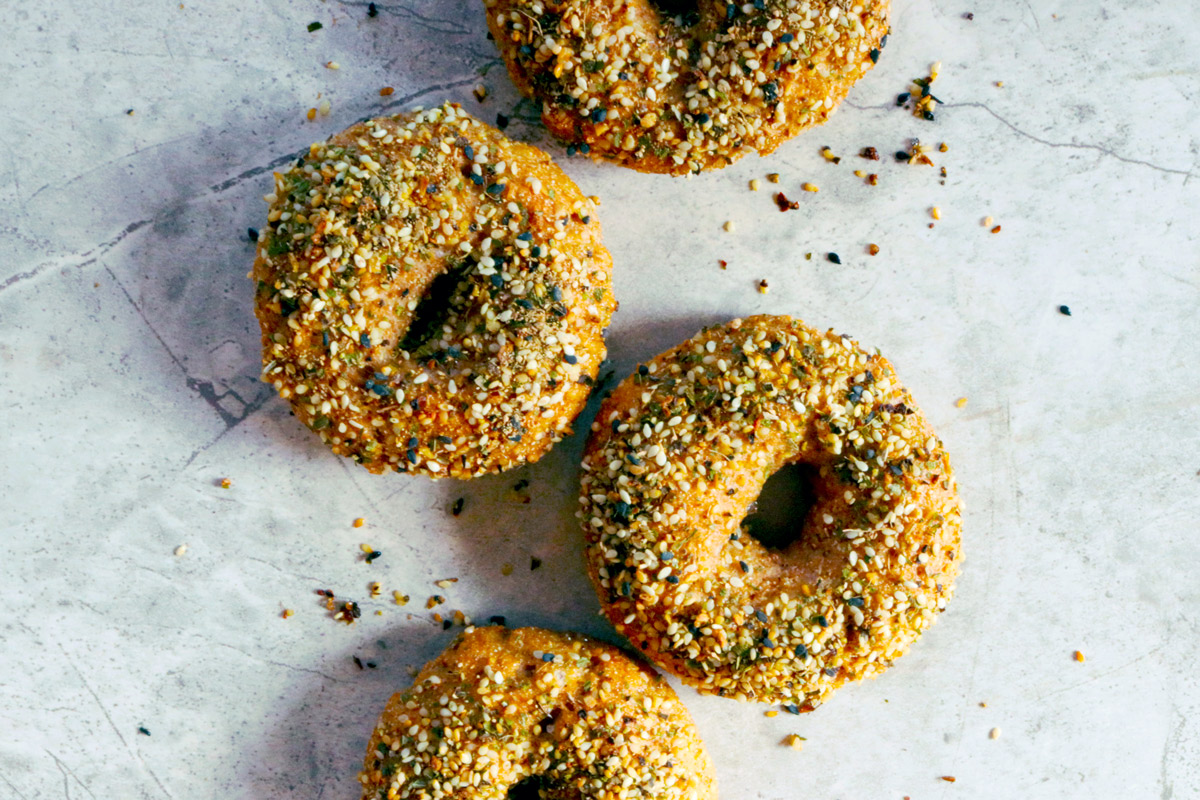 Greek Yogurt Bagels
These light-as-air Greek Yogurt Bagels are a great go-to for brunch on a Sunday morning. 
The recipe is simple to make – it only requires five ingredients! – and can be made in less than 30 minutes in the oven, no fancy equipment necessary. 
Using Greek yogurt as the binder not only makes the bagels fluffy, it provides protein, which your average bagel most often lacks.
Protein not only is the building block for the body's muscles, tissues and organs, it can help reduce cravings and stave off hunger. 
Fiber, which whole-wheat flour has more of than white flour, also helps you feel fuller for longer. 
Enjoy these bagels plain, layered with slices of smoked salmon, or topped with a smear of fresh avocado and an over easy egg. 
Greek Yogurt Bagels
Recipes adapted from SkinnyTaste.com
Serves 4

Ingredients:
1 cup unbleached all-purpose flour, whole-wheat or gluten-free mix
2 teaspoons baking powder
3/4 teaspoon salt
1 cup nonfat plain Greek yogurt
1 egg white, beaten
Optional toppings: Everything bagel seasoning, sesame seeds, poppy seeds, dried garlic flakes, dried onion flakes.

Directions:
1. Preheat oven to 375 degrees. Place parchment paper on a baking sheet and spray with oil to avoid sticking.
2. In a medium bowl, combine the flour, baking powder and salt; mix well. Add the yogurt and mix with a fork or spatula until well combined. It will resemble small crumbs.
3. Remove dough from bowl and place on a lightly floured work surface. Knead dough a few times until it is tacky, but not sticky, about 15 turns (it should not leave dough on your hands when you pull away).
4. Divide into four equal balls. Roll each ball into ¾-inch thick ropes and join the ends to form bagels. You also can make a ball and poke a hole into the center, then stretch slightly to form bagels.
5. Top with egg white wash and sprinkle the top with seasoning of choice.
6. Bake on the top rack of the oven for 25 minutes. Let cool at least 10 minutes before cutting.
Nutritional information per serving (1 bagel):
Calories: 152; Carbohydrates: 26.5g; Protein: 10g; Total Fat: 0,3g; Cholesterol: 0mg; Dietary Fiber: 1g; Sodium: 434mg
Published on: March 31, 2018