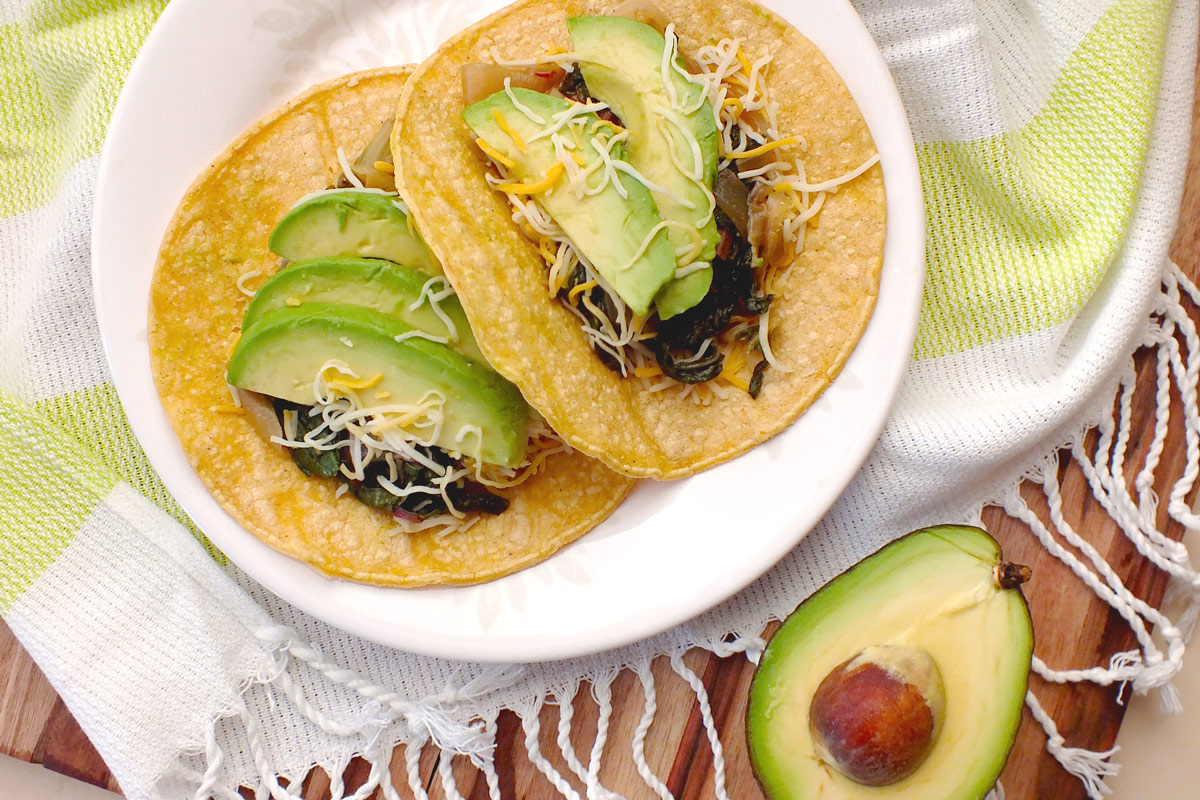 Chard Tacos
When it comes to eating your daily serving of greens, sometimes you have to think outside the box … or, in this case, the salad bowl. 
Case in point: these Chard Tacos courtesy of Teresa Quintero, a clinical registered dietitian at Wilcox Medical Center. 
"This recipe was taken from AllRecipes.com, a website I use often to try new recipes," Quintero says. "I made a couple alterations, and you can pick and choose what changes you would want to make as well." 
While most people fill their tacos with beef, chicken or fish, the superstar in Quintero's version is the super veggie chard. 
"Chard is a very beautiful, colorful green that is full of antioxidants that can protect our brain from free radical damage," Quintero says. "These tacos make a delicious vegetarian meal option for your week." 
According to Quintero, chard, along with other leafy greens, was shown to help decrease risk for dementia in The Memory and Aging Project from Rush Clinic in Chicago. 
"Folate, which is found in chard, is known to help increase cognition in older adults. It can also increase serotonin levels," Quintero says, noting that chard also is an excellent source of vitamins A, C and E, vitamin K, magnesium, calcium and iron. 
"It's also a good source of fiber along with 3.5 grams of quality vegetable protein per cooked cup!" she adds. 
The addition of avocado provides monounsaturated fats, which are heart- and brain-healthy fats.
"The total fat of the dish can be reduced by cutting back on the queso fresco and substituting with fat-free or light Mexican-style sour cream," Quintero suggests. "Just serve warm with a side of beans and enjoy!" 
Chard Tacos
Recipe adapted from AllRecipes.com
Serves 6 
Ingredients:
1 1/2 tablespoons organic olive oil
1 large onion, cut into ¼-inch slices
3 minced garlic cloves
1 tablespoon red pepper flakes, optional
1/2 cup low-sodium vegetable broth (may substitute low-sodium chicken broth)
1 bunch Swiss chard, rough stems removed and leaves cut into thin slices, approximately 1 1/2 inches
Pinch of salt (omit if regular sodium broth is used)
12 corn tortillas
1 cup queso fresco (Mexican cheese)
12 avocado slices
3/4 cup salsa (fresh even better) 
Directions:
1. Heat olive oil in a skillet over medium heat. Stir in the onion; cook and stir until the onion has softened and turned golden brown, about 8-10 minutes.
2. Add garlic and red pepper flakes, stirring until fragrant, about 1 minute.
3. Stir in the broth, Swiss chard and salt. Cover and reduce heat to low. Simmer until the chard is nearly tender, about 5 minutes.
4. Remove lid and increase heat to medium, stirring until the liquid evaporates, about 5 minutes. Remove from heat and set aside.  
5. Heat another skillet over medium-high heat. Warm the tortillas in the skillet for about 1 minute each side.
6. Fill each warmed tortilla with the chard and top with queso fresco, avocado slice and salsa.
Nutritional information per serving (2 tacos):
Calories: 238; Carbohydrate: 33g; Protein: 9.7g; Total Fat: 8.5g; Saturated Fat: 2.9g; Trans Fats: 0g; Cholesterol: 14mg; Dietary Fiber: 4.7g; Sodium: 434mg
Published on: May 5, 2015