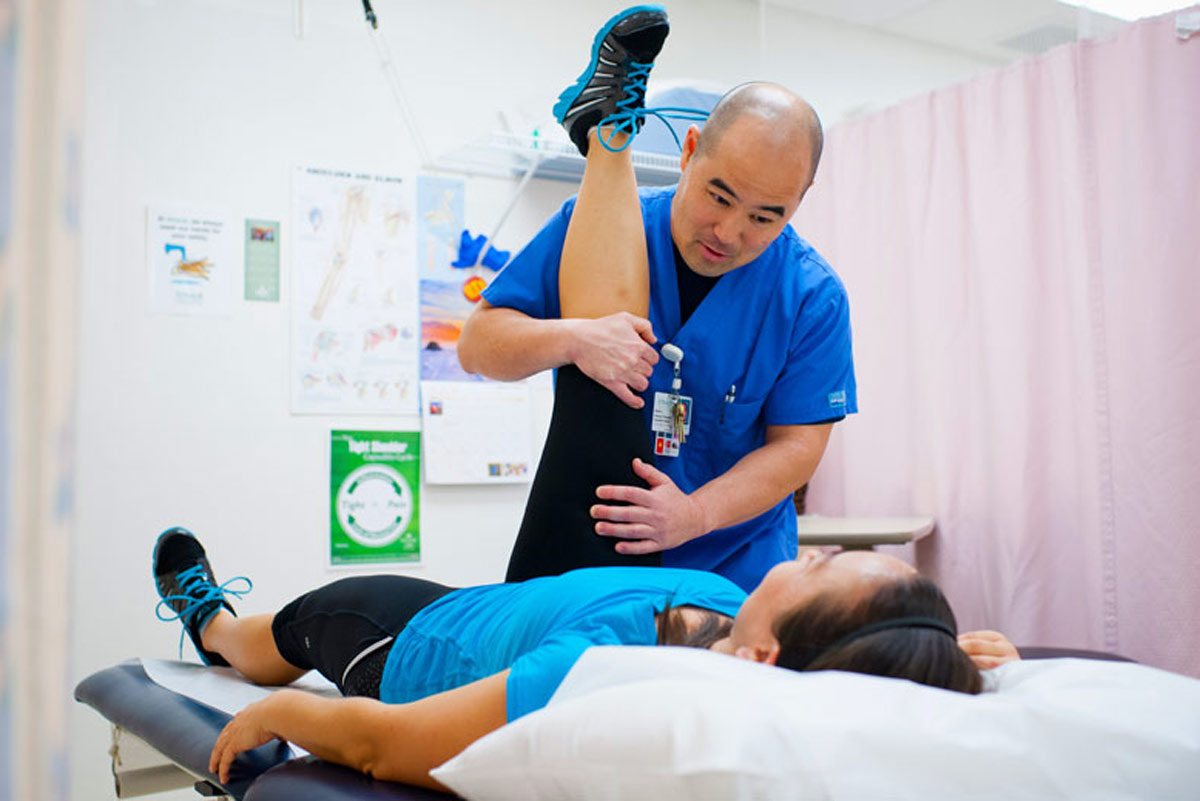 Move Over Pain: How Physical Therapy Can Improve Mobility & Motion
This is the first of a three-part series.
 
A stiff knee in the morning, a sore back at night – most people think aches and pains are just a natural part of aging. 
But when tiny twinges turn into something bigger, it may be time to call a physical therapist. 
Physical therapists are experts in improving mobility and motion. 
"We take a multifaceted approach that includes manual techniques, neuromuscular re-education, exercise, stretching, modalities and patient education to address a patient's dysfunction or injury in order to maximize their function and mobility," says Angela Bestwick, a physical therapist at Wilcox Medical Center. 
Mobility is crucial to maintaining quality of life and independence as you age. 
Consistent movement also is a key component of a healthy balance system, which can help prevent injury and hospitalization due to falls. 
Additionally, pain-free movement can help prevent obesity, which is responsible for at least 18 percent of adult deaths in the United States.
While injury prevention through regular physical activity is a step in the right direction, sometimes accidents happen. 
Orthopedics is the most common practice in physical therapy. Physical therapists (PTs) who fall under this branch focus on the improvement of function, strength and range of motion of individuals who are experiencing pain, weakness or dysfunction due to an injury or other disease process. 
These PTs cover a wide spectrum of individuals – those recovering from surgery, those trying to avoid surgery, those suffering from chronic overuse injuries, or those weekend warriors who hurt themselves during some athletic event. 
There are many different forms of physical therapy that meet the needs of the patient, to include: 
Acute Care – Physical therapy that is delivered to patients who have recently been hospitalized due to an injury, illness or recent surgery.


Aquatics – A physical therapist delivers specialized treatment to individuals while submerged in a heated pool. PTs use the body's buoyancy to apply techniques that may be too difficult for individuals to accomplish on land.


Cardiovascular and Pulmonary – Physical therapists work closely with cardiologists, pulmonologists and respiratory therapists to deliver care to patients who are rehabilitating before or after heart or lung surgery, or to those who are trying to improve their situation to hopefully avoid surgery altogether.


Wound Management – These physical therapists focus on the safe and speedy healing of wounds that need close monitoring, dressing changes, debridement, etc., to protect the health of the individual.


Geriatrics – Physical therapy that focuses on the specific needs and treatment of the elderly population. The goal of these specific PTs is to provide the best physical therapy care and advocate for optimal aging.


Hand Rehabilitation – These physical therapists have a special interest in the intricacies of the wrist and hand. Typically, these PTs undergo specific training to be able to deliver the optimal care for patients with hand disorders or dysfunctions due to injury, trauma or surgery.


Home Health – When patients require physical therapy services but either are unable physically or do not have the means to attend out-patient physical therapy, a specific group of therapists are contracted to go to individual's homes and provide the much-needed rehabilitation.


Neurology – A neurologic physical therapist is a physical therapist who specializes in the evaluation and treatment of individuals with movement problems due to disease or injury of the nervous system, helping to restore the mobility patients need to move forward with their lives.


Oncology – These PTs work with patients who have undergone or are currently undergoing treatment for cancer (chemotherapy, surgery, radiation, etc.), patients who are battling with lymphedema, as well as patients who are undergoing treatment to fight HIV/AIDS.


Pediatrics – Physical therapists work in collaboration with children and their families to provide services aimed at promoting a child's ability to function independently and participate actively in home, school and community environments. Pediatric physical therapy promotes independence, increases participation, facilitates motor development and function, improves strength and endurance, enhances learning opportunities, and eases challenges with daily caregiving.


Sports – These physical therapists have a specialization in the treatment of individuals who have suffered an injury in a specific sporting event and are rehabilitating in the hopes to return to their sport. Many of these therapists are also athletic trainer-certified – their training and therapy is specifically focused on the athlete.


Women's Health – Physical therapists focus on conditions that are specific to women of all ages, such as breast cancer, pediatric pelvic health, pelvic pain, bowel incontinence, pregnancy and post-partum, urinary incontinence, etc. 
If you suffer from chronic pain and are unsure if physical therapy could help, the first stop should be your doctor's office. 
Your primary care physician may refer you to a physical therapist, who guides you in a hands-on approach to help relieve pain.

The first visit to a physical therapist can be overwhelming. Part 2 prepares you for your first appointment with a checklist of helpful tips. 
Still unsure if physical therapy is right for you? Part 3 discusses its many benefits.
Published on: October 16, 2015