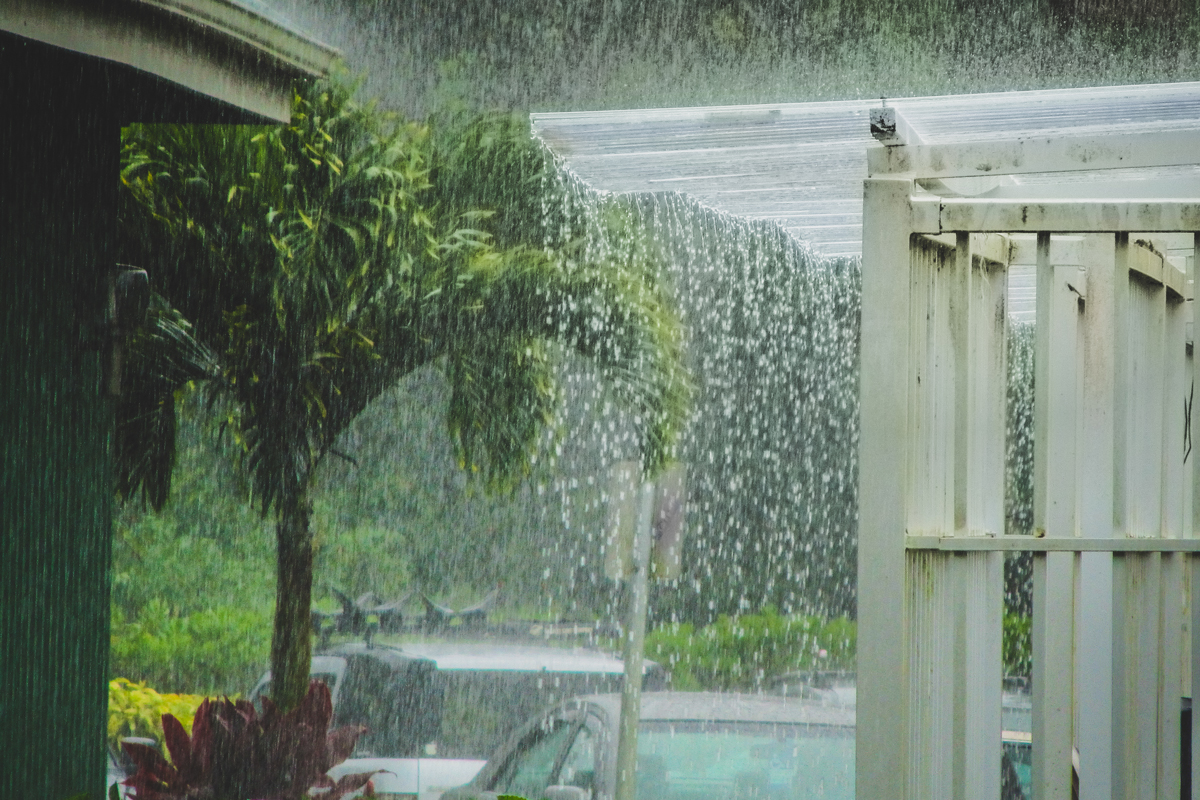 Water, water everywhere over a short time period can lead to flash flooding. Stay safe with the tips below.
10 Tips to Keep You Afloat During a Flash Flood
Floods are among the most frequent and costly natural disasters. 
Flash floods occur suddenly due to rapidly rising water levels along a stream or low-lying area. 
Most often, a natural event such as a hurricane or several days of sustained rain can trigger a flash flood. 
However, flooding also can be caused by an area sustaining a large amount of rain in a short period of time, or by poor drainage systems. 
In an event of a flood, you may need to evacuate immediately. 
Tip No. 1: Be prepared and have a well-stocked emergency kit at the ready. 
Your kit should include the 5 P's for flood preparedness:
The people and pets you want to protect.


Any prescription medications.


Important papers (insurance policies and personal identification).


Personal needs (clothing, electronic devices, cash, first-aid kits, food, pet supplies).


Any priceless mementos that cannot be replaced, within reason.  
Have enough supplies to last for at least three to five days, since most floods recede within that amount of time.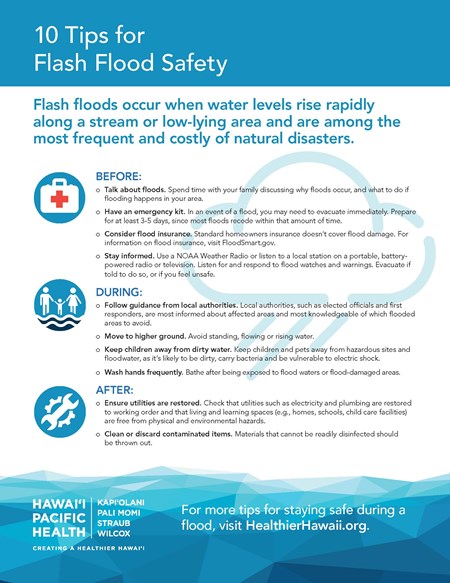 To keep you and your family safe before, during and after a flash flood, follow these additional flood safety tips below, or print out the PDF version of our top 10 safety tips to keep on hand:
 
BEFORE
Talk about floods. Spend time with your family discussing why floods occur. Explain to children that flooding is a natural event and not anyone's fault. Use simple words that even young children can understand.


Consider flood insurance. Standard homeowners insurance doesn't cover flood damage. For information on flood insurance, visit FloodSmart.gov.


Stay informed. Use a NOAA Weather Radio or listen to a local station on a portable, battery-powered radio or television. Listen for and respond to flood watches and warnings. Evacuate if told to do so, or if you feel unsafe.


DURING
Follow guidance of local authorities. Local authorities, such as elected officials and first responders, are most informed about affected areas and most knowledgeable of which flooded areas to avoid.


Move to higher ground. During a flood you should move to higher ground and avoid standing, flowing or rising water.


Keep children away from dirty water. Keep children and pets away from hazardous sites and floodwater, as it's likely to be dirty, carry bacteria and be vulnerable to electric shock.


Wash hands frequently. Bathe after being exposed to flood waters or flood-damaged areas.


AFTER
Ensure utilities are restored. Before returning to flood-affected areas, ensure utilities such as electricity and plumbing are restored and that living and learning spaces (e.g., homes, schools, child care facilities) are free from physical and environmental hazards.


Clean or discard contaminated items. Do not allow children to play with toys that have been contaminated by flood water and have not been disinfected. Materials that cannot be readily disinfected, such as stuffed animals or pillows, should be discarded.
For more information, visit the following online resources:
Published on: April 19, 2018