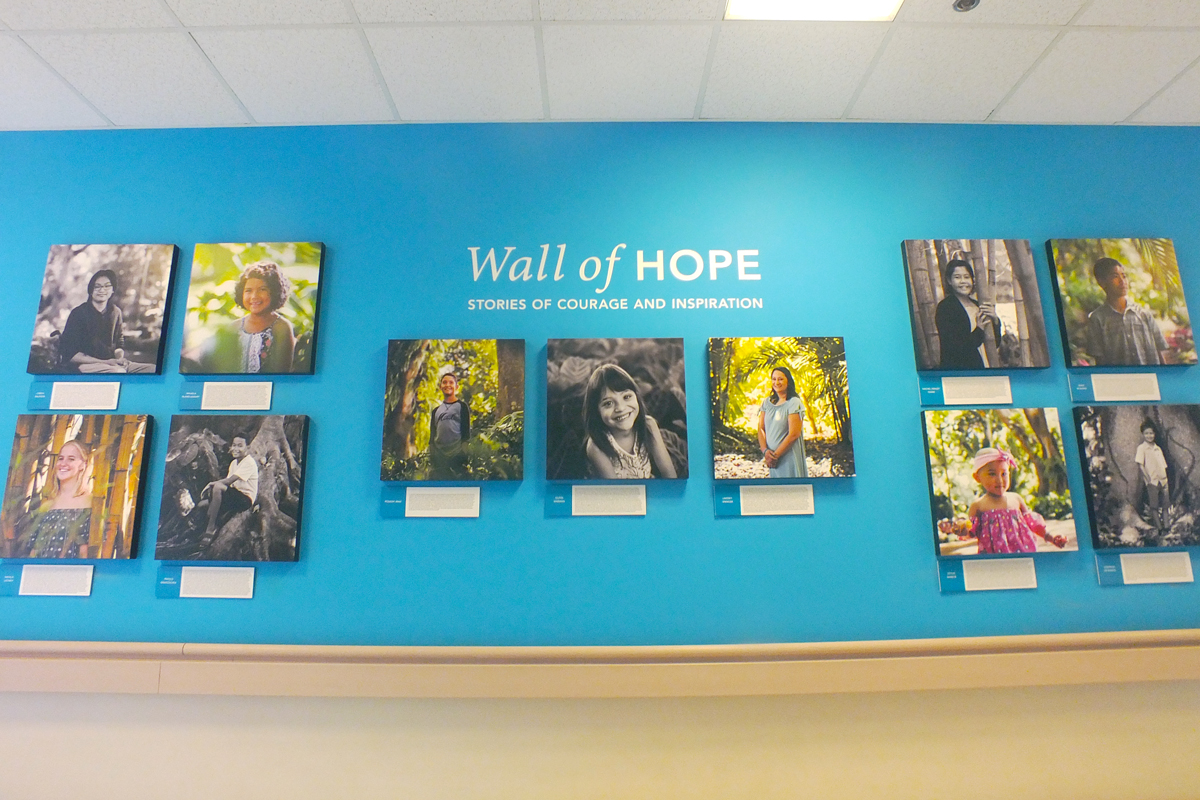 Kapiolani's Wall of Hope displays images and stories of former patients in the hopes to support and inspire current patients and their families as they brave their own medical journey.
Xzylie Ramelb
Wall of Hope: Stories of Courage & Inspiration
"Where there is no struggle, there is no strength." – Oprah Winfrey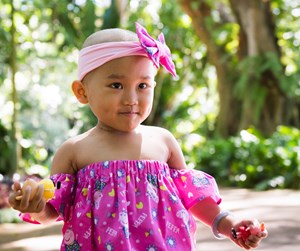 A few months before Xzylie Ramelb's second birthday, the 20-month-old began acting fussier than usual. She had no appetite and suddenly had no desire to walk due to sore legs. 
Xzylie's mother, Crystal, was still recovering from a case of hepatitis A she had contracted during the summer 2016 outbreak, and feared her daughter had also caught the disease. 
Crystal took Xzylie to her pediatrician for a blood test, which showed Xzylie had T-cell acute lymphoblastic leukemia (T-ALL). 
"I was very worried and scared about what was going on, and at the same time I was also very sad and mad that it had to be my one and only baby girl who had this disease," Crystal says. 
Xzylie immediately began receiving chemotherapy treatments to combat this aggressive form of cancer.
However, early on during her treatment, Xzylie got really sick and was transferred to the Kapiolani Pediatric Intensive Care Unit. 
"She had caught two respiratory viruses, and her body could not fight the pneumonia because her immune system was low. She later had to be intubated and put on various ventilators, but even the strongest one could not help her breathe well," Crystal remembers. "We had an important meeting with her doctors and decided to have her put on the ECMO." 
Short for extracorporeal membrane oxygenation, ECMO is a treatment that works as an artificial lung. Xzylie was on the machine for more than two weeks, during which she also had a plasmapheresis and even had to be put on dialysis. 
"Hope was being lost in the PICU due to all the crazy things she had to go through but eventually, after almost three months, she was extubated and transferred back to the regular floor once her breathing was stable," Crystal says. 
Xzylie stayed in the medical center for another two months and had to visit the PICU twice again before being discharged in March 2017.
She is still receiving treatment to this day and, according to Crystal, will be in maintenance until 2019. 
"Xzylie is a sassy, happy and active toddler. She is still learning how to perfect her walking again, but she has overcame so many obstacles. I'm sure she will learn, just like how she has learned to do everything else again," Crystal reports. 
"Words can't express how awesome the care we received from Kapiolani was," Crystal adds. "The doctors, nurses and staff are like our second family. They always gave 100 percent in all that they were doing for Xzy and always made sure we were aware of everything going on and making sure we understood and was comfortable. Kapiolani will forever be like our second home."
Published on: November 1, 2017