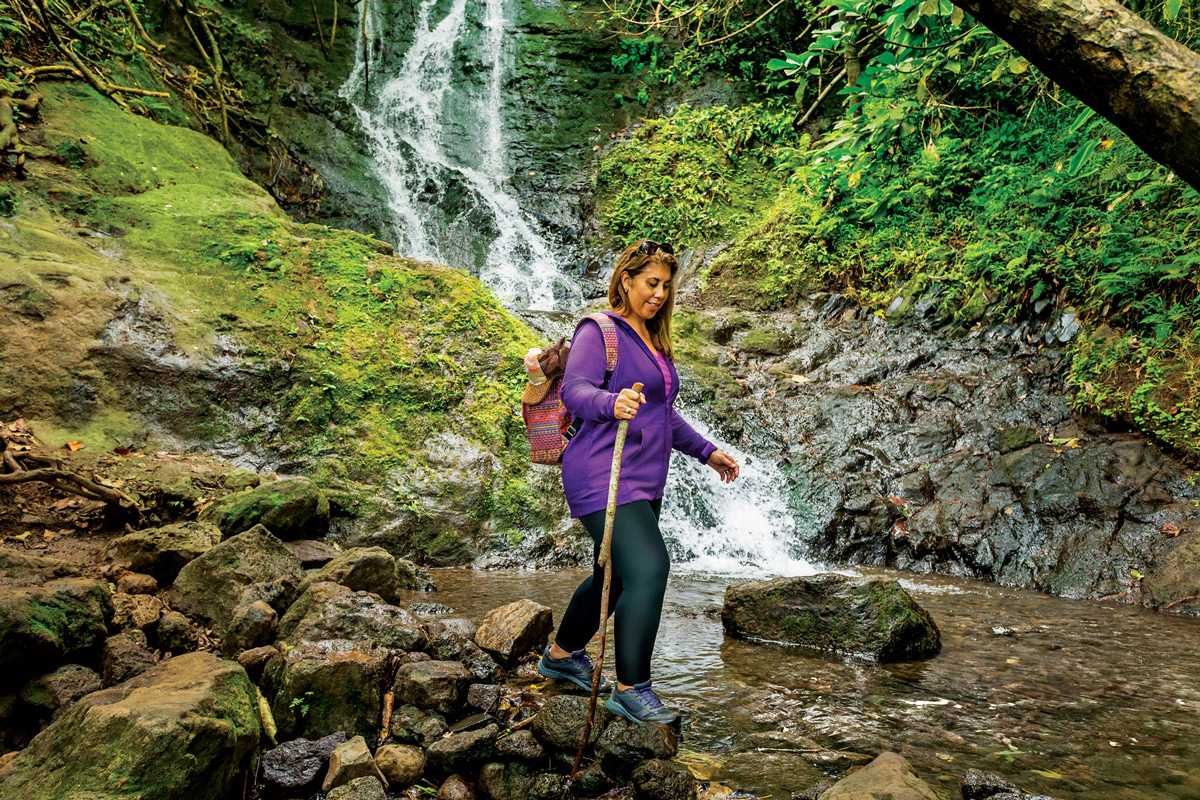 "Every hike, when I get to the top, I put my hands up in the air and I thank God that I've gone through the 360° program, beaten cancer and that I get to wake up every day in Hawaii!"
Shelly Kahalelehua-Kahapea
Shellyann Kahalelehua-Kahapea was active as far back as she could remember. In high school, the Pearl City native played basketball, volleyball, soccer and roller hockey. 
"I was very athletic, everyone who knew me knew I was always playing some sport," the 51-year-old says.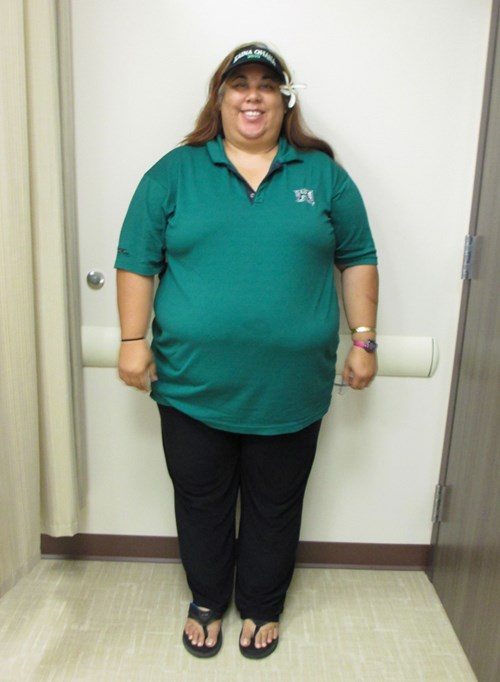 After graduating from Hawaii Mission Academy in 1984, Shelly went to college and met her first husband. 
While the pair remained active, Shelly says she started gaining weight following the birth of her fraternal twins in 1990. 
"My weight was getting higher and higher, even though I was eating salads and not drinking soda," Shelly remembers. "I needed something to change my eating habits – I prayed for something to help me." 
Her doctor suggested Shelly check out the Hawaii Pacific Health 360° Weight Management Center at Pali Momi Medical Center, and so she did. 
"I could see the picture at the end of the tunnel – this was my second chance at life," the Kapolei resident says. 
Shelly underwent bariatric surgery on March 4, 2014, shortly before her marriage to her second husband, Geoffrey Kahapea. 
With the help of Geoffrey, her children (they also have a 29-year-old son from Geoffrey's first marriage) and the experts at the 360° Weight Management Center, Shelly was able to lose 161 pounds. 
However, in early 2016, Shelly was diagnosed with uterine cancer. 
"When I first heard I had cancer, I didn't hear anything else the doctor said; I freaked out," she says. "My focus was no longer on losing weight. I just thought, I have to do what I have to do to beat this cancer." 
Here, Shelly opens up about her journey and how, with support from the program, she is taking full advantage of her "second chance" at a healthier life.
 
Date joined the Hawaii Pacific Health 360° Weight Management Center at Pali Momi Medical Center: February 2014

Health conditions prior to joining the program: High cholesterol, bronchitis and sinus issues, breathing difficulty, swelling of lower extremities (legs, calves, ankles and feet).
I also had been on anti-seizure medication since I was 16. My neurologist later told me that the medication paired with my daily steroid medication for bronchitis aren't supposed to be used together and most likely contributed to my weight gain.
I asked my neurologist if I should put off my bariatric surgery and try to wean off the medicine. She said no, go ahead with the surgery and we will monitor you after that. It has been really awesome! I am not completely off my medicine for my bronchitis and am down from five anti-seizure pills a day to just one at night before bed!

What was your lifestyle like prior to joining the program?
I was active singing for my church and was on the worship team. I worked at a district park interacting with the public, and I also helped my husband – he is a musician and ordained pastor, and I was his roadie a lot of the times for gigs. Most of the time, though, I was busy caring for my twins.

How has your life changed since joining the program?
This program saved my life. It gave me the help I needed to be able to do the things I couldn't do, like tie my shoelaces.
Being that I'm very spiritual, I pray before I do anything. The first time, it wasn't the time, so I recalled again a year later and the ball was rolling after that. The transitions and test all went smoothly, so it must have been my time. I was ready to make that change.

A year after joining the program, you found out you had cancer. Did you experience any symptoms that made you think something wasn't right?
I was having pain in the lower area of my hip. Every morning I would wake up with the same pain. During this time, my period also became irregular. I went to my OB, who sent me to different scans, which is where they found polyps in my uterus. I had my first surgery – a hysteroscopy – in February 2016 to remove the polyps. They tested positive for cancer.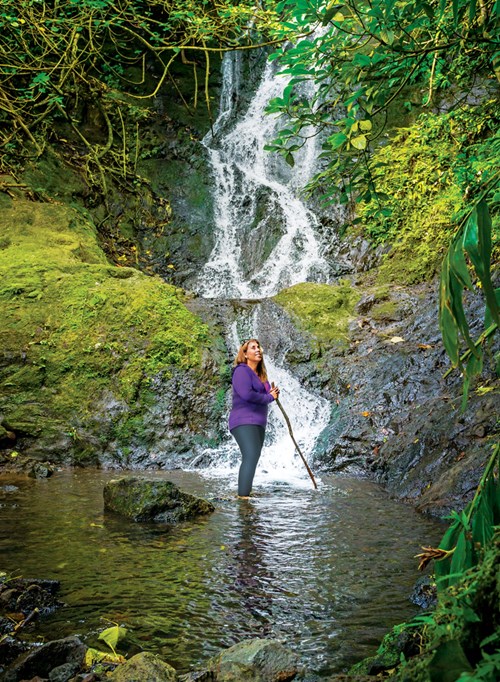 How did having cancer change your weight-loss journey?
My focus was out of the window as far as weight loss.
Following my diagnosis and biopsy, I had a second surgery in April to remove my uterus. On May 19, 2016, I had a third surgery to remove my fallopian tubes and surrounding lymph nodes.
I could hardly walk for three months after my last surgery, and I couldn't exercise for at least six months. Even though I was still watching what I ate, I started to put weight back on. At my lowest, I weighed 189 pounds, but my weight went back up to 229.
Now that I'm cancer free and healthy, I've started getting back to work and getting back to my hikes. I've done Makapuu, Manoa, Maili Pill Box and Diamond Head. On Easter 2017, I took on Koko Head.
I'm going to do the Hapalua Half Marathon in April 2018, and I'd like to do the Spartan race in August. My ultimate goal is to do the Honolulu Marathon, but I have to slowly work my way up to that.
I'm starting to beat this plateau. I've lost 7 pounds so far, with only more to go. Every hike, when I get to the top, I put my hands up in the air and I thank God that I've gone through the 360° program, beaten cancer and that I get to wake up every day in Hawaii!

What other healthy changes have you made to your life? For example, do you have a new healthy food or recipe that you're surprised that you like? Do you have a favorite exercise or activity that helps you stay active?
I'm now on the ketogenic diet. My favorite healthy food is poke, or any raw fish with poi. I also like ground beef with any green vegetable and also ketogenic bread, which is the only way I can have bread without carbs. (Who doesn't love bread?!)
But my absolute favorite food would be tofu!
My favorite exercises are swimming and hiking. For my recovery after the all-clear, I swam every day. I rather swim than go to the gym.
I totally love hiking, especially with my friends. All of the hikes are awesome, and I get so much enjoyment to get to the top!
I just got back on my bike, so I hope to do more bike rides with my family this year.
Best of all, I can run around with my kids.

What would you tell someone who is considering joining the program?
It's what they want for their life, and what they want to see happening in their life as well.
What you put into your health is what you get out of it. You want results? Stick to the regimen and do as the doctor or specialist says. My mind was strong because I wanted the end result. I wanted to one day be able to enjoy life together with my children as ohana.
From my life, I want others to see that they too can have a better and healthier life for themselves. But they have to want it for themselves. I can never push someone into something that they are going to regret.
Life is brighter for me, my husband, my children and my family. I love this program. It gave me back my life.
Published on: February 9, 2018