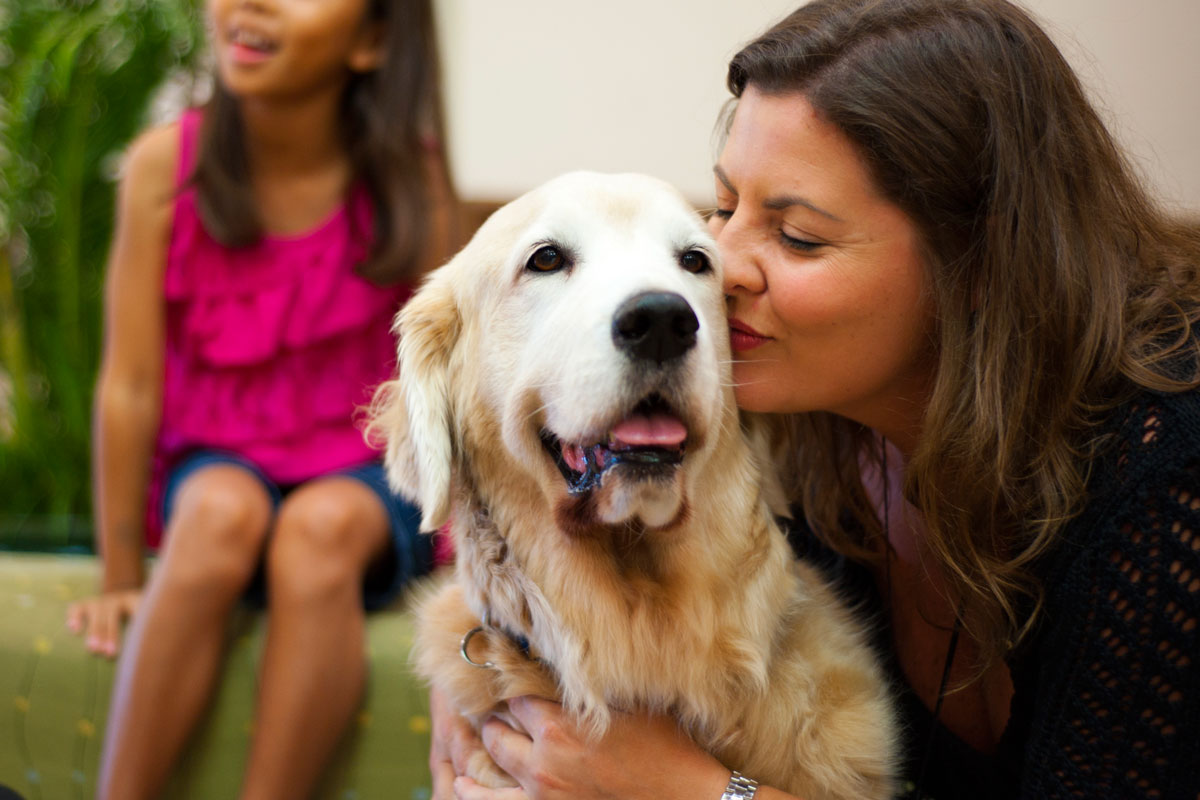 Tucker with his handler and mom, Dr. Wendi Hirsch.
Remembering Tucker
For nine years a friendly, furry face roamed the halls of Kapiolani Medical Center for Women & Children, bringing smiles and comfort to children during what is, undoubtedly, a very scary, confusing and stressful time.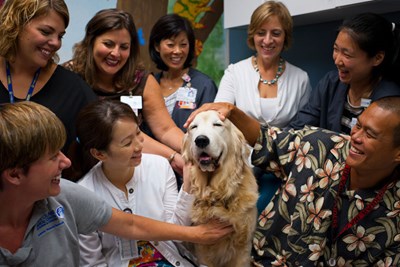 "He was their safe place," says Wendi Hirsch, PhD, a pediatric psychologist with Kapiolani Behavioral Health Service. 
"Tucker was guaranteed love, support and silliness at just the right moment," Hirsch says. "He made everyone feel like they were special to him, because they were." 
Hirsch is referring to Tucker, a golden retriever who served as Kapiolani's facility dog, CCO (Chief Canine Officer) and unofficial mascot for nearly a decade. 
Tucker passed away suddenly on Aug. 22, 2016. He had been diagnosed with cancer and was in remission, but died unexpectedly. Tucker was 10 years old. 
After his passing, messages of shock, sadness and love flooded Kapiolani's Facebook page from patients, parents and the greater community, showing just how much of an impact he had on the people of Hawaii. 
"Tucker was and is the love of my life – pure love and compassion and goodness," Hirsch says.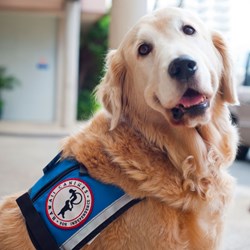 In saying our final "aloha" to Tucker, it is only fitting that his story be told by his mom: 
Tucker was hand-picked, trained for 16 months by, and donated to us by the nonprofit Assistance Dogs of Hawaii.
They wanted to place a facility dog here to help the children of Hawaii, and waited until they found the perfect dog for us – Tucker.
He had a unique ability to be very sensitive to people, particularly children, and to stay calm even in very stressful or noisy situations. He was intelligent, loving, happy and mellow.
I have so many memories of him … Helping a child learn to walk again after a prolonged hospitalization; showing a child how to take her medicine by him taking his vitamin pills; and children lifting up his long, soft ears to tell him a secret. He was so wonderful about playing "Santa Paws" every year at Christmas, dressing up for Halloween and other holidays, and, of course, enjoying his yearly hospital birthday party on Oct. 19. That was a major event for us here at Kapiolani.  I can go on and on …
Tucker's death shows us all that even when a person or animal dies, the love we have for them is carried on forever in our hearts. It is not the same without them here, but with the love and support of our family and friends, we can honor that person or animal by being kind and good to others.
His legacy in taking care of the children of Hawaii will endure forever.
Published on: September 28, 2016