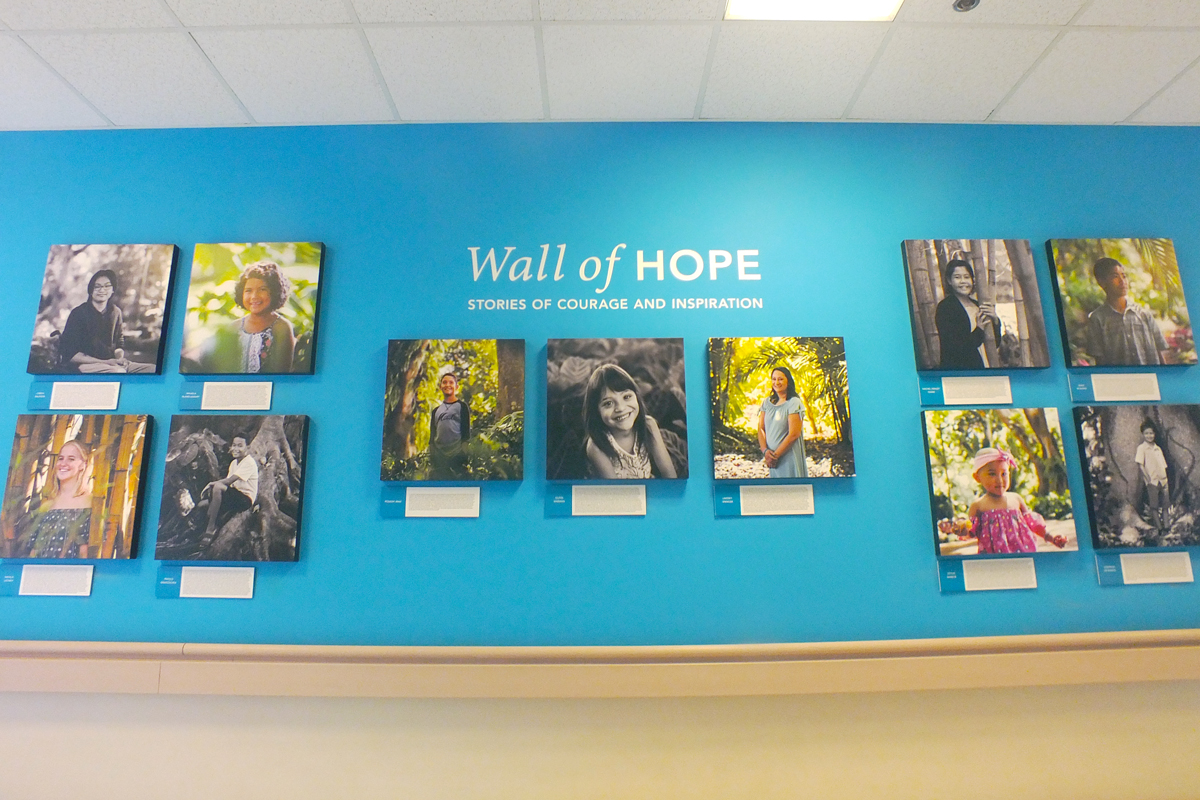 Kapiolani's Wall of Hope displays images and stories of former patients in the hopes to support and inspire current patients and their families as they brave their own medical journey.
Quinn Warman
Wall of Hope: Stories of Courage & Inspiration
"Keep your face always toward the sunshine – and shadows will fall behind you." – Walt Whitman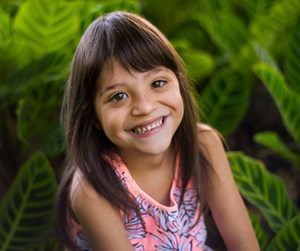 When Quinn Warman was born, doctors noticed a ridge on her forehead. This prompted them to suspect craniosynostosis, a condition in which one or more of the fibrous joints in an infant's skull prematurely close before the baby's brain is fully formed. 
They also thought little Quinn may have Saethre-Chotzen syndrome, a rare form of craniosynostosis. 
"As parents we were heart-broken and terrified for her future," says Kim Warman, Quinn's mom. 
At just 4 days old, Quinn had surgery to repair a diaphragmatic hernia. Then, at 3 months old, Quinn had a second surgery – a lumbar laminotomy to release her tethered spinal cord. 
She had her first skull-reshaping surgery when she was 5 months old and, most recently, had a reconstructive anterior cranioplasty in 2017 to reconstruct portions of her skull. 
All surgeries required her to recover in Kapiolani Medical Center for about one to one-and-a-half weeks. 
"I can't begin to find the words to explain how supportive the staff at Kapiolani Medical Center are toward their patients as well as their patient's families," Kim says. "Every encounter we had, be it pre-op appointments, Cranio-Facial Clinic visits, her actual surgery, the PICU (Pediatric Intensive Care Unit) and pediatric stay were filled with courteous, supportive staff who clearly loved what they do." 
Kim also acknowledges Child Life Services for preparing Quinn for what to expect during her surgery through age-appropriate play. 
"The staff was so accommodating and thoughtful as well as nurturing and loving. Visiting the Playroom and staff was a highlight of Quinn's most recent stay at Kapiolani!" Kim says. 
Today, Quinn is an energetic and outgoing first-grader at Iliahi Elementary School. She enjoys dancing hula and jazz, and absolutely loves to perform on stage. 
"She is truly the strength of our family – she is our mini Wonder Woman!" Kim says. 
"Children are so resilient and strong! They are a lot stronger than we give them credit for, and they will amaze you with their determination and courage," Kim adds. "The staff at Kapiolani fosters this strength in your child through their genuine care and encouragement. We are so grateful for the excellent care our daughter received during such an emotionally trying time."
Published on: October 30, 2017