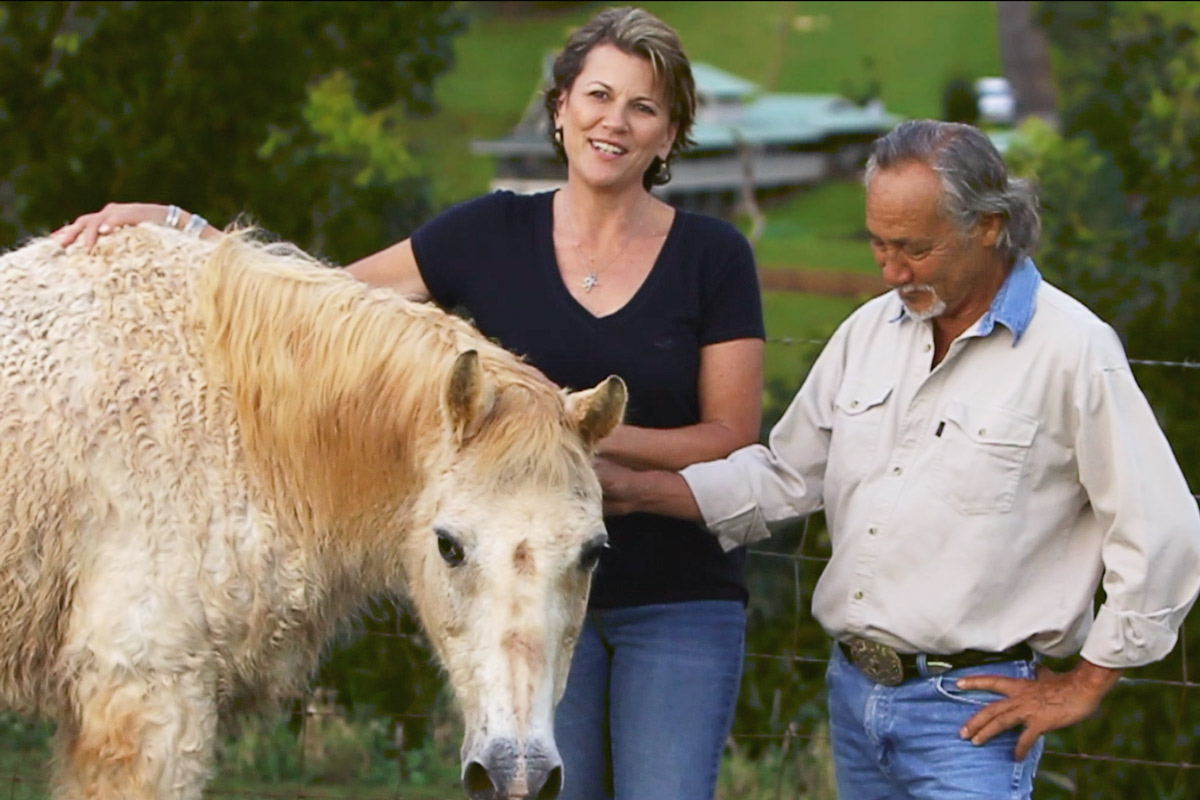 Michelle Emura
Michelle Emura believes things happen for a reason. 
In 2007, the Kauai resident was approached by the American Cancer Society's Kauai chapter to be a co-chair for its annual Hoedown for Hope. Shortly after, she received the news that her father had been diagnosed with colon cancer. 
"I must have been brought along this path for a reason," she says. 
A few years later during the organization's 2011 event, Michelle learned that her father had passed away. 
Several months later, she noticed an enlarged lymph node in her groin that was "oddly similar" to what her father had found just prior to his cancer diagnosis. 
"I had a biopsy, and they discovered it was non-Hodgkin lymphoma," Michelle says. 
"I have it all marked on my calendar – I was called in on a Saturday by my surgeon who did the biopsy on the lymph node. A country song named 'Cowboys and Angels' was playing on the radio. It was July 7, 2012, as I was pulling into the parking lot at Wilcox Medical Center" Michelle recounts. "She said the test results are usually sent to my primary doctor, but she wanted to let me know right away because I seemed like a person who wanted to take action right away." 
However, Michelle initially felt numb to the news. 
"I didn't understand right away just what had happened – that I had cancer," she says. "And I was worried and scared, because it was graded a 3A, with 3B being the worse. I thought of my daughter, and how alone I felt all of the sudden, as I was by myself. That is when I choked back the tears." 
Once the shock wore off, Michelle immediately began researching her options for the best treatment plan available. 
During this time, she had a scan and bone marrow test to stage the disease. The results came back showing that the cancer was advanced – stage 4. 
Her oncologist, Katarina Leckova, MD, decided to start Michelle on a fairly new and more aggressive treatment for her cancer. 
"I was so highly staged and graded, but healthy otherwise," Michelle states. 
What followed was six cycles of chemotherapy and two years of infusions every two months. 
"My last infusion was on Jan. 16, 2015," recounts Michelle, who completed her last six-month follow-up checkup in October 2016. 
"I have been cancer-free for four years as of Oct. 28, 2016," Michelle says. "I am strong and healthy and work hard every day to keep practicing important health and wellness habits, but at the same time enjoy life. It's always top of mind." 
Michelle credits the "gold standard of treatment" she received from her cancer care team at Wilcox and Kauai Medical Clinic for helping her overcome her disease. 
"The chemo nurses, or 'Chemo Queens,' were amazing!" Michelle says. "Dr. Leckova was very supportive and responsive and gave me all the time in the world to ask questions and discuss any matter about my treatments during our appointments. Her nurse at the time, Julien, was so caring in the facility and even outside in the community." 
Michelle's advice for anyone facing a similar journey to her own is to do your research and trust your instincts. 
"Be your own advocate, get your team together – physical, mental, spiritual – and take advantage of all that our special community of Hawaii offers with its aloha, incredible weather and beauty to heal," she shares. "The first thoughts after getting diagnosed is to go to the best place for treatment, which most feel is on the mainland. Staying in Hawaii with family and friends and still getting top-notch treatment is the best medicine possible." 
Michelle still supports her local cancer community, but now, the role has so much more meaning. 
"I frequently get called to support new cancer patients. Sharing the journey and all that is learned can only help caregivers and the medical staff in their mission to cure the patient, and help the patient to get as informed as possible for better decision-making for good outcomes," Michelle says. "It also helps me keep on my toes. I want to stay cancer-free."
Watch Michelle share her story below, or visit out YouTube channel to see the full video.
Published on: November 11, 2016